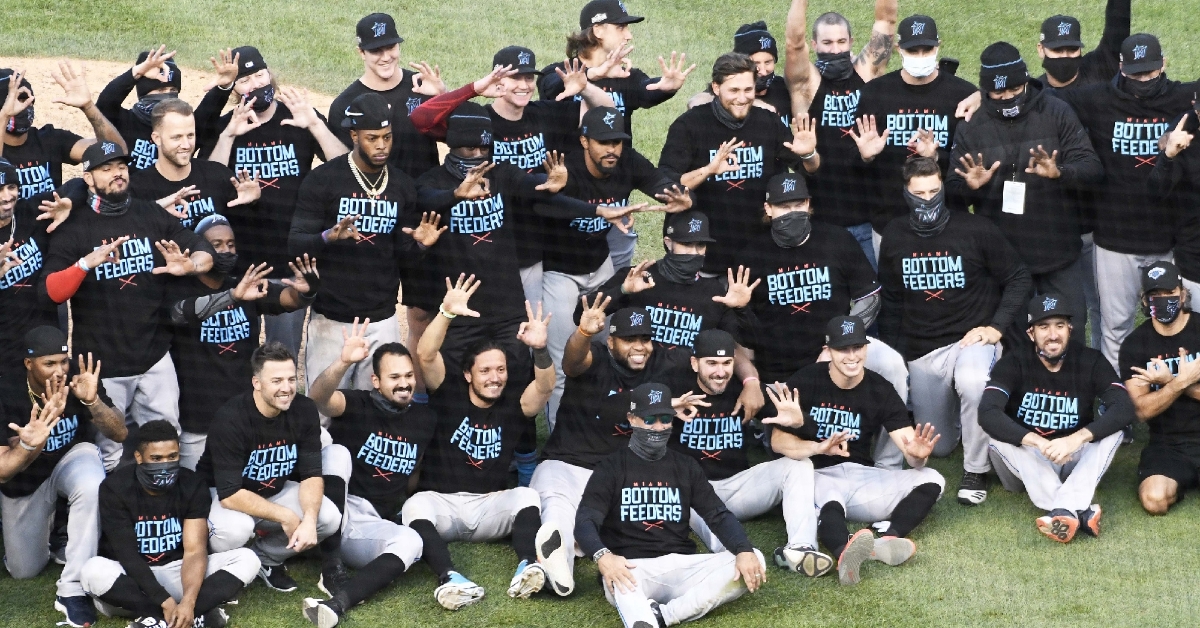 | | |
| --- | --- |
| Four Takeaways From Cubs-Marlins series | |
---
It wasn't the result Cubs fans wanted or expected, but the Chicago Cubs bowed out of the National League Wildcard series 2-0. If there is some silverling to take away from the defeat, no one expected MLB to get through the season, so playing 62 games and making the playoffs could be seen as a positive. Now the Cubs will be pinned with a difficult offseason as they have a lot of unanswered questions to look at for 2021.
On paper, this was precisely the matchup many Cub fans were hoping for in the playoffs. You avoided your divisional opponents and avoided the Dodgers until the NLCS if things transpired that way. However, what many people didn't realize was the quality of pitching that the Marlins had, which proved to be one of the biggest differences in the series.
Here are some takeaways from the series.
Miami stays perfect: This may only be the third time Miami has reached the postseason, but they have yet to lose a series. They earned the wild card in 1997 and won the world series. Earned the wild card in 2003 and won the world series. Guess what, in 2020, they made the postseason again and have yet to lose.
No one is suggesting that they will win another world series, but it is remarkable when you look at it. For some reason, the postseason brings out the best in the Marlins, and if they were to win it all again, it would be historic at that point.
Cubs offense shows the real issue: All season long the Cubs offense underachieved in many categories. That was put full circle during this season as the Cubs' biggest flaw was placed center stage. Miami has a team built on young arms that can flat throw gas. They were up against a Cubs team with the worst batting average against fastballs and was even worse when the pitchers were throwing 95 plus.
The Cubs saw a lot of that against Miami, including 80% of Sixto Sanchez's 89 pitches. This was a concern the past few seasons, but none more concerning than this year. As an organization, the Cubs know their problem, but they can't pinpoint how to fix it. That will need to be addressed this offseason as pitchers are throwing harder than ever before.
The world is getting to know Sixto Sánchez. ??

(MLB x @GoogleCloud) pic.twitter.com/038BWDefAU

— MLB (@MLB) October 2, 2020
The core can't score: It was a difficult season for everyone, and many marquee players struggled this season. I want to look at the overall struggles of this core since clinching the World Series in 2016. During that run, many thought the Cubs had the makings of a dynasty given their young talent.
After making it to three straight NLCS and the world series title, how could you not like their chances to become just that? Then something happened in 2018 that has changed the core forever. A rare September slide dropped them out of first in the division before being ousted in the Wild Card round by Colorado. 2019, same thing, but this time the Cubs missed the postseason entirely.
Although 2020 was not nearly as bad in terms of September collapses, the offense continued to disappear when it mattered the most. If you look back at the Cubs since clinching the series, Bryant, Rizzo, and Baez have combined to hit just .163 with 6BB and 53K. When that is the hart of your order, it is a big concern. The players who were expected to produce are not delivering in pressure situations, which has hurt this team in recent seasons.
Anthony Rizzo, after the Cubs loss: "We make this sacrifice, fully committed to winning and going deep into the playoffs but when you come up shorthanded it's a bad feeling. You got guys in this clubhouse you'll never be teammates with again...the end of the year is never easy."

— Jesse Rogers (@JesseRogersESPN) October 3, 2020
An offseason full of questions: As if this offseason wasn't going to be crazy enough given the effects of COVID 19, but the Cubs are entering a potential breaking point this offseason. For the first time in a long time, this team has more questions than answers that need to be addressed with no end in sight. In past seasons, the team had questions, but they almost always knew what the answers were.
This season it seems like they are searching for answers, but cannot point their fingers on what to do. They know what they are struggling with, but for some reason, they can't adjust. They know their time together is coming to an end, but in what mass. While a lot of Cubs fans want this roster to get blown up at this point, that is not going to solve the problem.
Evaluating the Cubs 2020 season.@BCBSIL pic.twitter.com/DiaJlasFsy

— Marquee Sports Network (@WatchMarquee) October 3, 2020
The problem has been the current state of this team peaked four years ago, and the league caught up to them faster than they could adjust. They now have six months to think long and hard how to get back to that level they once were at. Will all of these guys be together next season? Of course, not, and it would be foolish to think they will be. Right now, it is a matter of who the Cubs see as the cornerstones for this organization.
Once they figure that out, they can elect to pay them what they feel they are worth and build the team around them. That means we will see some movement this offseason, but the amount of activity is unclear at this time.