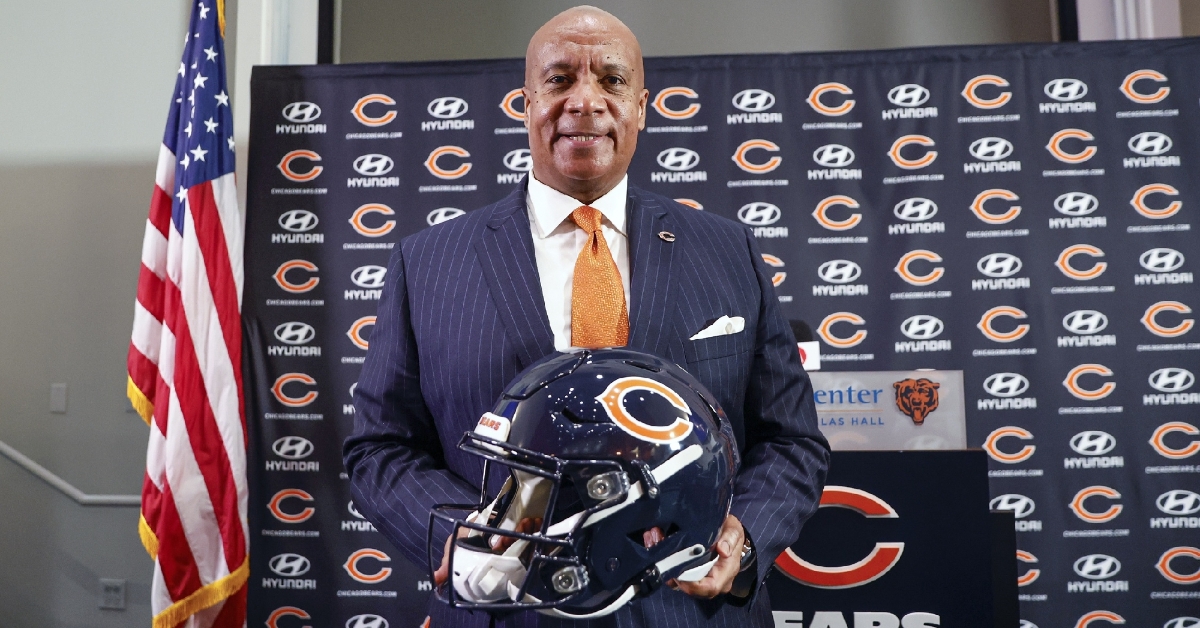 | | |
| --- | --- |
| Bears CEO Kevin Warren sends letter to Bears season ticket holders | |
---
Chicago Bears President and CEO Kevin Warren sent a letter to season ticket holders about various subjects including the stadium projection and the upcoming season:
Check out the full letter below:
I am humbled and honored with the opportunity to serve as the President & Chief Executive Officer of the Chicago Bears. Representing this founding NFL franchise, our football team, our City of Chicago, and you, as a Season Ticket Holder, is a tremendous privilege and responsibility. I recognize the Chicago Bears are woven into the fabric of Chicagoland. I have great respect for the sacrifice made by many individuals throughout the Chicago Bears' 103-year history to build our proud tradition and will do everything to empower and energize our franchise to evolve and grow with an eye always on our next World Championship.
Our Season Ticket Holders' commitment to the Chicago Bears is critical to our success. We will never take your loyalty for granted and our job is to deliver a memorable experience in all aspects of our franchise. Your feedback will always be welcomed as we strive to build a best-in-class sports and entertainment franchise that remains vibrant and strong.
Our focus is on our football team. Our general manager Ryan Poles and head coach Matt Eberflus have passionately worked together to build a roster with a mentality poised to take the next step toward the NFC North title. We expect an exciting season with playmakers in all three phases of the game. Your presence at Soldier Field continues to be a critical component to our Chicago Bears home field advantage. We are also working diligently to deliver on a new, multi-purpose indoor stadium complex that will provide a best-in-class gameday experience for you and ensure a strong future for the Chicago Bears. A new indoor football stadium will allow our region to host both international and national mega events, including a Super Bowl, NCAA Men's and Women's Final Four tournaments, College Football Playoff games, collegiate conference championship games, other bowl games and major concert tours. All will draw huge crowds to Chicagoland, ensuring consistent opportunities for year-round use fitting of our world-class metropolitan area.
Over the last several months we re-engaged with the City of Chicago, and we are thankful for the vision Mayor Brandon Johnson and his leadership team have provided during our discussions regarding the Chicago Bears remaining in Chicago. We also have remained engaged with officials in Arlington Heights and other suburban locations to discuss the possibility of realizing our plan. We have emphasized to all these leaders that any stadium effort would be backed by considerable private investment that would lead to significant economic impact and job creation opportunities across Chicagoland. In each instance, we also stressed the need for stability and predictability along with an appropriate partnership commensurate with the long-term public benefits of the project. A public-private partnership will allow for regional improvements while providing a long-term investment in the community. We are encouraged by the progress so far, and we look forward to narrowing and defining our location in the near future.
Based on my involvement and leadership role in this process once before, I recognize it will be challenging and demanding. That said, the excitement and positive impact a state-of-the-art stadium will have on each and every one of you as a Season Ticket Holder, will be long lasting. The development project I worked on with the Minnesota Vikings resulted in a new stadium on par with the best in the world. U.S. Bank Stadium has proven to be a resounding success for the State of Minnesota, the City of Minneapolis and NFL football fans since it opened in 2016, and it is reflective of the community-based project we will build here in Chicagoland. U.S. Bank Stadium has since hosted Super Bowl LII, a Final Four, other major concerts and was just rated as the number one NFL stadium by The Athletic. In addition, with the help of local and state officials, the public-private deal structure allowed the stadium debt to be retired 23 years earlier than expected.
We are committed to following a process that is methodical and intentional to ensure we get the Chicago Bears Stadium project right. There are many questions that must be answered before any final decisions are made; however, we are making progress. When the decision is made, we will be sure to have a plan for our Season Ticket Holders. As we move forward together, you will see us build on our commitment to our community and the people who make Chicagoland such a special place to call home. We will continue to be leaders in the community. We will engage and connect with the people across our Chicagoland neighborhoods, and we encourage you to join us. We are blessed to enjoy our great City of Chicago and its connection to the Chicago Bears. Twenty-one years in the NFL as an executive helped to shape and form my respect and admiration for the entire Chicago Bears organization, our fanbase around the world, and the opportunity we have to build a transformative NFL franchise. I am grateful to the Halas-McCaskey family along with every player, coach, employee and fan who has dedicated themselves to making the Chicago Bears a special place. I am energized by our collective quest for excellence and look forward to writing the next chapter in our great legacy. Thank you for being an important member of our Chicago Bears Family. Bear Down!
Upgrade Your Account
Unlock premium boards and exclusive features (e.g. ad-free) by upgrading your account today.
Upgrade Now