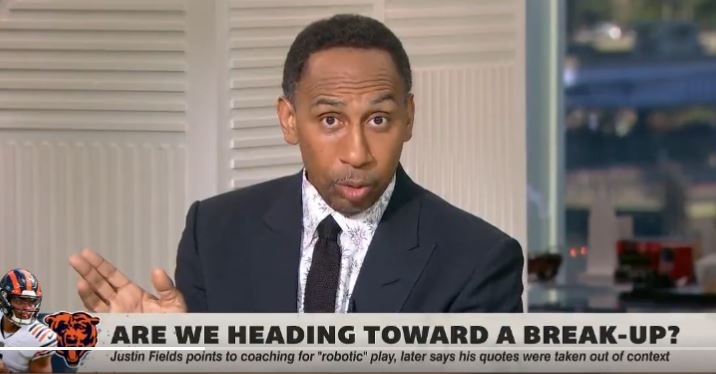 | | |
| --- | --- |
| Stephen A. Smith slams Bears: "The Chicago Bears are trash" | |
---
ESPN analyst Stephen A. Smith blasted the Bears on Thursday during an episode of 'First Take' where he talked about how the organization was handling starting quarterback Justin Fields.
"The Chicago Bears are trash," Smith said. "Let's just call it what it is. They're not a good organization, OK."
He continued with some hard remarks.
"Why don't you just call them the bad news Bears, it's a damn shame that they representing the city of Chicago. They stink!"
Smith understands that Fields is an elite runner at the quarterback position and wants to see more use of his athleticism.
"There's three quarterbacks in NFL history that have rushed for 1,000 yards in a season... Michael Vick, Lamar Jackson, Justin Fields last season,' he said. "He's only had five designed runs for a grand total of one yard thus far in the first two games. Why are you not running him more? Why are you not getting him out of the pocket? Why are you not using his athleticism? Because clearly, you're trying to make him into something that he's not."
Check out the full video below:
"The Chicago Bears are trash. Let's just call it what it is."

-@stephenasmith on the Bears organization pic.twitter.com/GH6fjr411q

— First Take (@FirstTake) September 21, 2023