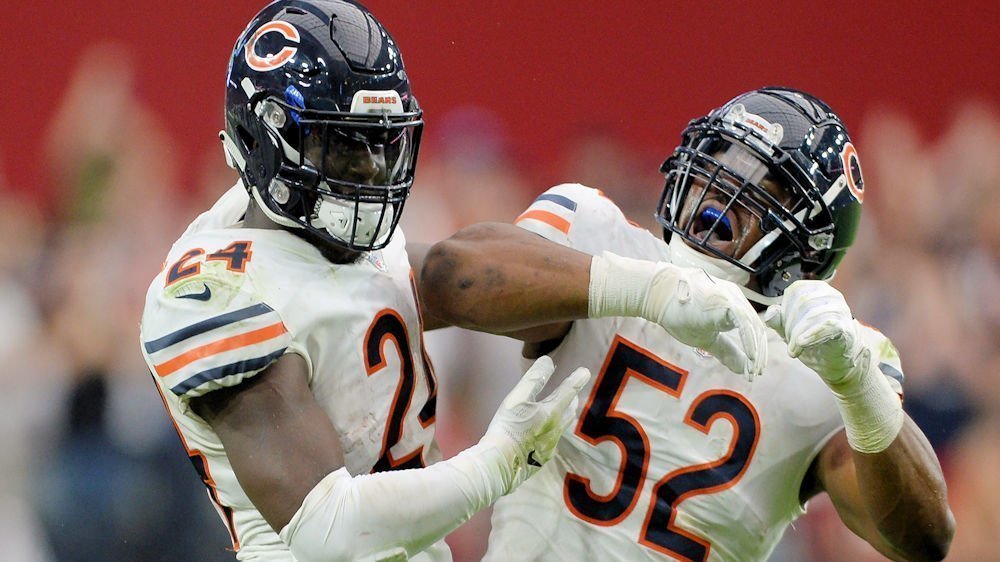 | | |
| --- | --- |
| 2019 Season Preview: Chicago Bears | |
---
| | | |
| --- | --- | --- |
| Friday, May 24, 2019, 10:49 AM | | |
Welcome to the kick-off of the 2019 season here on DaBearsHQ.com. We are all Bears all the time keeping you up to speed on what is happening, what to expect, and game day reports and in-game updates.
Additionally, we will have some great stories from writers who are Bears fans and are knowledgeable about the team. Oh, and you'll get some occasional opinion columns from yours truly that will either have you shaking your head in agreement or wondering what team I am watching. Either way, a good time will be had.
The first preseason game is only five months away so let's get started with our 2019 season preview and wish list.
Last year the Bears stunned everyone, fans included, with an improbable 12-4 record and a trip to the wild card game where they lost 16-15 when Cody Parkey double doinked a field goal attempt. We'll never know what might have been had he made it, but the fact that they were even there was exciting for fans.
This year the schedule makers at the NFL said no breaks for you, as they have set up a much tougher schedule for the boys. 2019 starts off as the NFL celebrates its 100th year with its most storied franchises playing each other on Thursday night when the Bears host the hated Green Bay Packers. This is what should have been for the start of this season, and the NFL got it right no matter what the Patriots think.
The bye week comes at a perfect time for the Bears, after week 5, when they can catch their breath and get themselves ready for the final push of the season. The middle part of their schedule will be an up and down affair with only one division game, against the Lions.
Things get much tougher for the final five games. They are at Detroit for Thanksgiving, then home against Dallas the next Thursday. They then get an extra few days to prepare for the Packers in the frozen tundra, back home for the Chiefs, and their wild offense, and finally at the Vikings to end the season. It is too early for any predictions, but the Bears are expected to win the Central Division again, and I don't see any reason, right now, to think otherwise.
In my opinion, there are four areas that the Bears need to improve on for 2019 if they want to make a long run in the playoffs.
First, they need to find a kicker that can make field goals and extra points in Soldier Field. Parkey was let go, thankfully, and now they need to find someone. Popular social media rantings want them to bring back Robbie Gould. They could do worse, but I think they want to find a younger version of him. There are approximately 23,864 free agent kickers around the globe to choose from, find three and let them battle it out for the roster spot.
Second, they need to run the ball better in 2019. David Montgomery was drafted because he fits the offense they want to run, and my guess is he will end up being the starting back when the season starts. In 2018 the Bears were 27th in yards rushing per attempt. I can't remember when the Bears were so bad running the football. That needs to improve, if for no other reason than to save the life of Mitch Trubisky when he drops back to pass.
In tandem with this, number three, is they need to upgrade the depth on the offensive line. Their starters are above average, but when they go down, and they always do at some point, the line gets below average quick. Also, move your guard playing center back to guard and move your center playing guard back to center. It was a bad experiment and get it right for this year.
Finally, the Bears could use a game-breaking wide receiver. They have a QB who can throw the ball, finally, and no playmaker to throw it to. The no-names they paraded out last year are fine but find a game breaker. Will Riley Ridley be the guy? I don't know but let's find out in camp and preseason.
So, there is a quick introduction to the 2019 Bears and what to look for as the preseason and pre-camp moves along. It is finally going to be fun once again to watch this team in 2019, and I can't wait for the season to begin. Follow us all season here at DaBearsHQ.com.