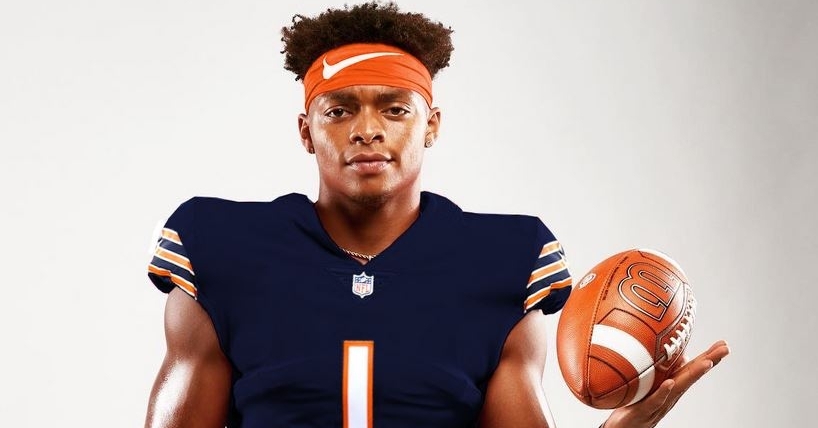 | | |
| --- | --- |
| 2021 Projections for Bears QBs: Justin Fields, Andy Dalton and Nick Foles | |
---
| | | |
| --- | --- | --- |
| Thursday, July 8, 2021, 10:57 AM | | |
The Chicago Bears have had a busy offseason, and they are hoping the decisions they made lead to a successful 2021. Both Matt Nagy and Ryan Pace are on the hot seat this season, and the future of their jobs hinges on what they do this season.
Perhaps the most significant move is one that will not only affect the franchise this season, but will affect the future of this franchise. For the second time in five years, the Bears traded up in the first round to take a quarterback. After Mitch Trubisky didn't pan out in 2017, they are hoping the move to acquire Justin Fields has better results.
Fields was often viewed as the second-best QB in the draft and yet somehow fell outside the top 10. The Bears will not complain about that as they wasted no time trading up to take him at 11 and make him the future face of the franchise. After signing Andy Dalton this offseason, the bears have a crowded QB room with Dalton, Fields, and Nick Foles.
From all accounts, it appears that Dalton will enter the season as the starter, but that doesn't mean Fields won't give him a run of his job. Fields is the future of this franchise, and it is only a matter of time until Nagy hands him the keys to the offense and turns him loose.
Today, I want to look at each quarterback and give my predictions about how they will do this season.
ANDY DALTON: It was no secret that the Bears were looking for QB help the past two offseasons. After trading for Foles last year and having that fail, the Bears were looking at trading for someone again this season or hitting the free-agent market. With limited funds to spend, the Bears pulled the trigger on someone they could afford and signed 11-year vet Andy Dalton to a one-year deal.
Dalton is coming to the Bears after spending nine years with the Bengals and last year with the Cowboys. Dalton has been an above-average QB completing better than 62% of his passes for 33,764 yards, 218 touchdowns, and 126 interceptions for his career. That has led him to accumulate an 87.5 passer rating which is in the top 15 of the league. Dalton has also collected 1335 yards on the ground to go with 22 touchdowns.
Not the flashiest of free-agent pickups, Dalton is a significant upgrade from Foles and offers a similar skill set to that of Trubisky. The most significant difference between those two is that Dalton is a proven winner in this league as he led the Bengals to the Playoffs in five consecutive seasons. Granted, he has yet to earn a postseason win; getting Cincinnati to the playoffs five straight years is an accomplishment alone.
Dalton also had some of his best years with offensive coordinator Bill Lazor, the current offensive coordinator for the Bears. That could be one of the reasons why Dalton came here, as he is much more comfortable with him than others.
Prediction: (10 games/10 starts, 63.4% completion percentage, 2145 yards with 16 touchdowns passing touchdowns and nine interceptions)
Nagy has already made it clear that Dalton will start, and I think that is the Bears' direction are leaning. He is the perfect bridge quarterback to mold Fields as Chicago can develop him as much as possible.
I expect the Bears to be battling for a playoff spot this season, so wins will be crucial. If the Bears continue to win with Dalton, look for them to ride him out this season. However, if they are winning, but maybe are on the verge of winning the division, you may see them pull the trigger and get Fields in there. Either way, look for Dalton to start most of the games this season.
JUSTIN FIELDS: When the Bears made Fields their first-round pick, it signaled the beginning of a new era in Chicago. Although he has yet to play a game, Fields appears to be the real deal and could be the first franchise QB since Jay Cutler to step on the Soldier Field grass for the next decade-plus.
Fields is unlike any QB the Bears have ever had. Not only does he have a strong and accurate arm, but he is fast and uses his legs a ton to keep the defense on their toes. In two years with the Ohio St. Buckeyes, Fields compiled a 20-2 record with a 68.4% completion percentage. He threw for 5373 yards and 63 touchdowns while only posting nine interceptions. Fields also rushed for 867 yards and 15 scores, making him a true dual-threat player.
Prediction: (11 games/6 Starts 62% completion percentage, 2345 yards, 14 passing touchdowns, five interceptions, 345 yards rushing yards with four touchdowns)
Fields will get his opportunities to play this season, and that is without question. The only question is when and how many games he will start. At this point, the Bears can't afford to sit Fields all season.
I expect him to see plenty of game reps early in the season, even if that comes in late-game situations just to get him on the field. We will have an excellent opportunity to see where he is at as a player considering he will see the most preseason snaps of any QB on this roster. Regardless of where Dalton has this team in November, I think the Bears turn things over to Fields in the final two months and let him ride this team to the playoffs. He is the future, and you can't hold the future back for long.
NICK FOLES: No one wanted to succeed more than Foles last season, and through three games, he was doing just that. After helping the Bears to a 5-1 start after being announced the starter in week 4, Foles completely fell off the map as the Bears lost six games in a row at one point. Add in a lower back injury against the Vikings, and Foles not only lost his starting job, but didn't see the field again.
Foles is still on this roster, but he is listed as the team's No. 3 QB. Hopefully, that remains the case all season, as the only way he moves up would be due to an injury. For some reason, Foles has always been a good QB coming off the bench where he has posted great numbers. However, take away his one season in Philadelphia, and his success as a starter has been nonexistent.
Prediction: As much as the Bears like Foles, I find it very difficult for him to stick on this roster, and at some point, I do see him traded. That is why I don't expect him to see the field in Chicago this season unless there are situations where they need his services.