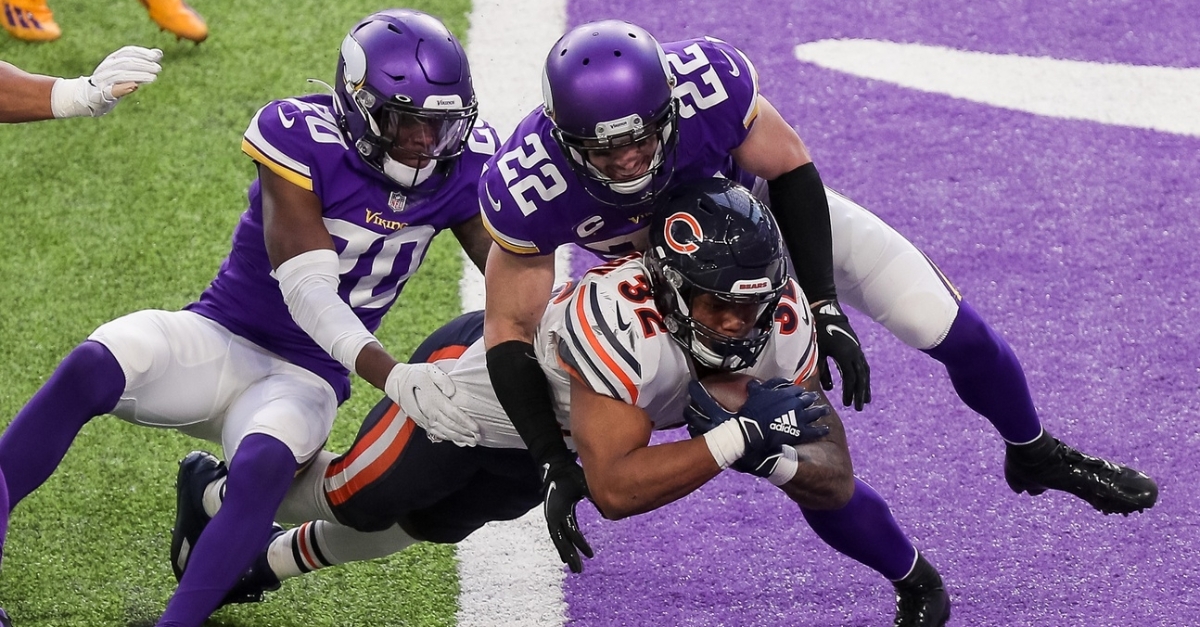 | | |
| --- | --- |
| 2021 Projections for Bears RBs: David Montgomery, Damien Williams, Tarik Cohen | |
---
| | | |
| --- | --- | --- |
| Monday, July 12, 2021, 12:10 PM | | |
The other day we started discussing the season projections by position and kicked things off at quarterback. Today, we continue to focus on offense as we move to the running back position. Running the football has been something Head Coach Matt Nagy has preached since coming to Chicago. With an improved offensive line and a deep RB core, look for much better results this season.
DAVID MONTGOMERY: Led by a rising star at RB, the third-year back out of Iowa St. is looking to continue to shoulder the load for the RB's this season. The Bears haven't had a legitimate three-down back since Jordan Howard, but Montgomery is quickly proving he is not only a three-down back, but could be a top 10 back in this league for years to come.
After a promising rookie season in 2019 that saw Montgomery surpass 800 yards on the ground, he will be looking to pick things up where he left off in 2020. Montgomery is coming off a great season where he finished in the top five in rushing yards with 1070 to go with eight touchdowns while also collecting 438 yards through the air on 53 catches and adding two more scores.
Montgomery came to life over the team's final six games, where he rushed for 598 yards and seven touchdowns compared to just 472 yards and one touchdown over the team's first nine games. Montgomery also had a four-game stretch where he amassed 434 yards rushing and five touchdowns which was only second to 2021 Rushing Champ Derrick Henry.
Since being drafted by Chicago, Montgomery is already proving much more valuable than a third-round pick. Everyone now sees how good he can run the ball, but Montgomery is focused on becoming a better receiver this season. If he can improve on that, the Bears will have another weapon to turn to, which will make things difficult for teams to defend.
Projection: 14 games, 285 carries, 1167 yards, 9TDs, 45 catches, 304 yards, and 5 TDS
Playing RB in the NFL comes with a pounding, and Montgomery is no stranger to taking on heavy contact. He has proven to be a durable back for the most part, and I expect that to continue this season. Although he may not play all 16 games, he will be their bell-cow and will continue to get better and build off last season.
DAMIEN WILLIAMS: One of the more surprising moves the Bears made this offseason was bringing in former Kansas City Chiefs RB Damien Williams. By adding Williams to the mix, not only do they bolster an already improved backfield, but they are bringing in a Superbowl champion who opted out of 2020 due to COVID concerns.
The last time anyone saw Williams on the field, he was putting on a show in the Superbowl leading the Chiefs to a comeback victory. In the process, Williams became the first player in NFL history to run for 100 yards and produce a rushing and receiving touchdown in the Super Bowl. That shouldn't surprise you, as he has logged 85 games of NFL experience and is a very versatile back.
Despite making just 13 starts across his first six seasons, Williams has generated over 1200 yards on the ground with 12 scores to go along with over 1100 yards receiving and two scores. In other words, he is a perfect Dual-threat back and will fit in well with this Nagy System. Williams is a well-rounded back who brings a ton of speed with him, and it will be interesting to see how the Bears use him.
Projection: 16 games, 2 starts, 157 carries for 787 yards, 6 TDs, 31 catches for 568 yards, and 4 TDs
Williams will see plenty of action this season and may start a couple of games here or there depending on Montgomery and his health. When in the lineup, look for Nagy to design specific plays for him as they need him to give them an element of surprise. He will do just that and could be in line for a great season even if he is just a No. 2 back.
Tarik Cohen: Lost in the RB shuffle is that of now five-year pro Tarik Cohen who signed a contract extension last season. Taken in the fourth round of the 2017 NFL draft, Cohen has been the Swiss army knife of the Bears offense but is now recovering from a torn ACL that he suffered in week three.
Cohen should be ready to go by week one, but gauging how much the Bears will use him early on is the most significant question mark. Cohen is a versatile player, and he became only the second player in NFL history to gain at least 500 yards via rushing, receiving punt returns and kickoff returns in his first 25 career games during the 2018 season.
Chicago lines him up all over the field, and when he is out there, the defense must pay attention to him. Cohen is the one player on offense that can beat you in various ways, so getting him back healthy is going to be the key. With Williams already in the fold, and guys like Ryan Nall, Artavis Pierce, Khalil Herbert, and CJ Marable all fighting for time, the Bears can take their time with Cohen to make sure he is entirely 100% ready to go.
Projection: 10 games, 65 carries, 324 yards, 2 TDS, 35 receptions 456 yards, and 5 TDs
Coming off an ACL injury, Cohen may take a bit longer to get back to speed hence why I could see the Bears putting him on the PUP list to open the season. That would give him an additional six weeks to get to 100% before being turned loose against defenses.
While he may be listed as the team's No. 3 back, look for him to see just as much playing time as Williams, if not more. While he may not get the carries, he has gotten in the bast this season; Cohen is valuable in other ways, which is why the Bears need him back to form. He is someone who can hurt you on special teams as well as through the air and on the ground. His health will be huge for the Bears offense to take that next step, and so far, he is progressing as well as expected.