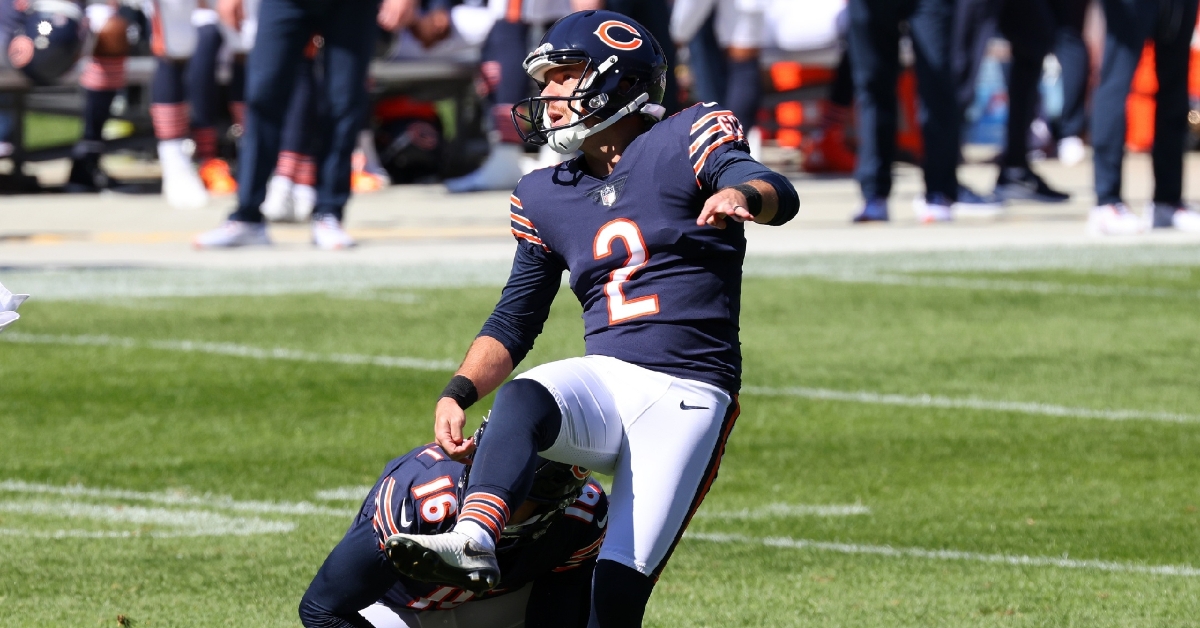 | | |
| --- | --- |
| 2021 Projections for Bears Special Teams: Santos, O'Donnell, Johnson | |
---
| | | |
| --- | --- | --- |
| Tuesday, August 17, 2021, 10:26 AM | | |
The final installment of the season projection series falls on the most overlooked unit on this team, but often one of the most important. We are talking about special teams as a great special teams' unit can make or break a team.
Since losing Robbie Gould, the Bears have been haunted by kickers, including Cody Parkey and his infamous double doink to eliminate the Bears from the playoffs. Chicago thought they had his replacement in Elliott Frye, but an injury in camp last season gave the job to Cairo Santos, who not only ran with it but played his way into a great season last year.
That season earned him a long-term contract as he looks to be the most trusted kicker the Bears have had since Gould. Outside of him and punter Pat O'Donnell the special teams unit will look drastically different this season.
CAIRO SANTOS: One of the biggest surprises and best stories in the league among special teamers last season was that of Santos. Added to the roster when Frye suffered an injury, Santos not only made it tough for the Bears to remove him from the kicker role, but gave them the confidence to invest in him going forward.
A reasonably accurate kicker most of his career, Santos went on to have the best season of his career in 2021, where he led most kickers in made kick percentage. Not only was he 36/37 in extra points, but he made 30/32 field goal attempts, including 18 straight at one point. That is about as accurate as you can get, and the Bears want to make sure he returns to the fold this season.
Prediction: 16 games, 34/35 XP, 24/28 FG
Santos was so good last season that he might have too many expectations on him this season. I find it almost impossible for him to duplicate last season's performance. That doesn't mean he won't be good, as I feel he will be a solid kicker again this season.
The Bears should have a much-improved offense so look for him to get more extra-point attempts than field goal attempts. Given that the Bears have another kicker on the roster, Chicago may go with two kickers this season which some teams have done in the past. Santos will be the go-to kicker, but look for possibly some role changes as the season goes on.
BRIAN JOHNSON: One name to keep an eye on this season is Johnson, who is coming off an incredible collegiate career. Not only was he an accurate field goal kicker, but he went a perfect 131-131 in extra points in his three seasons as a kicker. Now in the NFL, Johnson is hoping to start his career off with a bang while still competing for starting time on the field.
Prediction: 5-5 XP, 3/5 FG
With Santos back in the fold, Johnson may have to wait his turn to see the field. While he does have the better leg between the two, Santos is coming off the best season of his career, and it is his job to lose for the foreseeable future. That doesn't mean that Johnson will ride the bench all season, as I could see the Bears using him as their kickoff kicker while also giving him longer field goal attempts. Look for him to get minimal experience this season, but the experience nonetheless that will help him.
PAT O'DONNELL One of the longest-tenured if not the longest-tenured Bear on this roster is that of Punter Pat O'Donnell. Entering his ninth season in the league, O'Donnell has been one of the more consistent punters over the past five years, which isn't always a good thing. That means that the offense is not doing their job, which forces him to punt more than you would like at times.
In 2020, O'Donnell punted the ball 64 times for 2924 yards, suitable for a 45.7 Yards per punt average and a 39.5 Net average. Those were some of the best numbers of his career, as he often averages around 43 yards per punt with a 45-yard net average. Along with that, O'Donnell landed 28 of those punts inside the 20, which forced the opposition's offense to drive the ball further. That alone was a big key to flipping the field position game.
Prediction: 16 games, 58 punts, 44.6 yards per punt including 25 inside 20
No offense is going to be perfect, and the Bears are far from perfect. However, they should be able to move the ball much better this season, leading to fewer punts from O'Donnell. If that is the case, it would mean the team is scoring more points which is also a good thing.
Another thing to consider would be this. Even if O'Donnell is punting more than the team would like, they could be much shorter punts if the Bears move the ball a fair amount on their drives. That could drastically affect his average, but make things easier on the defense. Either way, look for the special teams to be busy this season, but that could be a good thing.