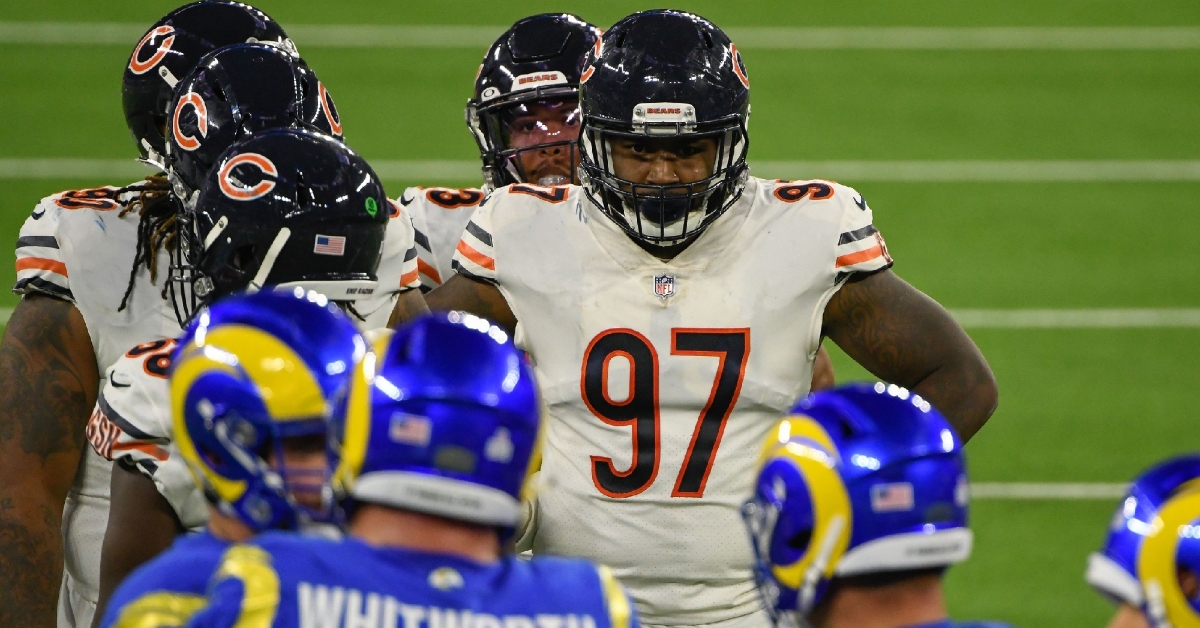 | | |
| --- | --- |
| 2021 Season Report Cards: Bears Defensive Ends | |
---
We continue down our season report card series as we move to the defensive side of the ball. Today it is the defensive line that could be going through a dramatic makeover next season. What was once the strength of this Bears team, their defense has lost some of that zen since Vic Fangio left for the Denver Broncos gig.
No one will say the Bears defense is terrible, but when you look at how good they were in 2018, they are not even close to being in that same category. A big reason for that is the coaching style itself, as both Chuck Pagano and Sean Desai orchestrated a completely new defense than what Fangio ran. You also have to add in the age of some of these players and their injuries, and you can see why there has been a bit of a decline lately.
Mario Edwards Jr.
Heading into the 2021 season, the Bears were expecting their defense to be much better than in 2020. A big reason for that was the return of Mario Edwards Jr, who is often overlooked in the Bears pass rush. A primary role player much of his career, Edwards has been earning more playing time over the years and has now played himself into a healthy payday.
Entering the 2020 season, Edwards Jr accounted for 118 career tackles, with 84 of them coming in solo fashion. Along with that, Edwards added 16.5 sacks and five forced fumbles as he was often near the ball on running plays. While those numbers may not be starting numbers, he was consistent, which led to a significant increase in playing time.
Hoping to break out again this season, Edward Jr was limited as he had to serve a suspension and then dealt with some nagging injuries. To see how bad it was, Edwards played in a total of six games this season, recording eight tackles and two sacks.
Season Grade: D Edwards Jr. was a massive disappointment this season, and the Bears defense suffered at times because of it. Expected to be one of their better defensive players this season, Edwards didn't even touch the field until week three and then was limited to five other games the rest of the season.
Even with limited games, many fans and coaches expected him to produce at the level he did in seasons past. Instead, they were treated to a disappointing season as he did next to nothing on the defensive end. With the 2021 season officially over, Edwards Jr can now take the offseason to clear his head and hopefully return in better form next year.
Signed as a free agent last year, Blackson was brought in as a depth piece and was being looked at to play in specific packages. With the Bears dealing with a rash of injuries this season, Blackson received regular playing time and emerged as a starting candidate in the middle of the season.
From a result side of things, Blackson showed plenty of promise as he logged 43 tackles (24 solo) to go with 2.5 sacks and one interception. He also added one pass deflection to that line proving how much of a menace he was. His future is up in the air next season, but he is someone worth looking into for a possible depth option for the next few years.
Grade B-: Although limited in action most of this season, Blackson did receive more playing time than most expected and performed well. He was the classic definition of a depth piece pouncing on an opportunity that not many teams would have given him. He is someone I feel could start in this league given the right situation, and the Bears need to make sure that doesn't happen.
LaCale London
An undrafted free agent out of Western Illinois, London is a massive human coming in at 6-5 316 pounds. He was stashed on the practice squad all season and never saw the field. For that reason alone, you must give him an incomplete for a grade as he did absolutely nothing to help his team in his first season.