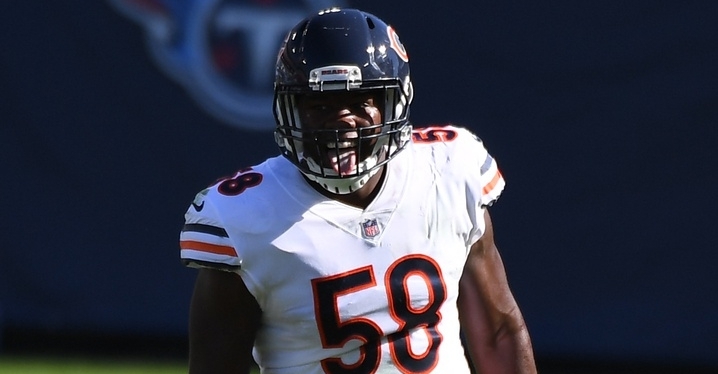 | | |
| --- | --- |
| Bears News: 2021 Season Report Cards: Roquan Smith, Danny Trevathan, more | |
---
Yesterday we continued our journey across the defensive side of the ball where it was the outside linebackers. Today we move to the inside, where it is all about the inside linebackers. Unlike most of the positions on this team, the Linebacker position is perhaps the deepest on the team and comes with a rising star.
While the overall numbers of some of these players may not be great, you can't put it all on them as the defensive line didn't live up to their standards this season. Looking ahead to next season, Chicago is set at one of the inside linebacker spots, but what about the second spot as this team desperately needs a facelift.
h2>Roquan Smith
Ever since being drafted eighth overall in the 2018 NFL draft, Smith has not only been a tackle machine, but one of the best linebackers in the game. He has registered more than 400 tackles through four seasons and is always around the ball on every play.
Last year was no different as Smith put together what may have been his best season ever. Not only did Smith have 95 solo tackles, but 163 total tackles setting a new franchise record in the process. Smith also registered an interception in which he returned 53 yards for a touchdown picking up three QB sacks. Smith is a menace who is always around the ball and has been nothing but a tackle machine for four seasons.
Season Grade A: Not only is Smith reliable, but he has been as productive as they come. When you talk about a ball-hawking linebacker, Smith is the guy that everyone thinks about. He is seemingly around the ball on every play, and teams still haven't learned how good a tackler he is. If there was one person for the Bears to build their defense around, Smith is that guy.
For the most part, the Bears defense has been solid, but lately, it has been the aging players who have been a liability. Trevathan falls into that category as the soon to be 32 year old is entering the back nine of what has been a solid NFL career. Unlike seasons of the past, Trevathan gave the Bears next to nothing in terms of production as he was limited to just 19 total tackles, with eight of them coming as solo.
He didn't force a fumble or pick up a QB sack which is not what this team is paying him for. Injuries played a role in his struggles this season, but even before that, it seemed like the game was moving at a different speed for him. This once durable and consistent player is starting to lose some of that magic as he enters the final years of his playing career.
Season Grade F: Playing through injuries is one thing, but not producing on the field when given a chance is another. No one will fault Trevathan for the injuries he had to deal with, but they will judge him on the production he showed while on the field.
For the first time in his Bears career, Trevathan was not only limited, but was a non-factor. One good thing that came from that was having other players get a chance to show what they can do, which could be used for significant depth pieces moving forward.
Bruce Irving, and more
The list of Bears linebackers could go on and on, but these are just three of the guys that saw significant playing time throughout the year. Attaochu was brought in to be a difference-maker off the bench, but instead finished the season with just two tackles.
Second-year player Gipson was the most impressive player out of this group and will give the Bears another nice piece to build around. Not only did he finish with 39 total tackles, but his seven sacks were second on the team behind Robert Quinn. No one expected that kind of production out of him, but now that he has, it could be a classic case of getting him on the field more to see what he can do.
Signed as a midseason free agent, the veteran pass rusher Bruce Irving was added to the Bears defense expected to make an immediate impact; Irving didn't have an opportunity to do so and wound up with just seven tackles on the season. That is not a good way to make a first impression, and along with that, he is another aging piece that the Bears may move on from in 2022.