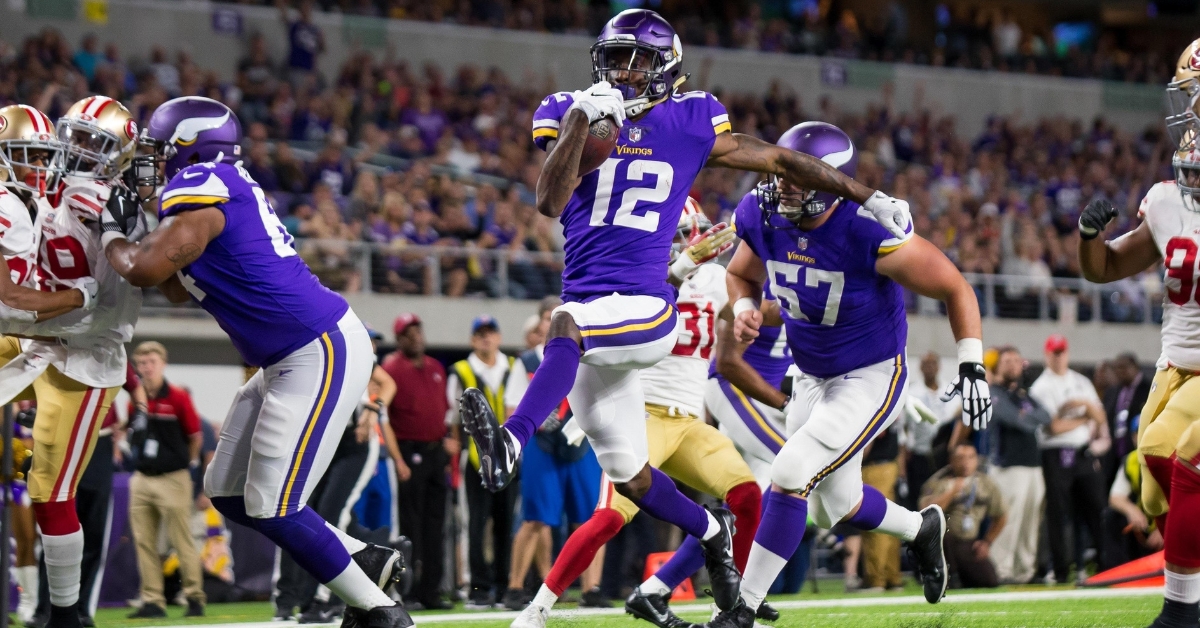 | | |
| --- | --- |
| Bears add former Vikings receiver | |
---
| | | |
| --- | --- | --- |
| Thursday, August 20, 2020, 11:41 AM | | |
During a regular training camp, we would be at the stage of the third preseason game, also known as the dress rehearsal. With so many things going on this year, teams are now in just their third padded practice as they look to get the most out of what they can do right now.
Things have been going very well early on with plenty of competition battles to be had for the Bears. The one position where competition doesn't appear to be a need is the receiver group, where Chicago has that unit practically set for 2020. However, that will not stop the Bears from adding talent if they see the fit, and that is exactly what Chicago did as they have brought in some more offensive depth helping the receiving group.
Welcome aboard Rodney Adams as he will join an already crowded group giving them 12 receiver options. Adams, the former fifth-round pick of the Minnesota Vikings out of the University of South Florida, retired a few seasons ago. After being reinstated by the league in January of this season, Adams will get a fresh start with a new franchise, and the Bears are bringing him in to see what he can do.
At 25 years old, Adams is still very young and could have a long career ahead of him, but when you don't play for two seasons, it could be hard to get back up to speed. Adams had an excellent career for USF posting consecutive 822-yard seasons, which is why the Vikings took him in the fifth round. Adams also brings special teams to experience to the table recording 1140 return yards for the Bulls while averaging 24.8 yards per return.
At 6-1 and 194 pounds, Adams gives you good size for a wide receiver, but his speed is what stands out. He was clocked between 4.41 and 4.44 in the 40-yard dash at the combine. Speed like that is always an asset for any franchise to have. Adams has always had the ability to become a playmaker when given a chance, but unfortunately, that never presented itself in his brief career.
After signing with the Vikings in 2017, Adams was waived in October of the same year before landing on their practice squad to finish the season. The following season he would sign a reserve/futures contract with the Colts only to land on the reserve/retired list just two months later. Now two and a half years later, Adams hasn't seen a snap of football as the Colts waived him on August 2nd following his January reinstatement.
The plans for Adams in the Bears system are undoubtedly a question, but there is a lot to like about bringing him in if he can prove himself. Should he prove he belongs and perform well enough on the practice field on offense, the Bears are adding another weapon to their passing game. Over the past two seasons, that unit has continued to get better, so adding more weapons to that side of the ball makes it that much more diverse.
Secondly, Adams has special teams experience, which worst-case scenario leads me to believe he could be designated to special teams. Tarik Cohen handles the punt return duties, but he could hand the job over to Adams to focus more on his game's offensive side. You also have Cordarrelle Patterson handling the kick return duties, which is where Adams could be an X-Factor.
Teams know that when you kick to Patterson, you're playing with fire, so they often kick it over his head or away from him as much as possible. Putting Adams out there with Patterson could drastically alter a team's approach how they handle kicking duties. You either kick it to the best return man in the game today and pray something big doesn't happen. Or you kick it to Adams, another guy who knows how to return kicks and try to contain him in space.
Regardless of what they do, it could be a win-win situation for the Bears moving forward. These generally are not moves that are going to wow you in any way, but this is a move that I could see working out in their favor.
New #Bears receiver Rodney Adams will wear No. 6 pic.twitter.com/zOSXiM16Da

— Patrick Finley (@patrickfinley) August 20, 2020
#Bears sign WR Rodney Adams, who was part of Wednesday tryout. He takes place of CB Artie Burns, who was placed on IR. Adams was a 5th rd pick by #Vikings in 2017.

— Brad Biggs (@BradBiggs) August 20, 2020