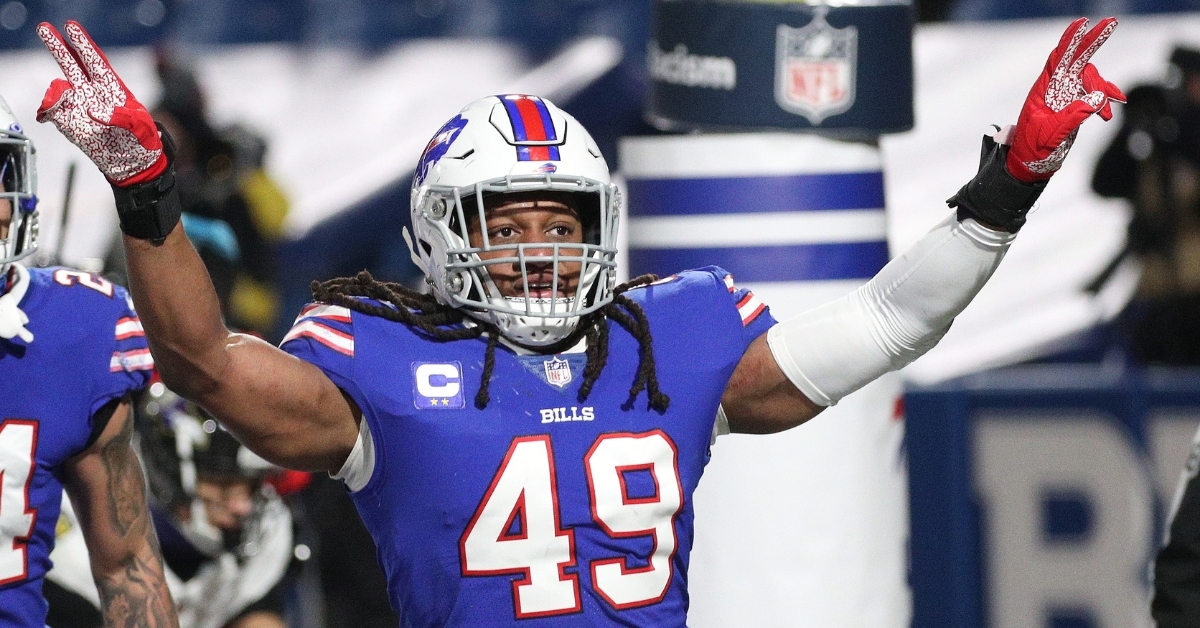 | | |
| --- | --- |
| Bears bulk up their defense with massive signing | |
---
| | | |
| --- | --- | --- |
| Monday, March 13, 2023, 8:12 PM | | |
Despite not being able to officially sign a free agent contract until Wednesday, it hasn't stopped teams from reaching agreements, as Monday has been a busy day. The Bears got off to a great start by adding LB TJ Edwards to the mix for a three-year 19.5 million dollar deal. However, the Bears outdid themselves as they continued to add to their defense with another massive signing.
Like Edwards, this signing comes via the LB position, and it happens to be former Buffalo Bills LB Tremaine Edmunds as he has agreed to a four-year 72 million dollar deal with 50 million guaranteed. No one will criticize the Bears for the Edwards signing, as that was a terrific pickup for this team, but the Edmunds signing is enormous, as this has the potential to be a steal for the Bears.
Adding Edmunds to this contract makes him the fourth highest-paid ILB in the NFL, and he will have to live up to that contract. When you look at how poor their defense was last season, any addition would be crucial this offseason, but this was an addition that no one saw coming.
Drafted in 2018 by the Bills, the 6-5 249 pounds Edmunds has been one of the leaders on that defense for the past five seasons and will now look to take his success to the Windy City. Keep in mind this guy is still only 24 years old, as his best days of playing football are ahead of him. Hopefully, the Bears get to see those days.
Edmunds is coming off a season where he played in 13 games and has been very durable since coming into the league. In those 13 games, Edmunds accumulated 66 tackles, one sack, one interception, and four pass deflections. Compare this to this career where he has played in 74 games, and you have a guy with 565 tackles, 6.5 sacks, and five interceptions.
This is the definition of a playmaker on defense and something the Bears LB room has been missing since trading everyone away the past two seasons. While it is still being determined whether or not Edmunds was on their radar for a long time, the Bears knew they needed defense and made sure to jump on the opportunity to land him.
Pairing him with Edwards, who they signed earlier, is a significant upgrade on defense that will only help this defense get better and return to form. Edmunds has a knack for being around the football, as most LBs do. He is there to make the play and has shown the athletic ability to intercept passes and get after the QB.
Giving a free agent this kind of contract comes with a ton of risk, as he needs to live up to that contract. However, when you look at his production across the board, there shouldn't be a reason to question this deal, as it fills one of the many holes on this team.
While everyone wants to criticize the offensive struggles the past two years, and rightfully so, it was the defense that let the Bears down more often than not a season ago. This team ranked 31st in yards allowed, 30th in points allowed, and dead last against the run at 4.9 YPC. That is the big reason this team lost 10 games in a row to end the season and come away with a 3-14 record.
For those that felt optimistic about the Bears offseason heading into the week, I would like to know how you feel now. With Kirk Cousins nearing the end of his time in Minnesota and Aaron Rodgers on the verge of being sent to New York, the NFC North is wide open and could be the Bears division for the taking.
This team has the funds to make noise, the draft capital to make an impact, and the personnel that wants to win now. After being the laughingstock in the league a season ago, things are about to change, and it could be time to fear this Bears team once again.
https://www.youtube.com/watch?v=-d0hYpdxsGo