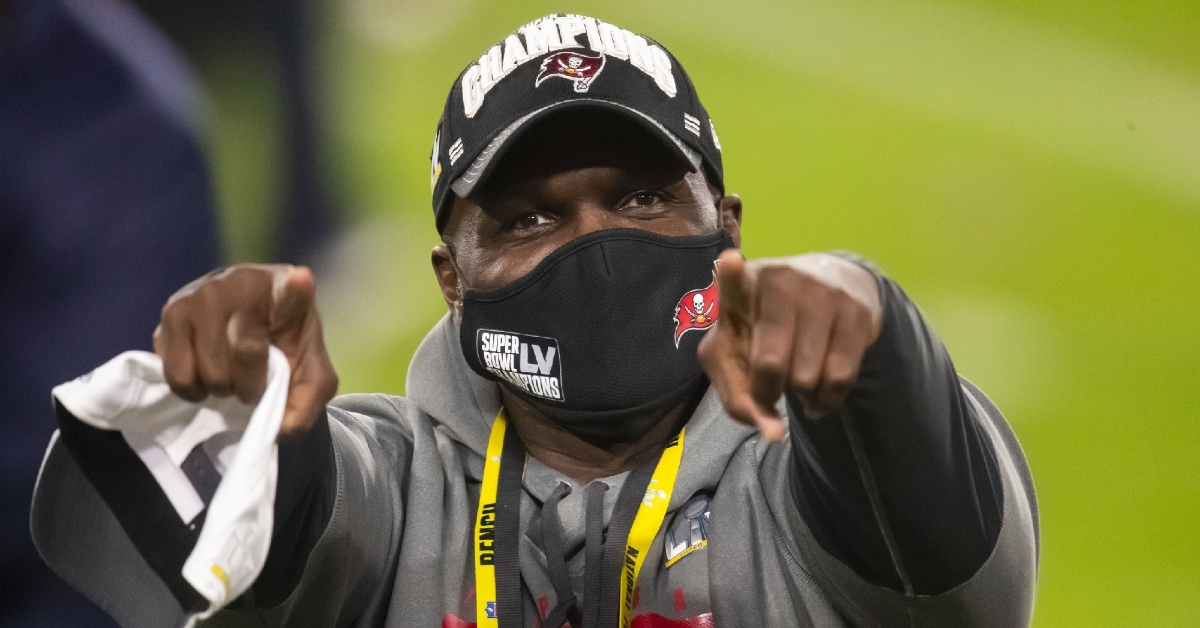 | | |
| --- | --- |
| Bears Coaching Candidate: Todd Bowles | |
---
| | | |
| --- | --- | --- |
| Tuesday, January 25, 2022, 10:55 AM | | |
Nearly three weeks into the NFL offseason, the Bears still don't have a GM or Head Coach. With the divisional round coming to an end this past weekend, more candidates are up for grabs, but it does appear like the Bears are getting close to making a coaching decision.
For the longest time, fans have been clamoring for them to go offensive mind with Brian Daboll as the top choice for most fans. If you look at the list of finalists they have put together, not a single name is offensive-minded, which might be a concern. Most fans would be ok going defensive-minded if this person had prior experience or was the right man for the job.
Only one name on the finalist list has prior head coach experience, so you have to wonder about the Bears plan at this point. One name that hasn't surfaced in the finalist portion of the interview process is a shock to me, but don't be surprised if the Bears try to interview him now that the Tampa Bay Buccaneers are eliminated. Current Tampa Bay Defensive Coordinator Todd Bowles has had several interviews already and would make a good option for the Bears.
One of the best defensive coaches in the NFL, Bowles, has been around for a long time logging nearly two decades of coaching experience, including previous head coaching experience. Bowels is a mastermind on the defensive side of the ball, Bowles has spent his entire coaching journey coaching defense and has filled several different roles to go with it.
He started with the Cleveland Browns in 2001, working as the secondary coach from 2001-03. Bowles also held the Nickel Package Coach title during his tenure in Cleveland, holding that position until 2004. Once his time with Cleveland was over, Bowels headed south to join the Dallas staff, where he took over the Secondary coach opening and held that position from 2005-07.
Bowles did such a great job in Dallas that the Miami Dolphins not only wanted him for their secondary coach position in 2008, but appointed him assistant head coach to go with it. His final season with the Dolphins came in 2011, where he was promoted to Interim Head Coach to finish out the season. He went 2-1 over those final three games as that was his first real shot at interviewing for a permanent head coaching job.
Bowles moved on to Philadelphia in 2012, acting as the secondary coach and later on the Interim Defensive coordinator. One year later, he was off to Arizona to join Bruce Arians while taking over the Defensive Coordinator role for the next two seasons. During that two-year run, people started to notice the job Bowles did, which brought up his first and only real head coaching opportunity in 2015.
Over the next four years, Bowles was patrolling the sidelines for the New York Jets, and things didn't go well. Sure, he was a first-year head coach, but the Jets organization was on a drastic downturn, and he was put in a challenging situation. After going 10-6 in his first season and showing real promise, Bowles failed to win more than five games his next three years and finished with a 24-40 record with the Jets. Add in his brief stint with Miami, and he is 26-41 as a head coach.
Knowing the type of man and coach Bowles is, Arians didn't hesitate to bring him back to his staff, where he has been the defensive coordinator in Tampa Bay for the last three years. Despite his tenure with the Jets not going well, he did win 10 games in his first season, which is more than you can say for Adam Gase or Robert Salah. Bowles has proven to be a great leader and coach on the defensive side of things, and many feel that he will be a good head coach in this league if he learns from his mistakes in New York. Many of those mistakes came from being a first-time head coach, but you have to account for the Jets being the Jets.
Bowles is no stranger to interviewing with the Bears, as Chicago tried to get him as the defensive coordinator in 2019 to replace Vic Fangio. He eventually chose Arizona, but Bowles has been linked to Chicago before. Ryan Pace also interviewed Bowles in 2015 before ultimately taking the Jets job, so the Bears see something in him they like.
Even though his first chance as a head coach was a dud, Bowles is a defensive-minded leader who deserves a second shot at this. I am not sure if his second chance comes with the Bears, but he is worth looking at. You can expect Bowles to surround himself with a great staff as he looks to avoid the same mistakes in New York.