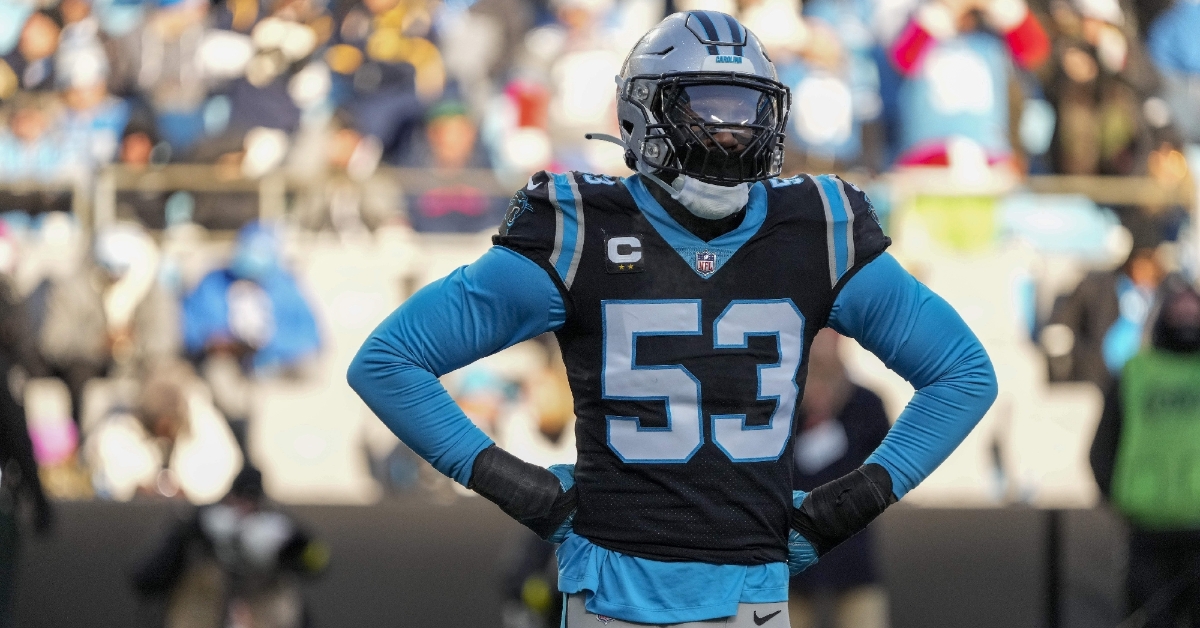 | | |
| --- | --- |
| Bears DL trade target: Brian Burns | |
---
Anytime you go through an entire season with only 20 sacks as a team, that is a problem. That alone was one of the biggest reasons the Bears lost their final 10 games, as their defense was ranked near the bottom in virtually every category. With Aaron Rodgers out of the division and many question marks in Minnesota, the Bears know the NFC North could be wide open this season, and they want to capitalize on that.
For that to happen, the Bears know they need to improve the biggest question mark on this roster which still is the pass rush. Despite all the additions Ryan Poles has made this season, he still needs to address the pass rush problem as much as he needed to, which could be one of the few concerns heading into camp.
Even if the fans are still concerned with that, there is plenty of time for the Bears to make an addition, which may come via a trade once camp breaks. All the talk this offseason has circled around the Bears adding a free-agent pass rusher, but most of the elite ones out there are on the wrong side of 30. Given the Bears' position, they may not want to invest in players that old and may choose to go with youth over experience.
If that is the direction the Bears want to go, Poles will have to get creative if he wants to add to this roster, and it will most likely come via a trade. Poles isn't the guy who will make a trade to make a trade, but if he is going to make deals to improve this roster, why not swing for the fences and bring in a pro bowler like Brian Burns as a possible option?
A former first-round pick out of Florida State, Burns has been one of the leaders of the Carolina Panthers defense the past four seasons and is on the verge of landing a huge contract. Given the Panthers' position this season, Carolina may be inclined to trade him away for assets instead of letting him play out his contract and losing him for nothing.
Since entering the NFL, Burns has been an outstanding player, including back-to-back pro bowl selections. That production and consistency alone saw the Panthers pick up his fifth-year option, as he is set to make 16 million dollars this season before hitting the open market next year. Granted, the Panthers will have the chance to franchise tag him next season, but with a projected value of 18.3 million, he may be too rich for the Panther's blood as they are in full rebuild mode.
Not only has Burns been a consistent player, but he has been durable also, which is all you can ask for in this league. Across his four seasons, Burns has missed two games, so you know he will play each week. Across those four seasons, Burns has accumulated 38 sacks, averaging 9.5 sacks per season. He has also added 121 QB pressures to those sacks and continues to find himself in the backfield getting after the QB.
Those are great numbers and vast improvements from what the Bears had last season, but he has improved each season, which is also a promising sign. This past season saw Burns put forth his best season, and that bodes well heading into a potential contract year. Burns led the Panthers with 12.5 sacks last season while also knocking down 11 passes at the line of scrimmage. Add in seven forced fumbles and one defensive score, and Burns was a play-making beast this past season.
When it comes to all of the Bears' options, Burns fits in exceptionally well for various reasons, and that all starts with the 4-3 scheme. Any time you add a player familiar with a system, it makes life easier for the coaching staff and the players on the roster. Burns is also an elite player who is still just 25 years old.
This is one of the players the Bears should be looking at if they want to make a trade this season.