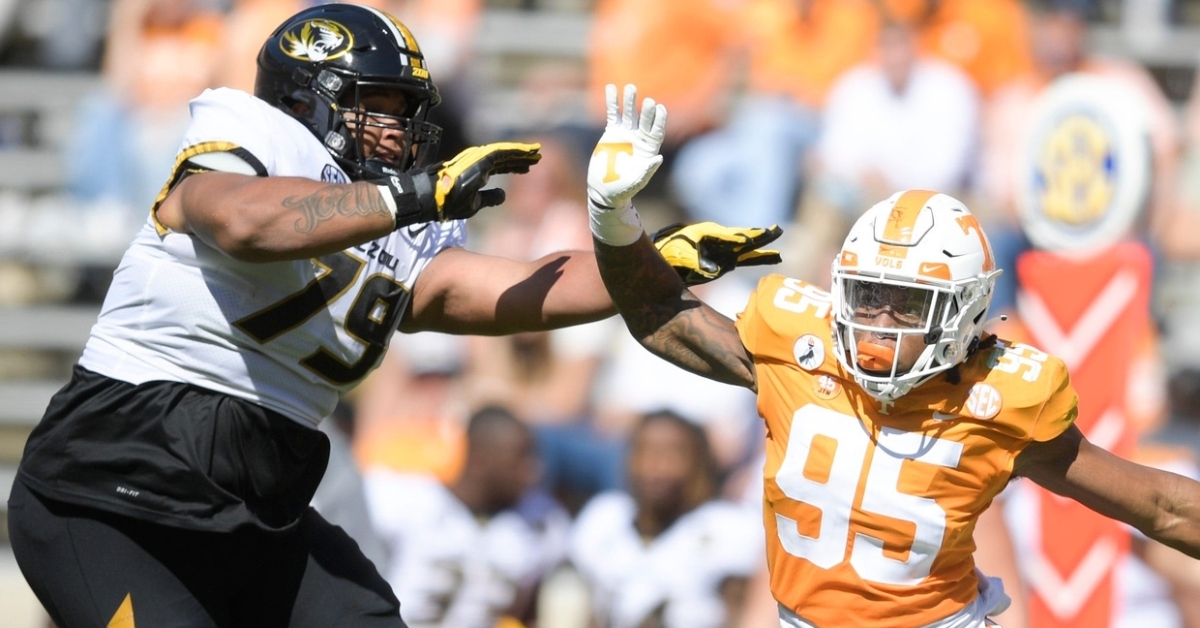 | | |
| --- | --- |
| Bears find value with OL Larry Borom in Round 5 | |
---
After stealing the show during the first two rounds of the NFL draft, the Bears had to wait a little while to make their next pick. Without a pick in round three or four, it wasn't until the fifth round when the Bears were on the clock once again.
With only one pick in the fifth round, Chicago was hoping to strike gold once again as they turned their attention to the offensive line yet again in an effort to add depth. This time it was Larry Borom, the big offensive tackle from Missouri who will be joining the Chicago big men upfront.
Unlike the drafts of the past that Ryan Pace participated in, he focused on the offensive line in this one looking to protect Justin Fields well beyond this season. While the Borom selection may be a fifth-round pick, there is a lot to like about this selection, even if it is just a depth piece. With the goal of this draft to build around Fields and what he can bring to the table, Borom could play a significant role in that future and how the offensive line performs.
The 6-5 322 pounder brings some versatility on the offensive line, where he has seen action at both guard and tackle. That is very similar to second-round pick Teven Jenkins as both are versatile and can move around the line. That makes Chicago much better up front, knowing they can move some pieces around.
A lot of experts have Borom penciled in to play the guard position, which is a win-win for Chicago, but offensive tackle is the biggest concern for the Bears, so look for him to get work there too. Much like their second-round pick in Jenkins, Borom brings with him some toughness and nastiness to an offensive line that simply hasn't been physical enough in recent years. The addition of these will most definitely show a more physical football team and something the Bears fans will love seeing.
Graded at a B+ for that pick, Borom would love to play tackle in this league, but his lack of functional movement in both run and pass blocking sets may have him ticketed to guard. That is where his versatility comes into play, as moving to guard wouldn't be a foreign spot for him.
Not only is Borom big, but his natural size is a matchup problem and allows him to block his man downfield, creating space on the line. That tends to pave the way for the running back, which the Bears will use a lot of this season while also giving the QB a clean pocket to throw in. Not only that, but his strong upper body also makes it hard to maneuver around him, and he does a great job redirecting edge rushers away from his QB to keep them protected.
Like every prospect, especially the later-round guys, Borom has plenty of things to work on, which could all be coached up within a season. Starting with his overall blocking style, he is more of a mauler looking to get physical than a controlled blocker looking to move his man. That has its perks, but sometimes the over-aggressive style leads to mistakes that can cause busted plays.
While he may be a physical blocker, he doesn't spend a ton of time finishing those blocks as his slippery hands tend to come off sooner than you would like. A big reason for that is he plays with stiff legs causing some slow lateral movement at the point of attack. Run blocking has never been an issue for Borom, but his pass blocking from the tackle position is a concern.
Not only does he have a hard time getting his feet set to be an outside anchor, but he tends to struggle to find the proper range as a pass blocker. Those two things are the biggest concerns about his tackle ability hence why the Bears may stash him at guard.
Regardless of how you feel about this pick, this was a great value pick for the fifth round. It gives the Bears depth at a position they needed while giving them a potential starter down the road at various positions. Chicago focused on their new QB in this draft, giving him as much help as possible for this season and the future. As things stand now, this was arguably the best draft of Pace's tenure with the team, and now it is up to the players and the product on the field to deliver at that level.