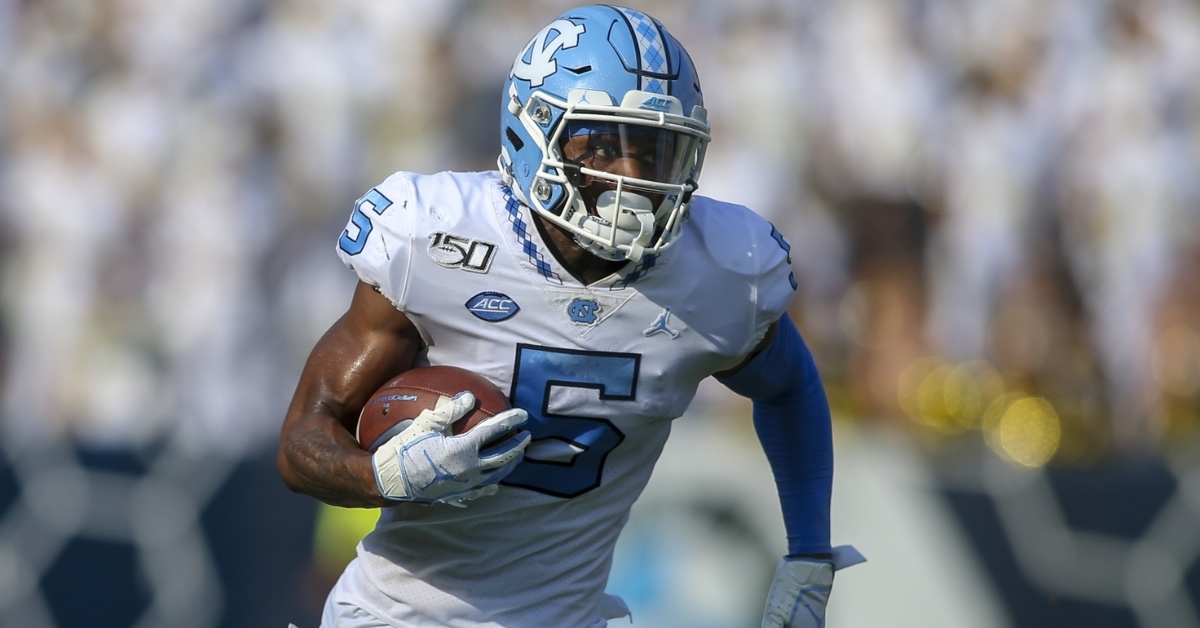 | | |
| --- | --- |
| Bears get late round steal in WR Dazz Newsome | |
---
| | | |
| --- | --- | --- |
| Thursday, May 6, 2021, 9:39 AM | | |
If you thought the Bears struck gold in the first two rounds, round six was good too as Chicago continued to find great talent. Even if the pieces added in the sixth and seventh rounds were depth pieces, you have to take notice and applaud what Ryan Pace and company did when you receive A grades for those selections.
After adding a RB in Khalil Herbert earlier in round six, the Bears continued to focus on skill position depth by selecting UNC WR Dazz Newsome. Even though Chicago didn't use a high draft pick on a WR, mainly because they didn't have one to use, Newsome is a very underrated selection, and this could turn out to be a steal for Chicago.
I put this in a similar category as when the Vikings drafted Stephon Diggs in the fifth round, and we all saw how that has panned out. Not only does he bring speed to the wide receiver room, which the Bears could use more of, but he is exceptionally athletic. Newsome has also been called the human highlight reel by so you can see why the Bears scored so highly with this pick.
Not only will Newsome come in and add to a growing WR room, but he is bringing special teams experience with especially in the punt return game, where he has averaged 11.1 yards per return. With Tarik Cohen recovering from a torn ACL, the Bears will need help in that aspect, and Newsome will undoubtedly help. Newsome has put that impressive average together by returning 48 total punts, including one for a score, as he has more experience than anyone else on the Bears current roster.
Despite running a 4.57 at his pro day, Newsome is another speedy weapon added to this offense as he has been clocked in the 4.51-4.52 range before. Given the speed, makeup, and potential of Newsome, many people are comparing him to Darnell Mooney, another late-round steal for the Bears.
Newsome is a competitive, high-energy player who thrives out of the slot position. He has blazed his trail of success on the collegiate level, resulting from his athletic ability and work ethic to get better. His speed isn't the top-end blazing speed of some receivers, but he makes himself look faster given the various routes he runs.
He may not be the biggest guy on the field, but Newsome won't back down from a challenge and will never shy away from taking on some of the better defenders in the game. One of his quarterbacks' favorite targets, Newsome, led the team with 72 receptions for 1108 yards and 10 touchdowns in 2019 as he put himself on the map as a legitimate receiving prospect.
2020 saw his numbers go way down in terms of production, but that was because of the Tar Heels' offensive firepower on the field. Still, Newsome finished last season with 54 catches for 684 yards and six touchdowns. In addition, he added 21 yards on the ground with one score to go with nearly a 10 yard per punt return average. As a three-year starter, Newsome has never compiled less than 500 yards receiving and continues to make plays in the special team's side of things.
Newsome is clearly a prospect, but he needs to work on a lot of things before he can be considered a starting-caliber prospect. His route running and passing catching form are the two things that stand out the most as those both need a lot of redefining. There are also some other things that scouts like to nitpick about, but they are just doing their job at that point.
When he is running routes, he tries to fake out the defenders without having the desire to change things up. They typically don't bite, which often leads to lazy routes. He is not a natural hands catcher and uses his body to catch more than you would like. At the NFL level, that is something that needs to change as body catching works with kicks, not passes. Newsome is also inconsistent when it comes to bringing an energy level, but many times, that could be from frustrations from past mistakes.
For now, Newsome is nothing more than a backup receiver who should see the field immediately on special teams. However, given his overall production and consistent production with the Tar Heels, look for Newsome to continue to grow into a solid player and one who could challenge for more playing time in a couple of seasons.