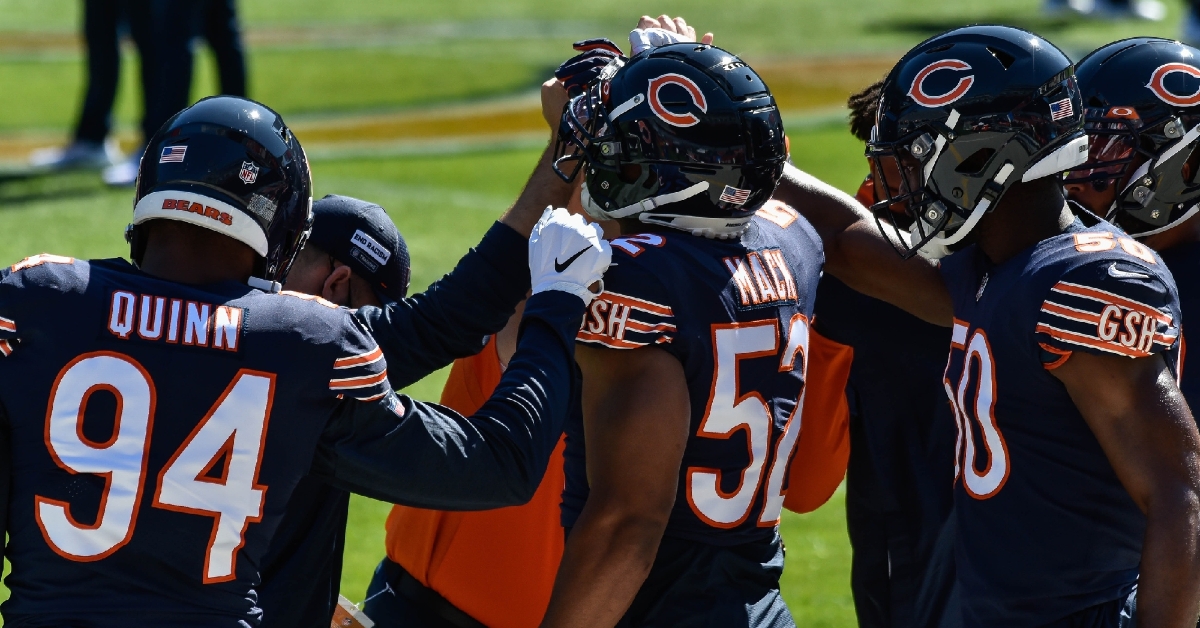 | | |
| --- | --- |
| Bears need defense to return to elite form | |
---
| | | |
| --- | --- | --- |
| Tuesday, October 6, 2020, 10:41 AM | | |
For the longest time, the Bears defense has widely been regarded as one of the best in the game. Even through some struggles last season, they still landed in the top 10, which was a good sign for Chuck Pagano, who took over for Vic Fangio.
In the second season with Pagano, many expected the Bears defense to make strides again this season to land in the top five potentially. However, things have not gone as planned for the Bears defense this season as they are not producing at the level needed to be a championship contender.
When you look at the Bears team, immediately, the offensive struggles come to mind as this team can't see to get anything done offensively. However, when you look deeper into this team, the defense is not nearly at the level they were expected to be, and it is putting more pressure on the offense to do their job.
A typical Bears team tends to have a mediocre offense that relies on a hard-hitting defense to get the job done. That defense makes the plays and makes life easier for the offense to do the little things to pick up wins. This season things have not gone as planned as the defense has struggled for much of the season, putting more pressure on the offense to pick up their slack.
The Bears offense has shown moments of greatness this season, but no one expects them to go out there and score 30 a game to carry this team. However, they are struggling to score 20 points a game, and that can't continue if this team wants to be where they expect themselves to be at the end of the season.
Watching this team play, I have always been under the assumption that if you can score 20-21 points, it should be good enough to win. This is a defense that very rarely allows 20 points, so if the Bears can figure out where to reach 20 points, it should be enough to get the job done. The problem with that number is that the Bears are not reaching that number consistently, while the defense allows over 20 points this season.
Take week two against the Giants out of the equation, and the Bears are allowing around 24 points per contest. That would be the most they have allowed in a season since 2016, which is not good considering the offense's state.
Through four games, the Bears are averaging around the magic number of 20 points per contest. They have two games where they averaged 14 points and another two games where they averaged 28.5 points. Scoring excess of 30 points is not expected from this team, but struggling to reach 14 also isn't likely.
???????????? in the trenches. ?? pic.twitter.com/J5zKOuuQ5C

— Chicago Bears (@ChicagoBears) October 6, 2020
This is an offense that has the ability to be explosive but hasn't done a great job of being consistent with it. Yet, here they are still averaging around 20-21 points per game, which would be good enough to win most games in normal instances. That is what makes this defense so troubling this season.
I get that they lost Eddie Goldman and some other pieces from last year's team, but they added Robert Quinn and some much-needed depth across the board. They appeared to be a better unit this season than last season. Maybe this is a case of not having a preseason to learn how to play together, but the defense has not been great this season.
Not only are they not forcing turnovers the way they would like, but they are struggling to get pressure on the quarterback with only Khalil Mack seeming to be able to do that. Chicago is also struggling to get off the field on third down, which keeps that unit on the field longer. The longer they are on the field, the more points they will allow, and it leaves less time for the offense to get things going.
For the Bears to get back to doing what they do best, this defense needs to return to their elite form. What that entitles is a whole different story, but they need to do better than what we have seen. The offense is what it is, but the defense is this team's calling card. Until they can get back to where we expect them to be, this team is mere a pure pretender and not a contender.