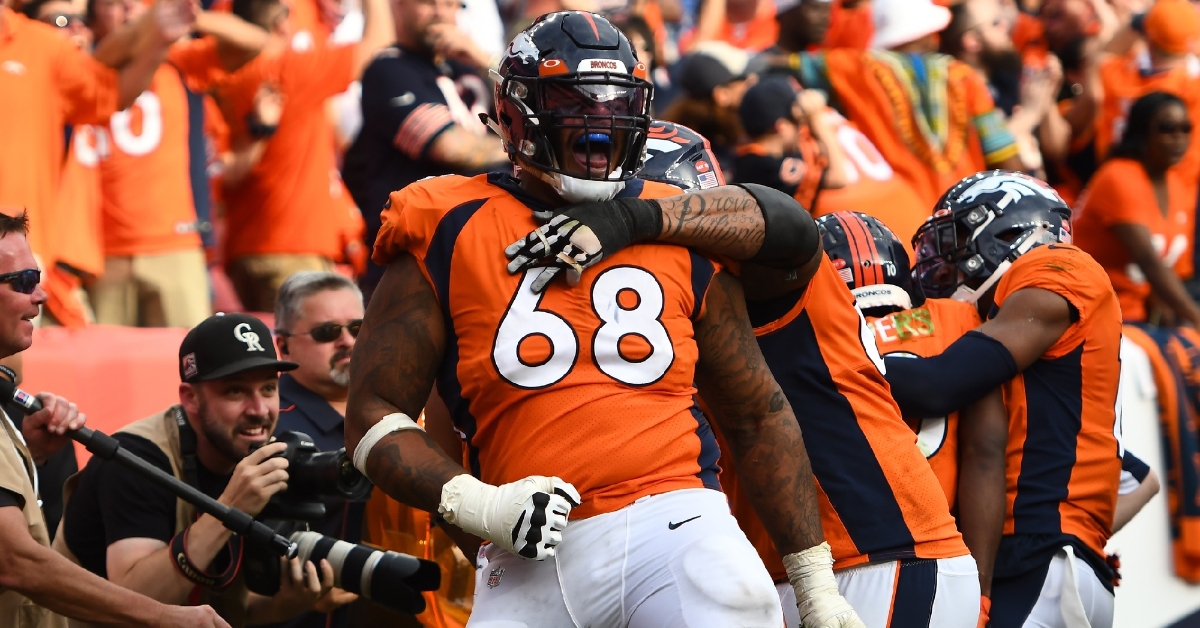 | | |
| --- | --- |
| Bears News and Notes: Latest roster moves, Bears watch Mac Jones at Alabama Pro Day, more | |
---
| | | |
| --- | --- | --- |
| Wednesday, March 24, 2021, 11:12 AM | | |
We have gotten to the point in free agency where most of the big-name players have done what they needed to do. For Chicago, they were one of those teams tight on cash and had to restructure and or release a few people to clear up some additional funds.
Bears sign offensive lineman Elijah Wilkinson
An interesting signing came earlier this week when the Bears elected to sign former Broncos offensive linemen Elijah Wilkinson to a one-year deal. After missing out on Trent Williams, the Bears knew they still needed some offensive line depth even after resigning Germain Ifedi. Wilkinson certainly gives them that even if he has had struggles in the past.
The first impressions of Wilkinson are that he is a big man standing at 6-4 and coming in at just under 330 pounds. Across his 45 games of NFL experience, Wilkerson has started 26 of those games averaging eight starts in each of the past three seasons. He has experience at right tackle and at right guard, which makes him a candidate to be one of those swing-type players who can play multiple positions.
Bears sign linebacker Christian Brown
Another signing that was added to the ball's defensive side, and is a familiar face that Bears fans should know.
That player would be Christian Jones, who returns to Chicago after playing for them from 2014-17. The former undrafted free agent out of Florida St., Jones came into his own as not just a special team player but a great role player designed for specific schemes.
His overall consistency and production landed him a three-year contract with the Lions. Now a free agent once again, he is returning to the Windy City on a one-year deal. Not only did he start 31 of his 63 games with the Bears the first time around, but in 45 games with the Lions, Jones made 42 starts putting up consistent numbers. This past season, Jones played the best football of his career, and that will often go unnoticed when you look at the Lions team.
Jones shouldn't expect to start coming to Chicago when you look at the linebacking group in front of him. Instead, look for Chicago to use him much like they did the first time around. Not only is he a depth piece but one that comes with starting experience and could immediately step in if needed.
Bears watch QB Mac Jones and others at Alabama Pro Day
While most teams are still focusing on free agency, the Bears are continuing to focus on their future, especially when it comes to the quarterback position. Both Bill Lazor and John DeFilippo are off to Tuscaloosa, Alabama, to watch the Crimson Tide pro day or, say Mac Jones pro day.
Coming off the season Jones had, no one has skyrocketed up the draft boards more than him, and some experts have him going in the top 10. I think he falls to 15, and if that is the case, the New England Patriots make an ideal fit for him. Let's, for some reason, say he falls out of the top 20 and is available when the Bears pick. Do they scrap their OL plans and pull the trigger on him at that point? I would.
You are looking at a guy who showed promise his first two seasons at Alabama but had to sit behind Jalen Hurts and Tua Tagoviola. Across the 2018-19 seasons, Jones completed around 54% of his passes for 1626 yards, 15 touchdowns, and three interceptions. With both of the mentioned QB's above getting drafted in the 2020 NFL draft, it was Jones' team to run in 2020, and he certainly didn't disappoint.
Not only did he complete a ridiculous 77% of his passes, but he did so by throwing for 4500 yards to go with 41 touchdowns and just four interceptions. When you have a guy like Davonte Smith to throw too, it does make life easier, but Jones was impressive last season. Despite that success, there is always the thought that Alabama quarterbacks traditionally haven't done well in the NFL.
While the jury is still out on both Tua and Hurts as they are still young, Jones just seems like a different breed of Alabama QB. I know the focus of this team should be O line, but if he does somehow fall close to you when you pick, there isn't a discussion that needs to be had. Jones is the real deal, and whoever lands him will be lucky. Maybe luck will fall on the Bears side for once, and they can figure out how to make this happen.
Happy Birthday Danny Trevathan
???????? ??????????!

Have a good one, @Grindin_59! ???? pic.twitter.com/cJmLLhPjUq

— Chicago Bears (@ChicagoBears) March 24, 2021
5??9??'s always a vibe. ??

RT to wish @Grindin_59 a HBD! pic.twitter.com/PDFPw2n2ms

— Chicago Bears (@ChicagoBears) March 24, 2021