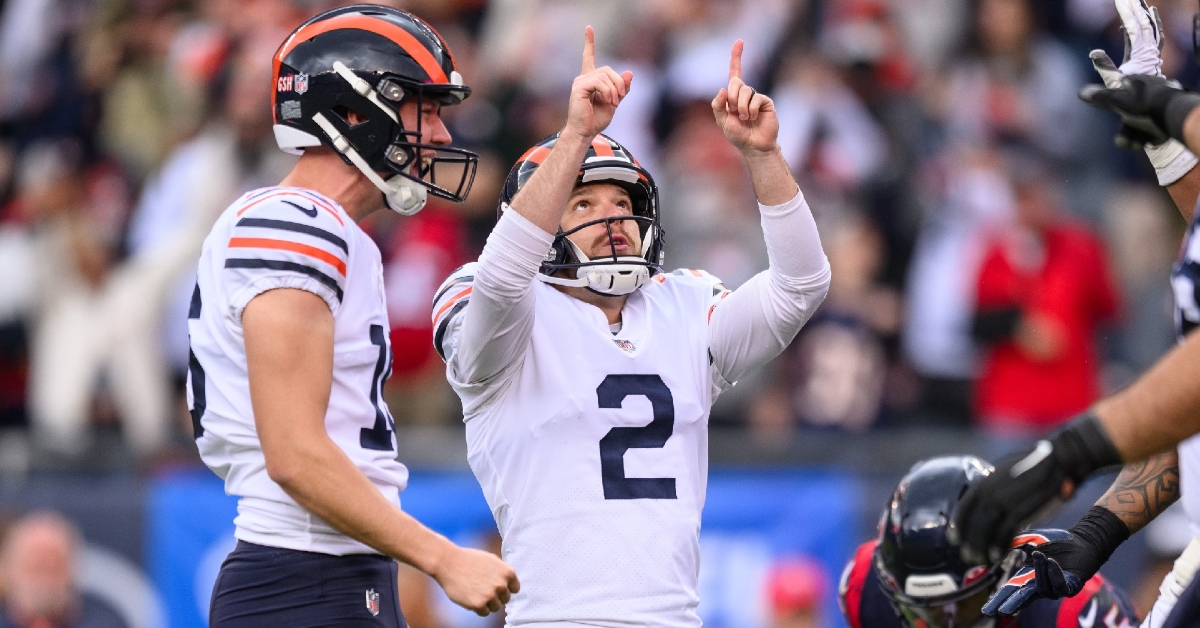 | | |
| --- | --- |
| Bears News: Cairo Santos reacts to winning POTW award | |
---
| | | |
| --- | --- | --- |
| Friday, October 28, 2022, 9:32 AM | | |
Cairo Santos, currently in his second stint with the Chicago Bears, has been doing rather well for the Bears, particularly last game against the New England Patriots and was named NFC Special Teams Player of the Week. He attributed this to a lot of things, including the coaching staff and the relatively good conditions in Foxborough.
"I think we got really lucky because Foxborough, that stadium, can get really tricky … it was very easy as far as wind," he said. "(The Patriots) tipped that kick right before the half, the 23-yarder. They got a hand on it, and the ball still went in. So, give credit to Coach Hightower for making a good change there, and that allowed us to protect better and get the ball off faster, so I wasn't feeling the pressure I was feeling in the first half."
Santos doesn't seem to be giving himself enough credit, though. Since missing two extra points in the season-opener against the San Francisco 49ers, he has not missed a kick - not a field goal nor an extra point.
This season seems to be mirroring Santos' performance with the Bears in 2020, when he only missed one extra point, two field goals, and scored a total of 126 points. Currently, Santos has scored 42 points in the six games that he has played (he missed the game in Week 4 against the New York Giants due to personal issues). Averaging seven points per game with 10 games left in the season, he is currently projected to finish the season with 112 points. In fact, Santos ranks second among the history of Chicago Bears players in points per game (minimum of 20 games). He is second only to Robbie Gould, who is the Bears' all-time scoring leader with 1,207 points through 166 games, averaging 7.3 points per game.
Part of this productivity from Santos is a result of being more consistent overall, especially on kicks of 50 yards or more.
"Throughout my career, I haven't been consistent at 50+ because I didn't get that streak," he said. "I'm on that now, (so when) I look at a 50-yarder, it feels just like an extra point."
He has definitely been more consistent on kicks of 50 yards or more, as he has not missed a kick of 50+ since last season, as he has made all four of his attempts this season. Making four 50+ yard field goals is the most he has ever made in a season.
Santos and the Bears will next face the Dallas Cowboys (12 p.m./FOX) as the Cowboys look to build off of their dominant win versus the Detroit Lions in the return of Dak Prescott, while the Bears look to build off of their dominant performance against the Patriots in Mac Jones' return on Monday Night Football. The Robert Quinn trade may impact how the Bears' defensive line looks going against the Cowboys, as Quinn had 18.5 sacks, a franchise record, last season.
Going back to special teams, the Bears are tied for third in the NFL in field goals made with 15. They are tied, among other teams, with the Cowboys. However, the Bears are tied for first in field goal percentage, with 100%. This should provide the Bears with some extra comfort if they are able to get to about the Cowboys' 35-yard line (which would be a 53-yard field goal).