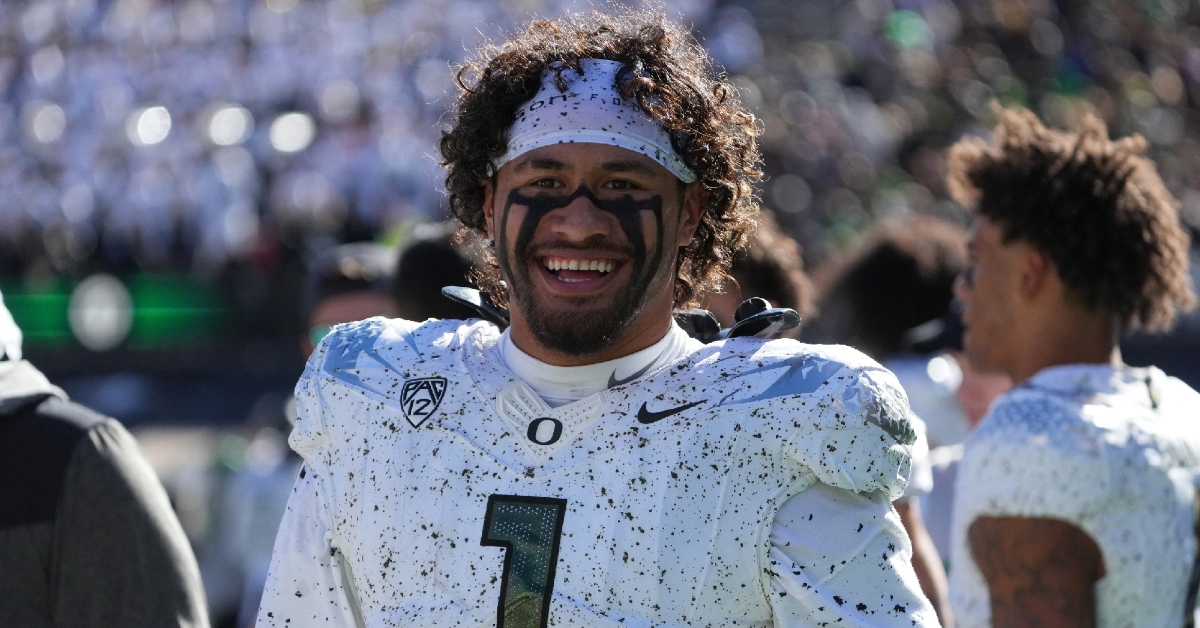 | | |
| --- | --- |
| Bears News: Family Affair: Sewell on playing against his brothers in 2023 | |
---
At pick No. 148, the first of two fifth-rounders that the Bears had in the 2023 NFL Draft, they selected linebacker Noah Sewell out of the University of Oregon. He is the only linebacker Chicago took in the entire draft.
Sewell was a starter all three of his years with the Ducks, playing in a total of 33 games. He recorded 218 total tackles and 20.5 tackles for loss, as well as 7.5 sacks. Further, he played in coverage a little in his last two years - defending five passes in 2021 and four passes in 2022. Still, he needs some polishing as he lacks some instincts and awareness, as well as struggling to locate blockers from his sides.
His scouting report also knocks him for his lack of functional speed for playmaking.
On the other hand, the Oregon linebacker tested well at the NFL Combine back at the beginning of March. His 40-yard dash time was 4.64 seconds. In addition, he had a vertical jump of 33 inches and a broad jump of nine feet, seven inches, and bench pressed 27 reps. The 6-foot-1 linebacker also came in at 246 pounds.
There is a lot of upside for him as a player, including the fact that he has a lot of dedication to the game.
"(I'm a) person who gives it their all," Sewell said. "No matter what the situation is, I'll do everything I possibly can to make the situation better."
Football is also a family affair for the Sewell family. His uncles, Isaac Sopoaga and Richard Brown, played in the NFL but have since retired. In addition, his oldest brother, Nephi Sewell, is a linebacker for the New Orleans Saints. He was not drafted but played in four games for the Saints last season.
Penei Sewell is the middle brother who plays tackle for the Detroit Lions. He was a first-round pick in the 2021 NFL Draft and went to his first Pro Bowl last season.
"I learned a lot from my brothers. Mentality-wise on the field, they just helped me grow as a player and as a human being basically," Sewell said. "It's going to be one heck of a matchup. I mean, we both compete. Like, we're always competitive. I'm going to make sure I win a couple of reps."
It's actually going to be a few matchups this coming season. Although the official schedule hasn't been released, it is already known that the Bears will be playing the Saints in New Orleans at some point this season.
Further, Chicago always plays their division rivals, Detroit, twice a season. So, Sewell will have three games against his brothers.
One extra fun twist for that is that Sewell is not the only Chicago Bear with a brother who plays for Detroit. Receiver Equanimeous St. Brown will be starting his second season for Chicago in 2023 and recently received a contract extension.
His younger brother, Amon-Ra St. Brown, was a fourth round selection in 2021, going in the same draft class as Penei Sewell, and also went to his first Pro Bowl last season.
Noah Sewell's playmaking ability should help the Bears this upcoming season and hopefully, this time the Bears will come out on top in the Brother Battle in Detroit.