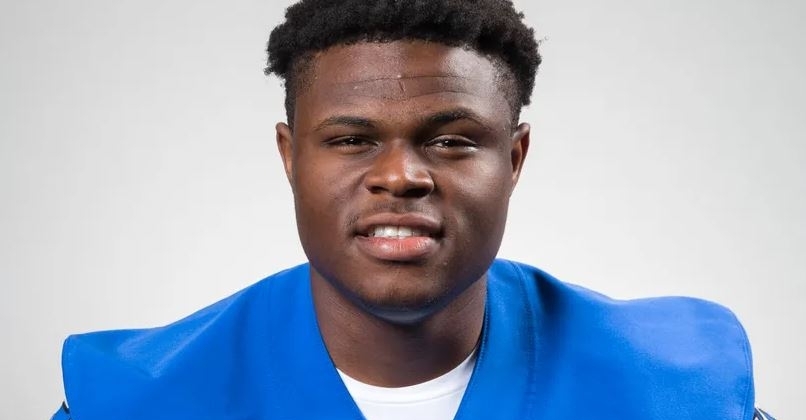 | | |
| --- | --- |
| Bears News: Getting to know: Ledarius Mack | |
---
The most well-known name of the Bears 2020 undrafted rookie class is that of the University of Buffalo linebacker Ledarius Mack. For those not familiar with him, if the last name sounds familiar, then you should be able to put the pieces together.
Ledarius is indeed the younger brother of current Bears LB Khalil Mack as they both attended Buffalo for college and, now for the first time, will have a chance to play together on the defensive side of the ball. No one is expecting Ledarius to put up the same kind of numbers his brother has put up, but if you look at what he did last season in college, there is certainly a sense of optimism that he can bring it.
At 6-1 240 lbs, Mack is the prototypical pass-rushing linebacker that has no trouble getting to the quarterback. After showing some potential in eight games as a junior where he accounted for just two sacks and 16 tackles, Mack was given a chance to shine as a senior and certainly didn't disappoint. Not only did he play in 11 games for the Bulls, but he managed to record 11 tackles for a loss and seven sacks. With 24 total tackles on the season, nearly 33% of those were sacks, and almost 50% were tackles for a loss. That is a number the Bears would love to see continue.
A former Junior College standout at ASA Miami, Mack got a chance to showcase his skills at the FBS level and certainly didn't disappoint. I am honestly surprised to see him go undrafted, but that was mainly because of lack of experience as the numbers his senior season were good enough to earn him several contract offers post-draft.
Much like his brother, Mack is an athletically gifted LB who runs a low 4.6 40 time. That will allow him to chase down ball carriers in space. That was before he made a move to the defensive line as a senior this season and put on some weight. Regardless, Mack still possesses the speed to be a solid linebacker in this league and may even be an excellent fit as an edge rusher to give the Bears some versatility at that position.
When you look at some of his strengths, one thing that immediately comes to mind is his motor. Much like his brother, Ledarius continues to grind and gives you 100% on every play. His work ethic is another thing that stands out as he went from 215 lbs to 240 lbs over two seasons while changing positions. That shows you that Mack is not only willing to move and rotate positions, but puts in the work ethic needed to become better at that spot.
Mack has continued to prove he can be every-down edge rusher in this league, especially after making the full-time transfer to that position. Chicago is going to be impressed with what they see, but will it be enough for him to make this roster?
One of the biggest challenges Mack will face this season is somehow trying to avoid comparison to his brother because he simply won't live up to those expectations. While this certainly not his fault, I am hoping it doesn't get in his head too much to slow down his development eventually. Another challenge Mack is going to face is inexperience at the edge-rushing position.
From a size standpoint, Mack is the ideal linebacker but never had a ton of success in college at that position. To play edge in the NFL, Mack will need to continue to add weight, which is something I don't know if he can continue to do. That could ultimately mean he would need to switch back to the linebacker spot where he didn't have much success in college. Not having a ton of success and potentially having to switch back to that position may hold him back on the practice squad this season, but don't count him out.
The Bears have already seen what one hungry Mack looks like on defense. Maybe playing with his brother will unleash the beast in Khalil once again while motivating Ledarius to push himself harder. I am not expecting the same kind of production by any means, but when it comes to a Mack, you have to have confidence that they will rise above all.
There's a new Mack in Chi-Town.

Khalil's brother LeDarius is joining the @ChicagoBears as an UDFA. @FiftyDeuce @leemack52 pic.twitter.com/svFPzFnzl0

— NFL (@NFL) April 29, 2020
It's Mack attack squared in the Windy City as former @UBFootball DE Ledarius Mack joins his brother Khalil with the Bears.

Khalil is already helping his little brother get ready for life in the pros. @news4buffalo

Story: https://t.co/kTScWBOEpe pic.twitter.com/faDwU6HuEg

— Heather Prusak (@haprusak) May 1, 2020