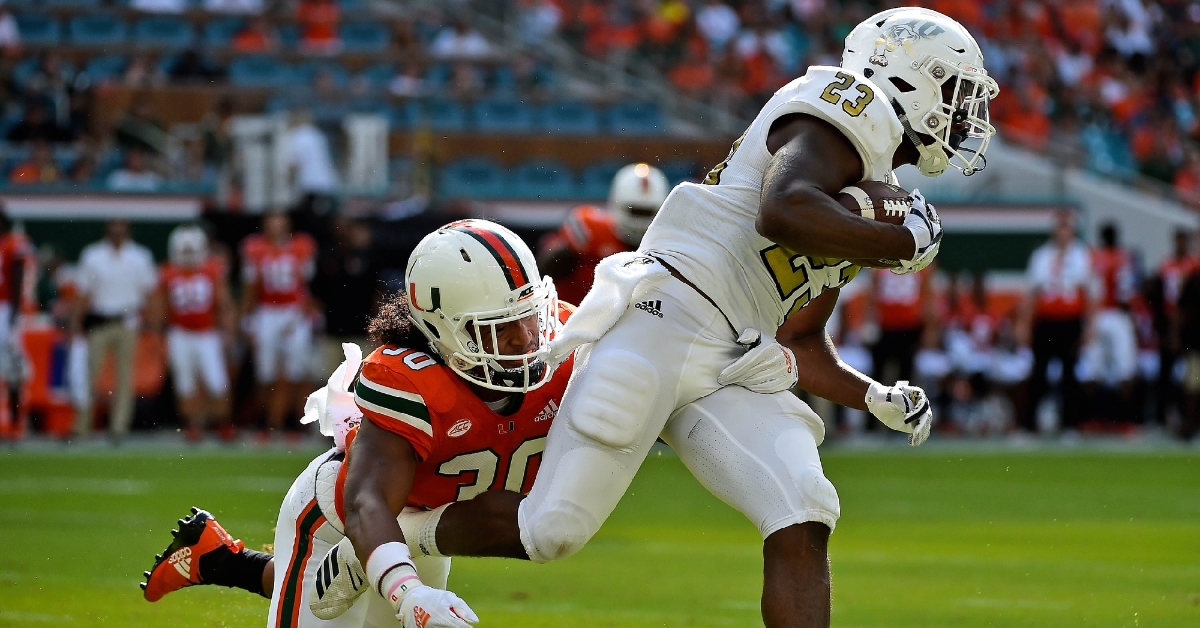 | | |
| --- | --- |
| Bears News: Getting to know: RB Napoleon Maxwell | |
---
| | | |
| --- | --- | --- |
| Wednesday, May 6, 2020, 10:04 AM | | |
While the Bears entered the draft with just five picks, Ryan Pace wheeled and dealt his way to acquiring three more before finishing off the draft with seven total selections. However, Chicago wasn't done there as the undrafted free agent portion of the draft was set to take place.
This is the part of the draft where people are not too familiar with the prospects, but let's be clear it is sometimes equally as important or even more important than the draft itself. Undrafted players are very seldom guaranteed any amounts of money, and the ones that are know they will be on the practice squad as a depth piece more than anything.
Despite that, these players won't hesitate from signing with a team in hopes of making an impact, and the Bears appear to have a large group of 11 undrafted free agents set to prove a point this upcoming camp. While most of these players won't see the field this year, the Bears have a few diamonds in the rough that I think should have been drafted over the weekend.
The first of those undrafted products we will discuss is that of RB Napoleon Maxwell from Florida International. The bruising 5-11 213 pounder ran close to a 4.6 in the 40, but his physicality with the ball is something the Bears could use. With Mike Davis no longer on the team and Tarik Cohen nearing the end of his deal, Chicago will be looking for future running back help, and Maxwell will be given a chance to prove what he can do.
Looking at his stats, Maxwell is undoubtedly not going to blow you away as he accumulated just 2090 yards in his four seasons with the Golden Panthers. That included consecutive seasons in which he nearly amassed the 700-yard mark while averaging over five yards a carry and 16 scores over his junior and senior seasons. His nine touchdown outburst this past year was his best season as the Bears are hoping for production out of him.
As the primary backup to Anthony Jones, Maxwell didn't have a chance to show what he can do, averaging around only 10 carries a contest. His upside is in question, but he did play in every single one of the team's games the past two seasons showing great consistency in the process. One of the significant concerns regarding Maxwell was the status of his knee after he blew it out his sophomore season and was forced to take a redshirt that year. While the jury is still out if he can be an every-down back, he can do different things out of the backfield which is a plus for the Bears.
Despite lacking overall top-end speed, one of the strengths that Maxwell brings to the table is not only his ability to locate all the holes quickly but uses speed and power to bust through those same holes. His excellent hands allow him to catch the ball out of the backfield, which is where his versatility has shown up on film.
Going off the pass-catching ability, Maxwell often lined up in the slot position, but his routes were not very crisp. That is certainly something that he needs to improve upon if he wants to be the same type of versatile back that he was in college.
Player Comparison: While Maxwell lists Ezekiel Elliot and Aaron Jones as his two favorite players, the Bears better not expect that type of RB because they won't find it. Instead, Maxwell reminds me of a poor man's version of Mike Davis or even Mike Boone of the Minnesota Vikings. What he lacks in speed, he will make up for in power, but his ability to not only see the hole but bust through it will often lead to higher than average yards per carry.