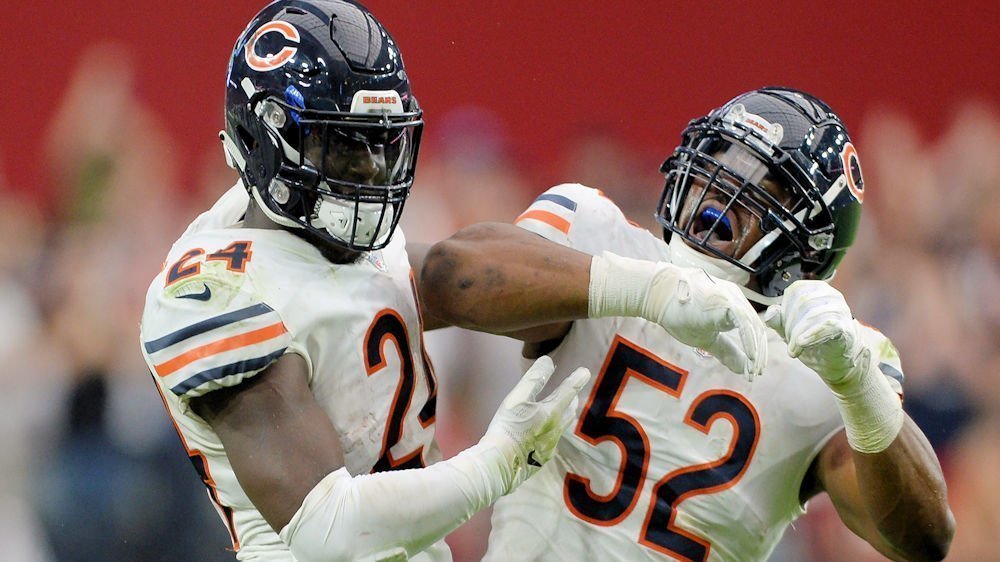 | | |
| --- | --- |
| Bears News: Is Thursday's game against Lions a trip game? | |
---
| | | |
| --- | --- | --- |
| Tuesday, November 26, 2019, 12:05 PM | | |
On paper, the Bears should have no trouble moving to 6-6 as the Lions simply are not good. That may not entirely be all their fault, however, as the Lions lost leading rusher Kerion Johnson early in the season and have now been down franchise QB Matt Stafford for the past three weeks.
Things don't appear to be getting any easier for Detroit this week as you have a Bears team clinging to their playoff lives against a team so badly injured that the Bears may be seeing the Lions third-string QB Thursday as Jeff Driskel has found himself on the injured list. To make matters worse for Detroit, they tried to sign Josh Johnson only to have the XFL block that signing. That means should Driskel not be able to go, David Blough will get the call for his first NFL start.
With so many factors harming the Lions right now, you would think this would be an easy win for the Bears as Detroit is virtually down nearly all their major playmakers. However, this is the NFL, and nothing comes easy as the Bears need to focus and not allow this to become a trap game.
I know Coaches will never look past games on the schedule, but players sometimes get an overconfident feeling when they see a team that they are better than and honestly should handle them easily only to lay an egg on game day and get beat. That could happen Thursday if Chicago does indeed come into this week overconfident.
Had the Lions been fully healthy with both Johnson and Stafford in the lineup, Detroit would be the favorites as they were playing decent football to begin the season before the injuries piled up. Since then, Detroit has gone 1-5 in their last six games and has seen their defense become one of the worst in the league. That too is also something the Bears need to consider as their offense didn't perform that well against a weak Giants defense on Sunday.
It was just three weeks ago when these teams met in Chicago when Driskel made his first start of the season in place of Stafford. Chicago found out firsthand what can happen when you don't properly prepare for a back up as Driskel carved the Bears up in the first half only have the Bears defense take over in the second to shut him and the Lions down. This week could be a similar story as the Bears have virtually no film on Blough thus far.
Acquired from the Browns in August for a conditional seventh-round pick in 2022, Blough was on the practice squad much of the season before being added to the roster last week. Now, Blough will not only find himself on the roster for a second week in a row but was handling most of the team's first-team reps at practice Monday as Driskel was limited.
During his tenure at Purdue, Blough was up and down in terms of his performance but did show flashes of potential as a senior. It was last season when he threw for 3705 yards and 25 TD's, making him one of the best passers in the Big Ten in 2018. At the bare minimum, Blough does have some experience dropping back and letting it fly, which could help him a little bit on Sunday should the Bears defense struggle to get pressure on him.
With absolutely no NFL game experience under his belt, the Bears must dive deep into the archives if they want to find film and look not only at the preseason but his senior year in college. Yes, the college game is much different than the NFL game, but preseason is so vanilla that you tend not to get a great look as to what a player can truly do. We have seen on multiple occasions over the past few seasons about what can happen when a team isn't prepared to face a starter. For the Bears to bump that trend from happening and prevent this from becoming a trap game, the defense needs to set the tone early and let the offense do their thing.
Should Chicago even play average on offense, they should have no trouble putting away the Lions as Detroit doesn't have the horses to move the ball consistently without Stafford manning the offense. This could be a season-changing win or loss for Chicago as they would move to 6-6 or 5-7 and have what some teams call another mini bye, which could be huge for December.