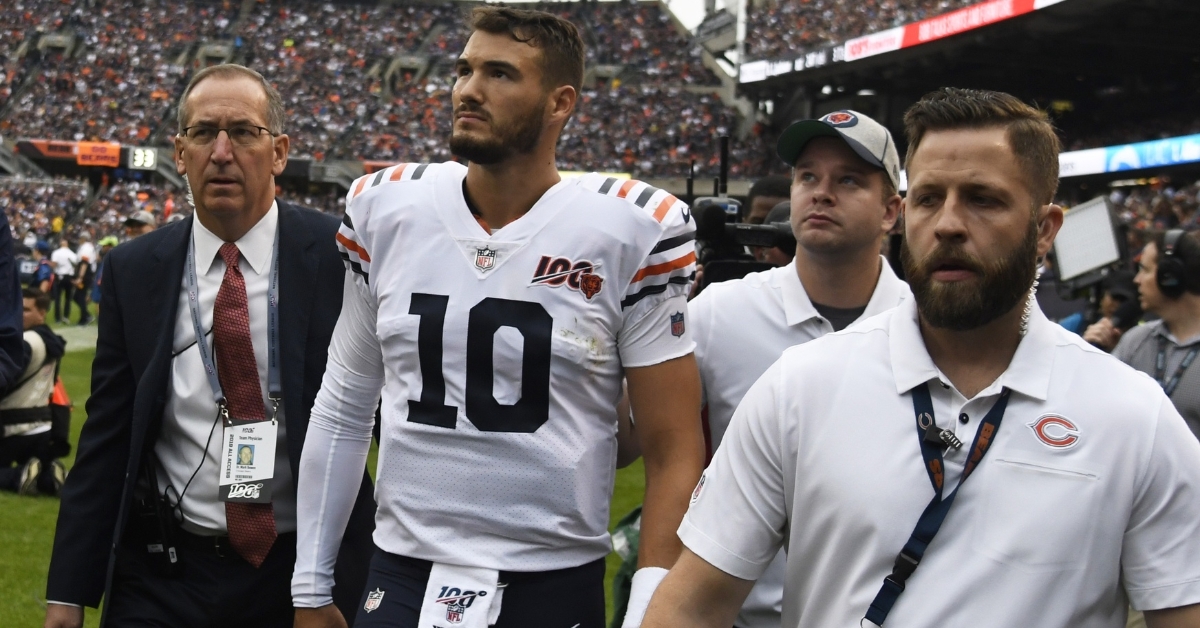 | | |
| --- | --- |
| Bears News: Missing pieces prove to be opportunities in win vs Vikings | |
---
The Chicago Bears were put in a tight spot before the game against the Vikings even started on Sunday as both Roquan Smith and Akeem Hicks would be unavailable with injuries. Taylor Gabriel was also out on offense with an injury before the team lost Mitch Trubisky less than two minutes in with a shoulder injury. That is four critical starters to a Bears team that was looking to move to 3-1 against an excellent Vikings team.
Instead of putting their tails between their legs and hiding, Chicago used these injuries as an opportunity to showcase their depth as the Bears didn't seem to miss a beat in their 16-6 beatdown of the Vikings on Sunday. Every team always preaches the next man up mentality for injuries, but it is how teams respond to that phrase that stands out the most. For the Bears, it was very evident as to how they would react as they looked just as good without some of their studs as they did with a full and healthy 53.
Coming into week four, if you were to tell me that the difference in the game on Sunday would be the Bears defense, I would have said to you that that was a fair assumption. However, if you would have said they would hold Dalvin Cook to just 35 yards without two of their top studs, I would say now you are reaching a bit.
Not only did they hold Cook to a season-low 35 yards, but they held Minnesota under 250 yards of total offense all while missing three key components on the defensive side of the ball. Head Coach Matt Nagy knows teams must stick together when you begin to lose players with injuries.
"Our guys, they just stick together," said coach Matt Nagy. "We all care about one another. When you have that between coaches and players that trust each other, you get games like this."
Needing to replace three members on defense, the Bears did so with a trio of players that combined for 20 tackles, five tackles for a loss, 4.5 sacks and a forced fumble on Sunday as Chicago showcased how much defensive depth they genuinely have. One of those reserve players really shouldn't be considered a reserve as he would start for most teams in this league.
Roy Robertson-Harris may be listed as a reserve on the roster but has played significantly this season especially through the team's first two games. It was him who caught Aaron Rodgers from behind in week one to record the Bears first sack of the season. With Bilal Nichols breaking his hand at Denver, Harris was thrown into the starting role on Sunday where he delivered his best performance as a pro.
Not only did he record three tackles, but two of them were tackles for a loss including 1.5 sacks of Kirk Cousins.
"You just gotta take it a play at a time, man, and enjoy the process," said Robertson-Harris. "Enjoy being on the field because when you're not on the field you want to be, so when you're out there, you just gotta enjoy it and not do too much."
Moving to the other side of the line, and you will find Nick Williams, who has been creating quite a story himself. The Alabama native was out of football for a full season in 2017 before resurrecting his career with the Bears last season. He recorded his first career sack against the Broncos in week two before adding another against Washington a week later. With Hicks status listed as unknown all week, Williams was on call and ready to deliver once called upon.
Not only did he deliver, but Williams made such an impact that the Bears may be forced to put him on the field more often. Williams was not only responsible for seven tackles but recorded two sacks and recovered a fumble that Khalil Mack forced on the first play of the second half. It was that play that seemed to change the feel of the game and led Bears fans to believe this defense is as good as ever.
"We're feeding off each other and feeding off the fans," said Williams. "Everybody wants to get to the ball. We want to be a dominant defense."
For a defensive unit to lose two-thirds of their line with injuries and one who was a pro bowler and still turn out what may have been their best performance to date, and you can see why the Bears may have the best defense once again in 2019.
"It's the preparation that (defensive line coach) Jay Rodgers gives us throughout the week," said Williams. "We have a great game plan going into it. If we execute at the level we can play, then we'll be successful."
The last addition to the starting lineup may have been the most important as Nick Kwiatkowski filled in for Smith who was the teams leading tackler a season ago. The former fourth-round pick has been here for his entire four-year career and knows that when you are not a starter, you need to be ready for anything.
"I've been here a while," said Kwiatkoski, "I've seen it happen before. That's why you come in prepared each week like you're going to play because you never know what can happen. The next-man-up mentality with injuries is part of football. Things happen."
After being a part-time starter tallying 13 starts his first two seasons, Kwiatkowski was sent to a full-time reserve roll last season once the Bears drafted Smith. Given a chance to start once again, Kwiatkowski certainly didn't disappoint as he was all over the field leading the team in tackles with nine including a strip-sack that resulted in a 19-yard loss for Minnesota. Along with many great open-field plays on Cook, his skill as a pass rusher paid off late in the game when he bull-rushed Cook right into Cousins lap forcing the pocket to collapse yet again.
The win on Sunday was not only a confidence builder for this team but a statement to the rest of the league. The Bears showed how much depth they have as a team and no matter what the injury may be, Chicago has the horses to continue to make your life miserable on offense.
"We have so many guys," said Mack. "We've got double Nick [Williams and Kwiatkoski], Chase [Daniel] stepping in there. We've just got so many guys jumping in there doing their job. That's all you can ask for."