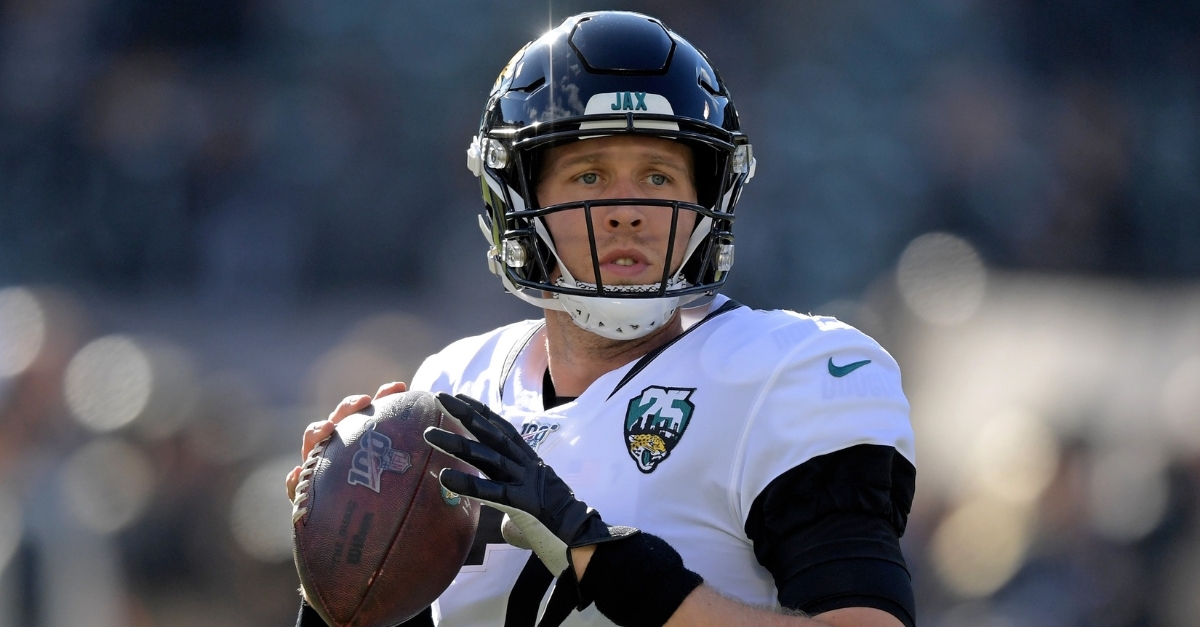 | | |
| --- | --- |
| Bears News: Mitch Trubisky put on notice after signing of Foles | |
---
| | | |
| --- | --- | --- |
| Thursday, March 19, 2020, 10:42 AM | | |
Consider yourself officially on notice Mitch Trubisky as the Bears addressed the QB question by trading for a proven backup that can also start as well. Not only did the team get better at the QB position, but they did so by bringing in Nick Foles, whose name has been associated with the Bears going back to last season.
Since the season ended, both Matt Nagy and Ryan Pace have been adamant about adding not only depth to the roster but to bring in competition also. The signing of Jimmy Graham and Robert Quinn made the team better by adding starting depth, but now it appears the Bears are starting to address the competition side of things, especially at the QB position.
Four years after the Bears traded up to take him second in the draft, the jury is still out on Trubisky as more fans believe he is not the answer than those who think he is. Pace has stood firm by saying Trubisky is his guy going forward, but where there is smoke, there usually is a fire, and we may be starting to see the fire beyond the smoke.
Foles is certainly not the top of the market QB but put in the right system; we have seen what he can do. Under Chip Kelly in Philadelphia, Foles had an incredible season in which he threw for 27 touchdowns to just four interceptions before ultimately landing with the Rams. Hoping to continue his strong play, Foles started only a handful of games for the Rams before eventually losing his starting job to Case Keenum and being traded to Kansas City for one season.
A year later, Foles was back in Philadelphia as a back up again and played the hero in 2017, leading the Eagles to a super bowl championship. Instead of hitting free agency in 2018, Foles chose to stick with the Eagles, knowing he was going to be the backup yet again. Once again, Foles played hero down the stretch helping the Eagles make the playoffs yet again and even knocked off the Bears in the NFC wild-card game in Chicago.
Then came last season, a year where Foles was the hottest QB commodity on the market, which was evident by the four year 88 million dollar contract the Jaguars through his way to bring him in. Unproven, as a long-term starter, John DeFilippo, who was his QB coach in Philadelphia, was now the offensive coordinator down there, so the connection made sense.
Unfortunately, it was a nightmare of a season for Foles as he suffered a broken clavicle in week one before eventually losing the starting job to Gardner Minshew late in the year putting him on the chopping block. Well, football is a game of connections, and the Bears have Nagy, who was his offensive coordinator in Kansas City, so making this trade does make some sense.
The question is, what can we expect from the Foles signing? Well, for starters, that means the Chase Daniel experiment is over, and the Bears now have a legitimate backup QB, or should I say two depending on who starts out of camp and who doesn't. Adding Foles also brings the competition factor into play this season as Trubisky will now have to play well to keep the job.
Another thing Foles brings to the table is that this is a familiar role for him, and he thrives in these situations. If you look at his career, when Foles is deemed the starter out of camp, he hasn't been able to deliver the level of play you would expect. For some reason, when Foles is the backup on a team, he not only plays well when called upon but at times plays better than the starting QB themselves, which gives coaches more reason to trust him in critical situations.
Familiarity is another thing Foles has going for him as he is familiar with how the Nagy system works. Granted, he was only with Nagy for one year in KC and was the backup. He still had to practice with that system every day, so the transition period will be more straightforward than had the Bears brought in say a Cam Newton or Teddy Bridgewater.
I know a lot of people will not view Foles as starting material, and I can't blame them. However, when Keenum was with the Vikings, he wasn't starter material either and look at what happened last year. Sometimes, a QB's success falls single-handedly on the system they play in more so than their overall abilities.
Tom Brady is a prime example of this. Is he a great QB? Yes, one of the best to play the game, but that was over a 21-year run in the same system in New England. A system designed around short quick throws and not explosive plays. Now that he is in Tampa Bay let's see how his ability is with a new system.
You could draw the same comparison in Foles as you can with Brady when you talk about systems. Foles was terrific in Philadelphia, and no one can deny that. When he went to other teams, Foles' overall lack of true starting ability was exposed as those systems were not designed to suit him. While we don't know how he would have done in KC under the Nagy system, both the Bears and Foles feel like this is the right fit having a familiar system in place.
What we can expect to happen from Foles this season is a veteran QB that is ok with being a backup should that be the decision the coaching staff makes. On the flip side, he will also show up to camp ready to go and will not just hand Trubisky the job. For the first time in his career, Trubisky will have to earn the job out of camp, which could be a good thing for him. Maybe the added pressure and competition will finally allow him to reach his full potential.
Whatever happens, the Bears now have two very reliable QB options on their roster, and they are better today than they were yesterday. Let's see how this unfolds once camp breaks.