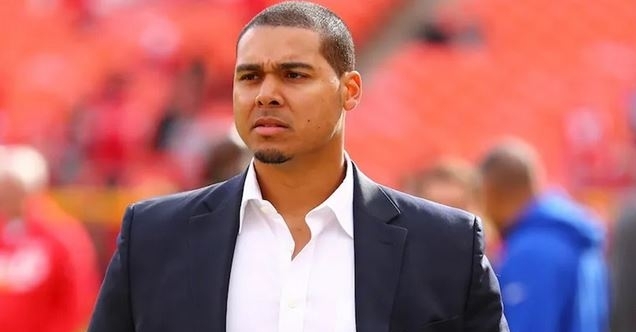 | | |
| --- | --- |
| Bears News: Ryan Poles continues to make moves this offseason | |
---
| | | |
| --- | --- | --- |
| Wednesday, July 27, 2022, 1:29 PM | | |
I have to give Ryan Poles and the new regime a ton of credit for the job they have done this offseason. Not only did they fill a lot of their needs, but they did so by cutting salaries to create more cap space and adding talented players across the board.
You then look at their draft where they had specific position groups targeted and addressed those needs only to hit the trade market for N'Keal Harry. Most fans would have been satisfied with that, but Poles was not and has continued to go about his business by adding to the one pressing area of the offensive line.
After it was revealed that Dakota Dozier needed season-ending ACL surgery, many fans expected Poles to go out and fill that hole. They didn't expect him to bring in Michael Schofield, who will most likely be the starter at one of the guard positions.
Just 24 hours later, Poles shocked fans by signing former first-round pick Riley Reiff to a one-year $12 million dollar contract as the Bears offensive line has improved instantly. Last week when we were talking about the Bears offensive line, outside of Lucas Patrick and Cody Whitehair, you would have a tough time picking the rest of their starting combination.
Guys like Larry Borom, Teven Jenkins, and Braxton Miller were all options, but now with Schofield and Reiff added to the mix, those two are almost certainty to start leaving fewer available positions to be had. While I love the aggressiveness Poles showed to make these moves, you have to wonder why he made these moves in the first place.
The biggest reason I feel he made these moves is the injury history of Jenkins and not wanting to trust two youngsters on the offensive line as staters. No one is saying Jenkins and Borom won't be good this season, but both are very inexperienced, and you don't want a ton of inexperience protecting Fields.
Another thing you must look at is the quality of the players Schofield and Reiff are. Not only are they starters in this league, but Reiff has been one of the more reliable tackles for the better part of a decade while Schofield is starting to come into his own. Those players are not available on the open market this late in the offseason too often, so you need to take that chance when you have a chance.
Poles has also said that he not only wants to get better at every position, but he wants more depth. Well, the Bears did both of those and more this week as they now could be sitting on too much depth. That is not necessarily a bad thing, as players will get hurt, but you are essentially taking away playing time from a younger guy who could benefit from seeing the field more.
The final reason, which many fans are considering, goes back to the Ryan Pace days when he drafted Jenkins and Borom last season. Maybe Poles doesn't trust what Pace brought in or has already seen enough of these guys to realize he needed better options.
That wouldn't be the first time a new general manager came into an organization and practically did away with the previous general managers' moves in six months. When you run a team, you want to run it your way with your guys, and holdovers from a past regime do not always work.
Regardless, Poles has been ruthless this offseason as he has proven to be more committed to winning and doing what it takes to win. He doesn't care about your previous roles with the team, as he will bring in anyone he sees fit. It is up to the players to battle it out for who is the better option, and the best man will win those jobs.