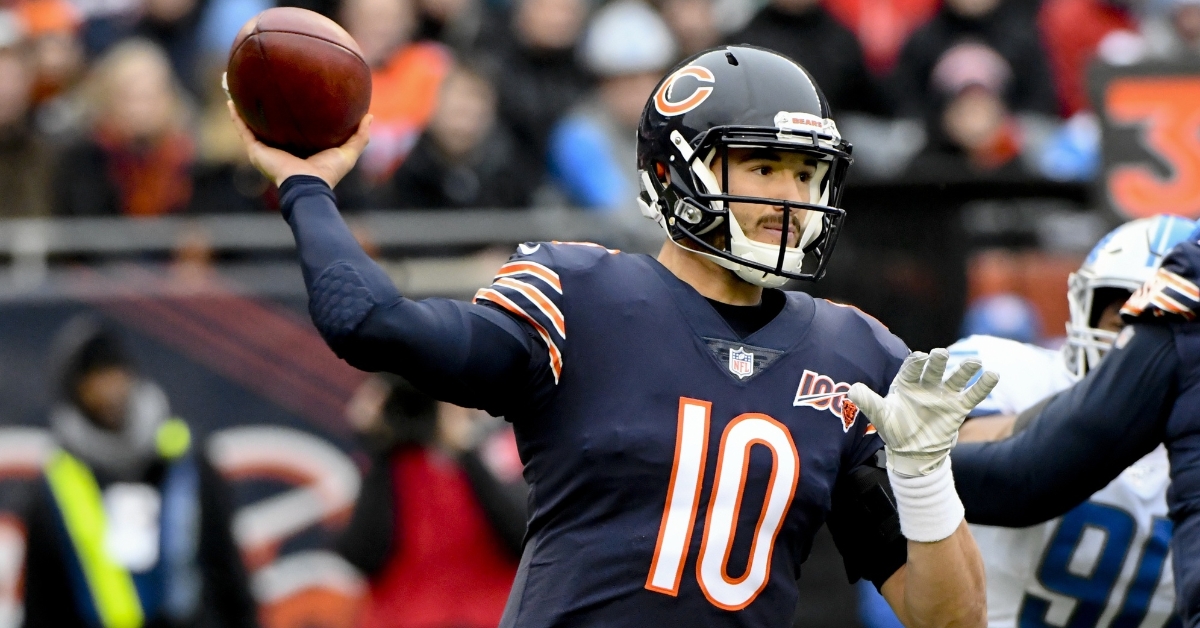 | | |
| --- | --- |
| Bears News: The future is a bit murky for Mitch Trubisky | |
---
The Chicago Bears have informed Mitchell Trubisky that they will not be picking up his fifth-year option for the 2021-2022 season, meaning that as it stands right now, Trubisky is set to be a free agent following the 2020-2021 season, should it ever be played.
But let me clear this move by the Bears organization up a little bit, it does not affirmatively mean Trubisky's time in Chicago is up. While it very well could mean he will not suit up for the Bears after this season, it is not set in stone just yet.
Due to the way rookie contracts progress, especially for quarterbacks, Trubisky's fifth-year option is projected to be nearly 24 million dollars for the 2021-2022 season, according to Schefter — a pay grade that not even Trubisky himself could argue that he deserves. The move by the Bears simply means they will not be paying Trubisky that much money next season. If the Bears are pleased with Trubisky's growth and progression in this upcoming season or even impressed with his play — he could very well still be signed by the Bears to be their quarterback for the future or potentially their back up.
That isn't necessarily the road you hope to be traveling along with your second overall pick, as Trubisky has not been the quarterback the Bears thought they were getting. They are constantly reminded that he is not up to the caliber of two quarterbacks taken after him in the draft in the dynamic Deshaun Watson of the Texans or the magical talent that belongs to Super Bowl MVP Patrick Mahomes of the Chiefs.
Trubisky has been okay, not good, but not truly that bad. He has struggled with accuracy issues, but a lot of that can e attributed to a poorly constructed offensive line that was often beat and led to constant pressure on him — and a slew of receivers who have combined to rank near the tops in the league in drops over the last few seasons, not to mention questionable play-calling and the lack of a true tight end in recent years while Mitch himself has also battled multiple injuries.
However, when the play calling was clicking, and everything seemed to go right in 2018, Trubisky did not have that bad of a season. It was his first full season as a starter, and he threw for 3,223 yards and 24 touchdowns for a team that was primarily led on the ground. Trubisky also added 421 yards and three touchdowns on the ground as well. He was even named as an alternate to the NFC's pro bowl team.
In 2019, he cut down his interceptions but also threw fewer touchdowns and for about 100 fewer yards. The glaring number is that Trubisky had three fewer wins.
Now the number two overall pick in the 2017 NFL draft finds himself in a real quarterback competition in 2020 for not only the starting job this season but the spot as quarterback of the future for the Bears as well. Nick Foles was brought in as a former Super Bowl winner, but a guy who has never spent a full season as the starter of a team. Foles is coming off of an injury ridden season with the Jaguars and is under contract for the next two seasons with additional options. While people tend to think the acquisition of Foles and the declining of Mitch's fifth-year option is writing on the wall for his future, many experts believe the battle will be both fair and closer than many people think.
Not to mention, Ryan Pace and Matt Nagy have continually expressed their belief in Mitch as well as the intention of a true quarterback battle between Trubisky and Foles.
It is an unknown how Trubisky will play when and if that chance ever comes amidst this global pandemic. However, regardless of the Bears not picking up his fifth-year option on his rookie deal, Trubisky will still have a chance to prove himself and potentially earn himself a spot on the Chicago Bears roster in years to come.
When Trubisky hits free agency, the Bears will get their chance to retain him first. However, how much of a market Trubisky will command will depend on how much of an impact he makes in 2020-2021 as well as how much he gets to play.
The future is a bit murky for Mitch, but his career is certainly not over yet.
Upgrade Your Account
Unlock premium boards and exclusive features (e.g. ad-free) by upgrading your account today.
Upgrade Now