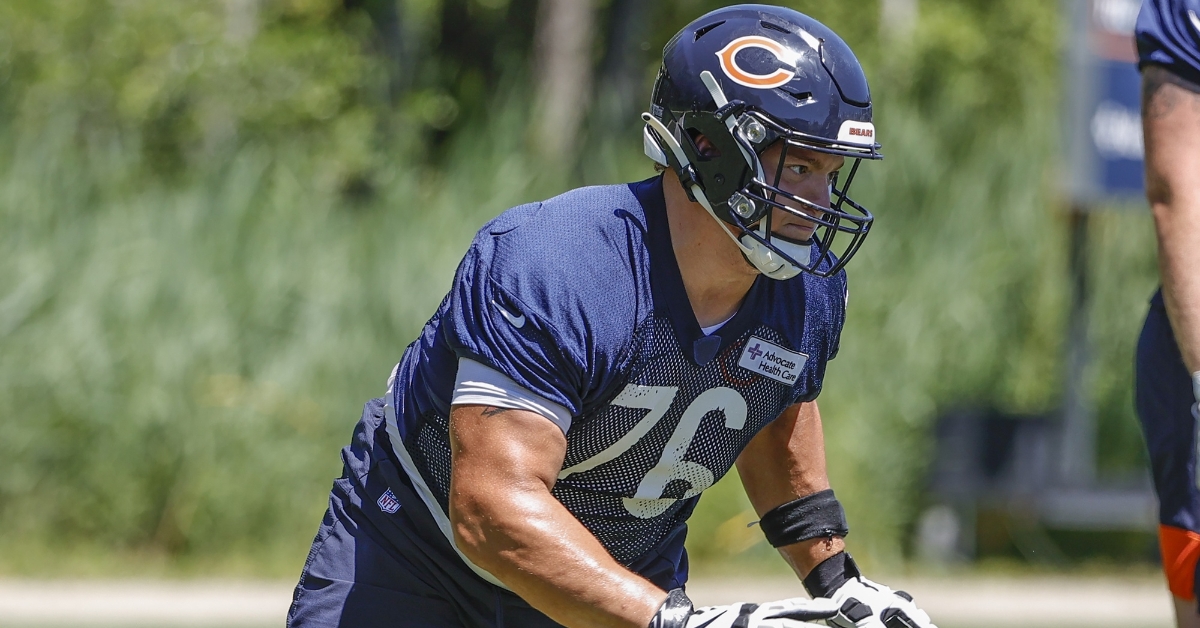 | | |
| --- | --- |
| Bears News: What is going on with Teven Jenkins? | |
---
| | | |
| --- | --- | --- |
| Monday, August 1, 2022, 3:08 PM | | |
When the Bears selected Teven Jenkins in the second round of the 2021 NFL draft, the goal was for him to become an anchor on the offensive line holding down one of the tackle positions. After a back injury forced him to miss most of the season last year, 2022 was supposed to be an optimistic season for him.
Well, here we are, and there is more bad news surrounding Jenkins, and this time it has less to do with the injury side of things. Sure, he missed two days with a minor injury that the team kept quiet, but before that, he saw most of his action with the second string. That was shocking to hear, but after the Bears added Riley Reiff last week, you have to wonder if there is something more going on with Jenkins.
According to reports, Jenkins and the coaching staff have been going at it recently as there appears to be some disconnect between Jenkins and the Bears new offensive line coach Chris Morgan. Going further into those reports, it seems that Jenkins hasn't adjusted well to the new scheme and thus has been butting heads with his new coach.
Whenever a player is butting heads with a coach, it is never a good thing, but with this being a new scheme, it may be best to do it now versus during the season. Ryan Pace brought in Jenkins to be the left tackles, but the new regime wasted little time moving off left to right tackle, which was a puzzling move in itself.
Since then, things have been unraveling for Jenkins, and not in a good way, as he is now further down on the depth chart and continues to play with the second stringers. That move to demote him to second string was supposed to serve as a warning shot to motivate him, but instead, it has done anything, but that.
Unlike last season when Jenkins was still present on the sidelines during his injury, he has missed the last three days and hasn't been seen on the sidelines. To make matters worse, the Bears have been ho-hum when answering questions about him as it seems like they are just brushing it under the rug like it is nothing.
Something has to give, and the organization needs to come out and explain what is going on. If you ask NBC Sports Chicago David Kaplan, he has another take on what is happening with Jenkins.
According to Kaplan, Jenkins is a very talented player, which no one will argue. Some have even said he is their most talented offensive lineman, which justifies taking him when they did. Kaplan also points out that Jenkins is highly immature, which is not what you want to hear in the NFL.
That right there could be a reason why he is butting heads with Morgan and why he is not on the sidelines right now. Not only has Jenkins been frustrated this season, but he is starting to become a distraction for the rest of the team. The Bears and their new regime do not need that, so they are doing what they can to eliminate that distraction.
You add that with the injury history he has been dealing with, and it has taken a toll on his development as a player. No one will call him a bust right now, but things are trending in that direction. Jenkins needs to have a huge preseason if the Bears even give him a chance, or his career in Chicago could be over before it starts.