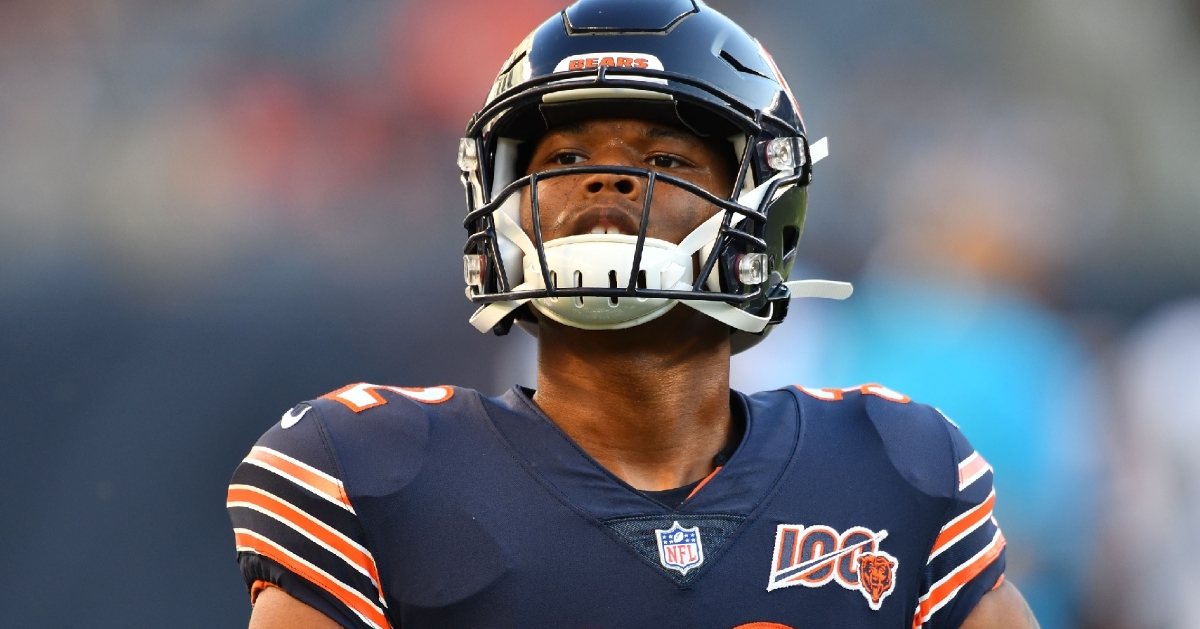 | | |
| --- | --- |
| Bears News: Where was David Montgomery against the Packers? | |
---
| | | |
| --- | --- | --- |
| Tuesday, September 10, 2019, 1:52 PM | | |
Since the 2019 NFL Draft ended, many teams, coaches and experts were raving about the Bears third-round pick when they selected Iowa State running back David Montgomery. Armed with good speed, decent size, finesse and power, Montgomery had first-round talent and was graded as one of the top five running backs in the draft.
Hoping to get a steal in him, Montgomery did nothing but impress the entire organization all through training camp proving to the Bears that not only was he the right choice with their first draft pick of 2019 but that he is the real deal and could easily have a starting role on this team in the near future. Then came the preseason, a time when Montgomery had every chance to showcase his skill against some live game action.
Whether by design or not, Montgomery never got the touches I expected him to get during the preseason until the week four game against the Titans. It was in that game when fans indeed saw what he could do on the field bringing optimism about just how he would be used come week 1. With most expecting him to be named the No. 2 back on the depth chart, it was a little bit surprising to see him listed as No. 3 behind Mike Davis when the season kicked off Thursday.
I am sure Matt Nagy and the coaching staff have their reasons as to why he was that far down on the depth chart, but the real question is where was Montgomery on Thursday and why the lack of touches for him? I know he is a rookie and sometimes rookies struggle to get their footing going but all spring and camp long we have heard about how good this guy really can be so why only give him six touches against the Packers?
Well for starters, the Bears offense is a surprisingly complex system and is not the easiest to learn especially for a rookie. My guess is having watched the preseason and now week one that the plan is to have Montgomery play a vital role with this offense. I feel they are easing him into it for a little while to help him better understand the system more thoroughly. He finished the game with six carries for 18 yards to go with one reception for 27 yards against the much-improved Packers defense.
To most fans, that type of production from a guy drawing so much hype is not nearly enough, and I am sure everyone expected more. However, to defend the coaching staff a little bit which I sometimes find it hard to do, Montgomery is still a rookie who is coming in and learning a completely new and complex system.
With Nagy's system, there are a lot of intricacies with different rules and options on every play. Those assignments don't just go for running the ball but for pass protection, running routes and many other different things. I am sure Montgomery understands he is being eased into a much more significant role offensively so the fans should not expect him to be your starting Fantasy football running back early on this season.
Everyone in Chicago loves this kid, and of course, they want him to produce at a high level this season and beyond. It just takes a little bit of a learning curve to learn the system, and once he does, I look for him to play a huge role in this offense moving forward. The biggest problem once he does learn the system is finding the right balance, and how to use him as Davis and Tarik Cohen will still need to be on the field also.
I am not going to look too much into the offensive performance from week one despite how awful the Bears looked on that side of the ball. However, I will give the Packers a ton of credit as they have improved on that side of the ball. My biggest issue with how Montgomery was used on Thursday was why not use him more as a change of pace?
I get he is learning the system, and you are trying to find the right balance, but nothing was going right offensively no matter who carried the ball. Why not insert the rookie a little bit more to see what he can do and maybe he would bring a spark to that side of the ball that was desperately needed.
Chicago chose not to go in that direction and their offense did pay the price for it at times, but as I stated earlier, it is just one game so we can't look into that a whole lot. Montgomery is continuing to work hard and to get this system down pat which is all the coaching staff can ask for at this point. With a tough road game against the Broncos defense next week, look for the Bears to once again try and establish the running game early. This time, if they do not see the success, they would like it wouldn't shock me at all to see a heavier dose of Montgomery in the backfield to ignite the fire.