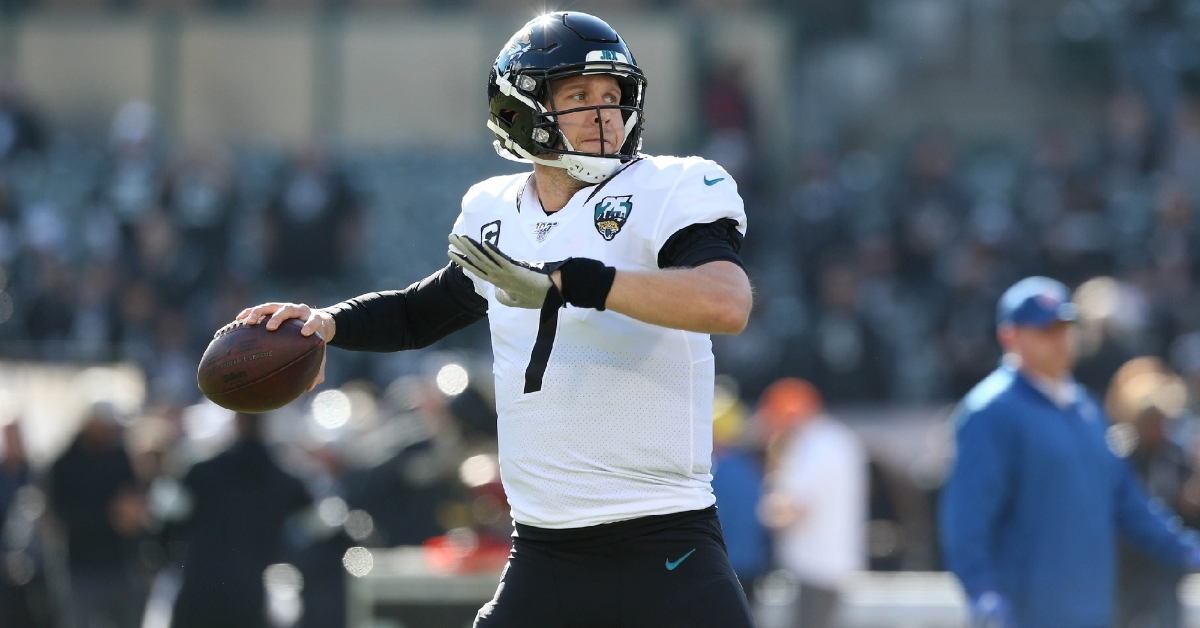 | | |
| --- | --- |
| Bears News: Who should start Foles or Trubisky? | |
---
Despite all sports being on hold, the NFL's offseason has been filled with trades, free-agent signings, and more hot-stove entertainment. From all of the stories that have arisen from this offseason we know Tom Brady has a new home, the Rams and Chargers have new logos and, oh yeah, the Bears have a new quarterback.
Mitchell Trubisky now has some competition, and that competition is a Super Bowl MVP and Champion…OH YEAH, and he beat Tom Brady to earn his ring.
The Bears traded for Nick Foles from the Jacksonville Jaguars and sent a compensatory fourth-round pick to the Jags — but the Bears will have to eat most of his money. In my opinion, a more than fair deal for more than capable NFL quarterback.
What does this acquisition mean for the Bears?
At the simplest, the addition in QB rooms means that there will be competition between Foles and Trubisky to determine who would be the starter when week 1 rolls around. The acquisition also came around the same time that Chase Daniel moved on from Chicago and to another division rival in Detroit to back up Matthew Stafford with the Lions.
The Bears now have Trubisky, who is coming off a year when he threw for 3138 yards and 17 touchdowns while adding 193 yards on the ground with two scores. The 25-year-old has one last season on his rookie deal with the Bears, and the Bears will have the option to pick up the fifth year on that contract.
And they have Foles, a 31-year-old who is coming off a major shoulder surgery — and a season where he played four games, threw for 736 yards and three touchdowns. But it is important to remember that the year prior, it was a Foles-led Eagles team that defeated the Bears in the heartbreaking double-doing game.
For the Bears, they brought in competition for their inconsistent young quarterback — and in doing so, brought in a former Super Bowl MVP who is comfortable with multiple coaches on the Bears coaching staff as well as a familiarity with the offense that head coach Matt Nagy runs.
While it currently still appears to be Trubisky's starting job to lose, Foles will be driven and motivated to prove that not only is he healthy, but he is worthy of a starting job in the NFL. The most games Foles has started in a season was 11, but in his time coming off the bench as a backup Foles has thrown for 27 touchdowns in a season, as well as took over for a future MVP and led a team to a Super Bowl championship.
On top of that, Foles has traditionally excelled on teams with good defense where he has had to do enough to win while the defense does their part. That is precisely what the Bears need. If they had that type of quarterback a year ago, you could think of multiple games the Bears would have won (the Eagles, the Chargers and the Rams come to mind).
Foles has traditionally shown in his career that he can read opposing defenses, make accurate throws into tight windows as well as maintain poise. Trubisky, in his career thus far, has lacked in all three of those traits. When you take a more in-depth look at this move, the Bears can hope for Foles' experience and leadership to serve as a teaching tool for the young Trubisky.
For the Bears, this acquisition could mean Trubisky is pushed to be better than he has in the past, and meet his full potential or that the newly acquired Foles proves to his doubters and the NFL that he has deserved his money. Foles is owed 50 million over the next three seasons but has options to opt-out of the deal based on performance or lack of playing time. Trubisky is due the remainder of his rookie contract as well as a potential for a fifth year — which also likely depends on his performance.
The Bears have a traditional QB battle on their hands, with the starting job wide open and upside for both potential quarterbacks.
Either way, the Bears pretty much have a win-win scenario in terms of who is behind center in 2020 and beyond.