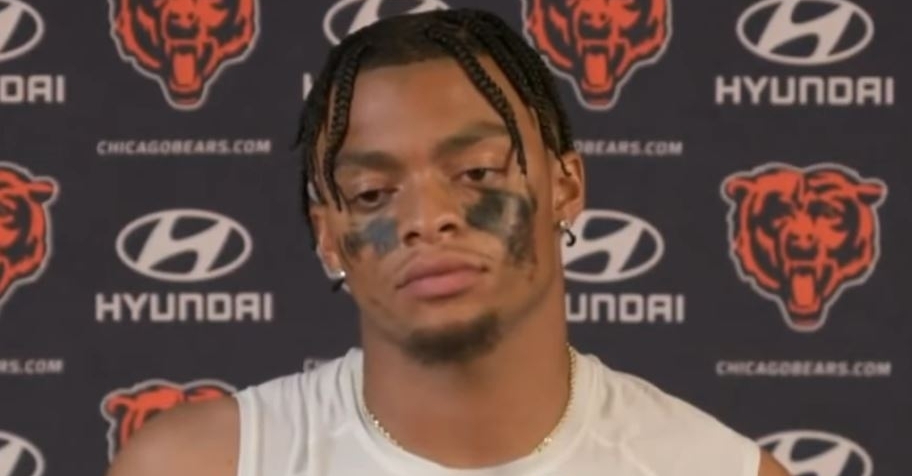 | | |
| --- | --- |
| Bears News: Fields "loved" decision to go for it on fourth-and-one | |
---
CHICAGO - Despite having two turnovers in the latest loss for the Chicago Bears, this game is not Justin Fields's fault. While the default is to blame the quarterback, especially since he threw an interception on the Bears' last offensive play of the game and had a fumble returned for a touchdown, the game never should have gotten to that point.
The playcalling is a problem. Fields had 16 consecutive completed passes, a franchise record, coupled with four touchdown passes, the most in his entire NFL career. Chicago scored 21 points in the second quarter. They took a 28-7 lead with 4:11 left in the third quarter. Losing this game, blowing a 21-point lead, is tied for the largest blown lead in franchise history and their largest blown lead since November of 2022.
Following the game, Fields was asked about the playcalling, particularly in the second half, as they were not playing aggressively, but did not have much to say.
"That's past my pay grade. You probably have to ask Coach why we did what we did," Fields said. "But, my job is to get the play call and run the play that was called and execute it to the best of my ability."
Probably the most controversial play call of the game was on fourth and one with 2:57 left in the game with the score tied at 28, instead of going for the field goal to get the lead back, the Bears chose to go for it, and they failed.
Fields liked this call by the coaching staff, as he says it showed confidence in the offensive unit.
"I loved the decision. It showed Coach has trust in us to convert on that and in that situation. We just got to execute," Fields said. "I think there was a missed block (on the) backside. That's why somebody was able to seek through and tackle Khalil (Herbert). But in that situation, that's a tough spot. As a player, you want your head coach to be able to trust you in that situation."
Of course, Chicago cannot go into a football game without a bit of drama. Going into the Chiefs game, it was comments from Fields and the resignation of defensive coordinator Alan Williams. This week, it was comments from wide receiver Chase Claypool who seemed displeased with how he is being used in the offense. Thereafter, he was deemed a healthy inactive and did not play in the game against Denver. When asked about it after the game and how Fields felt about this, he gave a non-response.
"We just don't ask questions. We just focused on the task at hand and the game that's coming up," Fields said. "Coach and the front office, they made a decision. It is what it is and as a player, I can't do anything about it, got to go out there with the players that I have and execute to the best of my ability."
Claypool came into the NFL with a lot of promise, getting drafted in the second round by the Pittsburgh Steelers. Things were not working out in Pittsburgh for Claypool and during last season, the Bears traded away the No. 32 overall pick in the 2023 NFL Draft for him. That also has not worked out for Claypool, as he only has 18 receptions for 191 yards. However, he has been targeted 43 times and 14 teams during the three games he has played this season. Fields still has confidence in Claypool's ability and seems to paint him as being a highly emotional person.
"Chase (is) a weapon. He's passionate. He just has to work on his display of his emotions and me and him have had multiple conversations with that," Fields said. "But, I mean as far as 'Do I want him on this team?' That's an easy answer. Yes, of course."
Chicago will have to prepare for a quick turnaround, playing against the Washington Commanders on Thursday Night Football (8:15 p.m./Amazon Prime). The Commanders have lost their past two games, including a close game in Week 4 against the Philadelphia Eagles 34-31 on a 54-yard field goal in overtime.