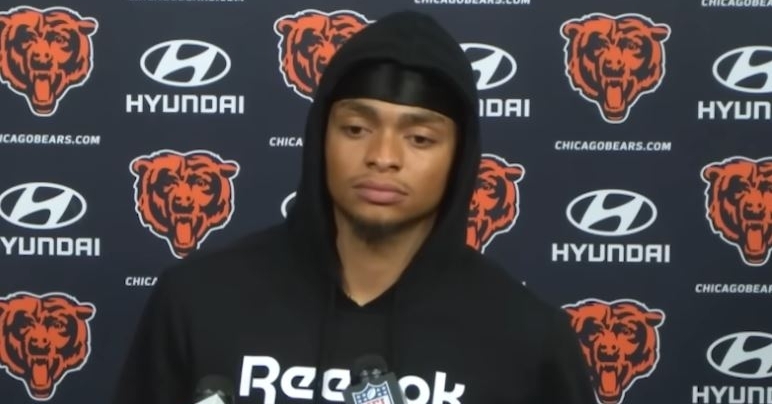 | | |
| --- | --- |
| Bears News: Justin Fields excited to return, not surprised by QB controversy | |
---
CHICAGO - Quarterback Justin Fields has missed the last four games, but it does not appear that a fifth will follow. Fields is set to return against Detroit this Sunday (Noon/FOX).
Speaking to the media this past Wednesday, he stated that he is excited to get back out there and play.
"Of course, I'm really excited. I feel like the longer I was out, the more I wanted to play," Fields said. "But, I'm really excited to get back this week and get back on the field today for sure."
Last week going against the Carolina Panthers, there appeared to be some hope he would play. Fields stated that he wanted to play, but the head trainer informed him it would be best to wait for the sake of his future so he did not suffer more damage to his thumb.
"I wanted to play but the head trainer said it was for the best for the future, long term, to just wait it out one more week, especially coming off a short week and stuff like that," Fields said. "If it would have gotten hit or stuff like that, it would have postponed it another two or three weeks."
There is always concern when a player comes back from injury that it could affect how they play. This seems especially prevalent with his thumb injury as that impacts his grip on the ball. For someone who led the league in fumbles last season and already has four this season, ball security is an issue.
However, his thumb is not going to be something that he is worrying about on the field.
"I'm not really out there thinking about my hand. It's like a mental block," Fields said. "There's no mental block with my thumb and playing normal football."
When Fields was unable to play, rookie quarterback Tyson Bagent stepped in, winning two of the four games he started. Further, he has the lowest sack percentage out of any quarterback in the league, with a minimum of 14 pass attempts.
This is in part because Bagent was only sacked five times as he had the awareness to throw the ball away, something Fields has lacked this season as he already has been sacked 24 times. As a result, there were some valid questions about whether Fields should be the starter for the remainder of the season.
Fields stated he was not surprised by it and attributes this to the media trying to cause a stir.
"That's the world we live in nowadays. Everybody wants to cause a stir, cause media attention," Fields said. "That's just what comes with it. But, I knew that was going to happen from the get-go. It came to me as no surprise. Like I said, I was coming in the building everyday, being the same guy I was before I was hurt and just trying to be the best leader I could be."
While he was not able to play, there was some hope that perhaps he took some time to watch his film from the first six games of the season and identify some areas of improvement. However, when speaking with the media, he said he did not watch any of his film and only watched film of the week's previous game. When asked if there was anything from Bagent's performance he identified that he could learn from, he simply said that they are two different quarterbacks who play the game differently.
After this season, Chicago will have to determine whether or not to extend Fields' contract, so this season is potentially the most important season of his NFL career thus far. While the injury certainly does not help his case, but a win against a division rival would, something he has not done since his first career win at the starting quarterback in October of 2021.