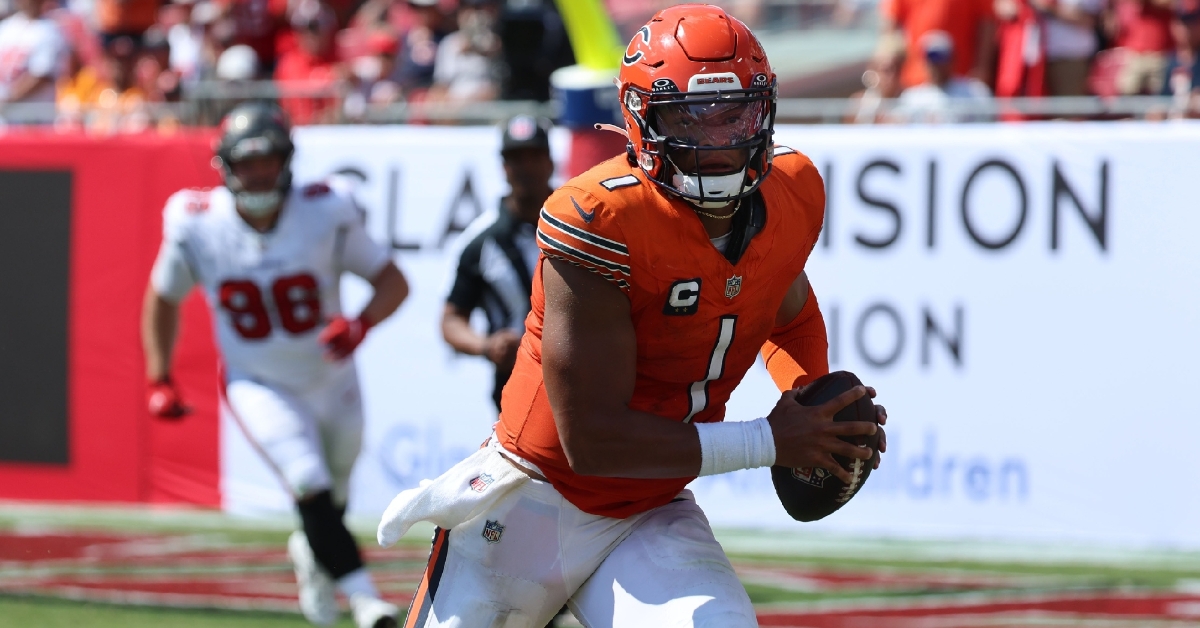 | | |
| --- | --- |
| Bears News: Justin Fields says coaching is making him play "robotic" | |
---
CHICAGO - Things are not looking pretty in Chicago. This is not just on the field, it is not off the field as well for quarterback Justin Fields. Fields spoke to the media on Wednesday and had a lot to say about the loss this past Sunday and about wanting to get back to playing his game.
"I felt like I wasn't necessarily playing my game. I felt I was kind of robotic and not playing like myself," Fields said. "So, my goal this week is just to say, 'F it' and go out there and play football how I know how to play football and that includes thinking less and just going out there and playing off of instincts rather than just so much, info in my head, data in my head, just going out there and playing football."
One highly criticized play from Fields was the strip sack. Technically speaking, he fumbled twice. But the first one was stripped by linebacker Cam Gill for the Buccaneers and the Bears were fortunate enough that offensive lineman Lucas Patrick recovered it while keeping Chicago in field goal range to allow Cairo Santos to make the 52-yard field goal. Commenting on that strip sack, Fields seems to attribute this in part to how the coaching staff wants him to be more of a pocket quarterback when he is not.
"They wanted me to work on standing in the pocket during the offseason, which there's time where you do, but when that internal clock goes off, that's when you need to get out and extend the play, make a play," Fields said. "So, it's kind of like taking their coaching and then there's always going to be like, you don't have to always, I guess, it's not going to work out perfectly every time. So, yes, there's times when I could have stayed in the pocket. But, in that play, I was in the pocket for a long time. So, I got to extend the play, get out the pocket and do something with it."
Throughout the entire over 11 minutes he talked with the media on Wednesday, Fields talked a lot about needing to play free. Specifically, he focused on the issue of getting fed a lot of information and how this seemed to be overwhelming and lead to a decreased performance on the football field.
"When you're fed a lot of information at a point in time and you're trying to think about that info when you're playing, it doesn't let you play like yourself," Fields said. "You're trying to process so much information to where it's like, 'If I just simplified it in my mind, I would have (done) this.' I saw a few plays on Sunday to where, if I was playing like my old self, we would have had a positive play. There would have been a few more third down conversions. I think that's the biggest thing for me, just playing the game how I know how to play it, how I've been playing it my whole life. That's what I got to get back to doing."
There seems to be a clear disconnect between how Fields feels he should be utilized and how the Bears are currently using him on the offense. Last season saw him emerge as a dangerous player outside of the pocket with his rushing ability, in part because he did not have enough time to throw the ball. Losing offensive lineman Braxton Jones to a neck injury who will be out for at least the next four games certainly does not help matters.
This season, he is throwing the ball more. In fact, he has had over 200 passing yards in both games this year. That marks the first time since weeks 13 and 14 in his rookie season that Fields has thrown for at least 200 yards in consecutive games. Nonetheless, this is certainly not helping the productivity of the offense or for the development of Fields.
"In the grand scheme of things, I still have to be the person and the player (that's) gotten me up to this point," Fields said. "So, rather than changing my whole game, just implement (the coaches' corrections) in my game, make those little corrections, but don't allow that to change me as a whole player."
At least the lines of communication between Fields and the coaching staff are still open. Fields expressed that the coaches and players are not going to take it personally if they are told they need to do their job better.
"They're not going to take it personally if us as players go to them and say, 'I didn't like this call.' or 'They need to be better.' We're all grown men in the building and we all can take it," Fields said. "So, it's about working with each other, getting each other better, holding each other accountable and working towards the same goal … I think everyone around here can do things better, including myself."
Hopefully Eberflus and the rest of the coaching staff can get on the same page as Fields and the players to allow Fields to play like himself and so Bears fans can see what this offense is truly capable of.
Justin Fields wanted to speak to the media again inside the locker room following his comments on #Bears coaching earlier. @GNSportsTV @WGNTV pic.twitter.com/vG2kU3QDGb

— Kaitlin Sharkey (@KRoseSharkey) September 20, 2023