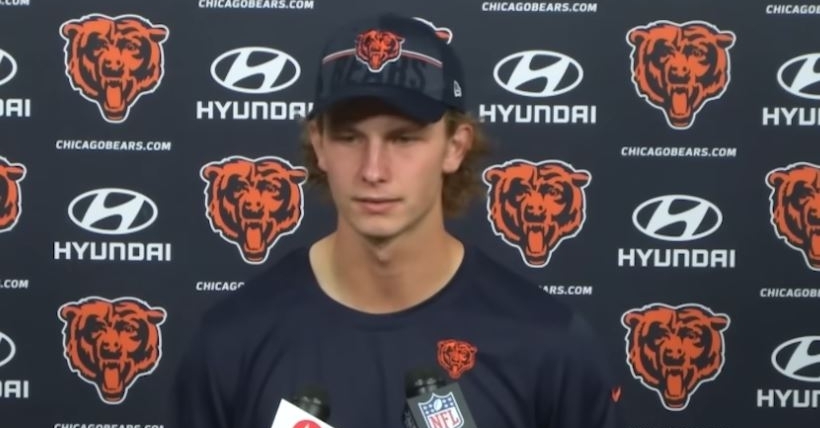 | | |
| --- | --- |
| Bears News: Tyson Bagent on scouting Chargers' defense, relationship with Moore | |
---
CHICAGO - Undrafted rookie quarterback Tyson Bagent had a solid start to his NFL career with a 30-12 victory against the Las Vegas Raiders this past Sunday. Now, he is the probable starter going against the Los Angeles Chargers this coming Sunday night (7:20 p.m./NBC).
Reflecting back on the win versus Las Vegas, there are a lot of positive things from the offense, while Bagent did identify one thing he could improve on.
"I like how we operated as an offense. I thought the o-line played extremely well. I thought the running backs ran hard, receivers made plays when we needed them to," Bagent said. "I think ball security in the pocket was definitely a highlight of something I need to be more aware of."
When playing against the Raiders, you always have to watch out for edge rusher Maxx Crosby. Going against the Chargers, however, they have a dual threat with defensive end Joey Bosa and linebacker Khalil Mack. They also have one of the elite cornerbacks in the NFL in Derwin James. This defense presents more of a challenge than the Raiders, truly testing this Bears offense and Bagent.
"I think they've got a good defense. They've got generational players in (Mack) and (James)," Bagent said. "So, got to be aware of where they are at all times and it's a team we're going to have to be locked in again. We're going to need all 11. So, looking to continue on the good ways of practice in order to put our best foot forward on Sunday."
Bears fans certainly remember Mack. Back in 2018, he came to Chicago in a blockbuster trade that sent two first round picks to the Raiders, but also gave the pick that they used to draft tight end Cole Kmet. Shortly after Matt Eberflus became the head coach, Mack was traded to the Chargers in exchange for a 2022 second-rounder, which Chicago used to draft safety Jaquan Brisker. Particularly in his last season with the Bears, Mack struggled to stay healthy.
That has not been an issue since going to Los Angeles, making him a player that Bagent is taking note of going into this game.
"(Mack)'s just versatile. He's good at everything. He's strong, stout, good pass rusher," Bagent said. "So, he's just not lacking a whole lot in anything."
But now, the Bears have an elite talent of their own on offense - wide receiver DJ Moore. Moore had the best game of his career in the Bears' first win of the season against the Washington Commanders and has been a presence in the offense. Throughout the offseason and during this season, Moore has constantly been supportful of Bagent, especially when it was his time to be the starter.
"He's one of the best in the world. So I think, incoming undrafted guy from D2, you could be a little, not starstruck but just kind of, you realize when he's around. Just even how cool he was to even have casual conversation with me almost immediately," Bagent said. "Just been a great guy and once Justin went down, he was just one of those dudes that really had my back, led me up to the meeting, did all the things to make me feel good and confident. So, I always appreciate that."
Whether you are a fan of the Bears or not, Bagent's story is one that everyone wants to support. He was born and raised in a small town in West Virginia, went to Shepherd for college, a Division II school in-state and is now an NFL quarterback. It is quite the remarkable journey, making that first victory even more sweet.
His endless confidence in himself is undoubtedly something that helped him prepare for this moment.
"Everybody knows coming from where I came from, both the division I came from, kind of how I grew up, not with a whole lot of football resources around me, so it felt good just to have hard work be rewarded," Bagent said. "I think I have a strong arm. I'm confident to make any play that's called."