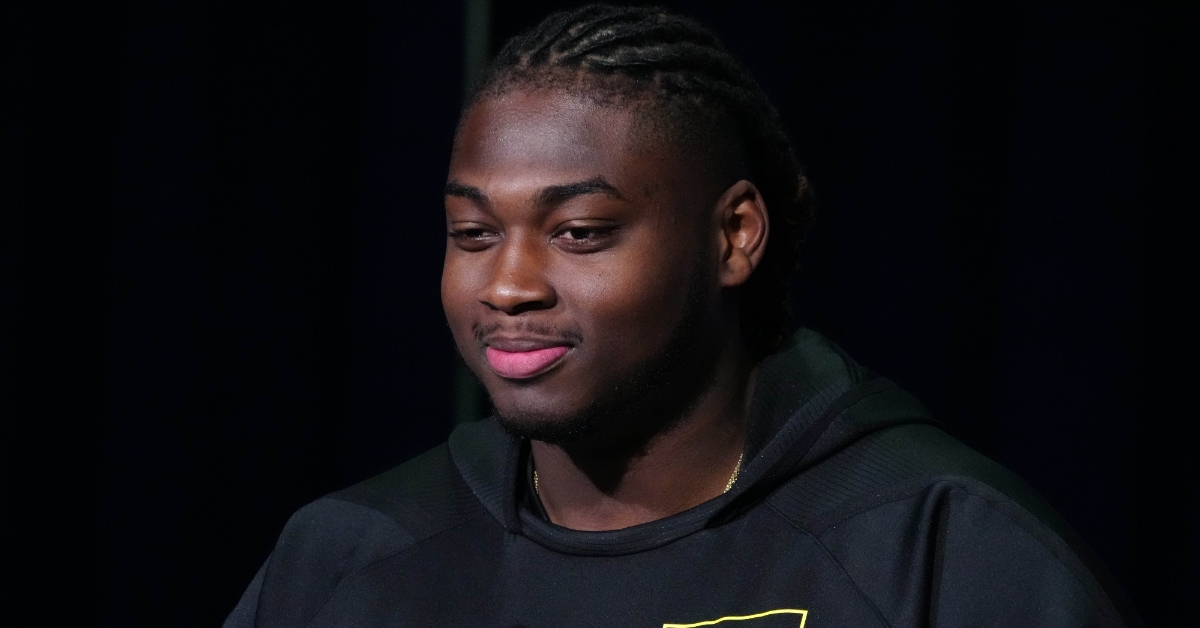 | | |
| --- | --- |
| Bears planning to meet with All-American offensive lineman Kenyon Green | |
---
We are rapidly approaching the NFL draft, as this is when teams begin to plan their picks according to needs. For the Bears, the needs are pretty simple as they are expected to invest heavily on the offensive side of the ball with the offensive line and WR as the top options.
Although this team doesn't have a first-round pick, plenty of talent will still be available at No. 39 and 48, where the Bears look to do the most damage. Knowing this and knowing the needs of this team, Ryan Poles is starting to set up meetings with potential picks as Kenyon Green is on his list of candidates.
With a new offensive coordinator and O-line coach this season, the need for a quality offensive line may be as high as ever, so look for the Bears to hit this hard. Cody Whitehair is the rock on this offensive line despite his down year last year, with Lucas Patrick coming in to bring valuable experience. Second-year pros Larry Borum and Teven Jenkins will look to take significant strides this season, but more work needs to be done.
With the Bears set to go on the clock in roughly two weeks, look for Texas A&M offensive linemen Kenyon Green as an option as Poles is looking to schedule a visit with him. If you want to talk about versatility, Green gives you that versatility that the Bears love.
Not only is he an All-American caliber player, but he made starts at every offensive line position apart from center last season. Should the Bears draft him, he would be comfortable playing anywhere on the line, which gives this team so much flexibility in the end.
He's a bit undersized height-wise at 6-3; Green comes in at 323 pounds and has a monster resume to back him up. He comes from the loaded SEC conference, where he earned First-Team honors following a year where he took home second-team honors. However, what stands out the most is that he brought home consecutive All-American honors, which is noteworthy as that is not an easy feat.
The best comparison anyone can give Green is that he is a Bulldozer downfield blocker. When he locks on you, he latches on you, and you tend to have a hard time getting away. That helps in pass protection and, most importantly, run protection, which this Bears team wants to do more of.
Although not the most famous name for several reasons, Green draws comparisons to Richie Incognito for his playstyle, Green is one of the strongest players in this class across all positions and features a quick hand thrust to move opponents out of the way.
That helps pave the way in the run game and allows him to toss people aside in the passing game. Considering that the Bears won't pick until No. 39, you may wonder how a player of this caliber would fall that far. You are not alone in wondering that, and there is a good chance the Bears don't have an opportunity to get him.
However, the fact that Poles wants to meet with him shows how serious the Bears are about him, and that could help them potentially swing a trade to move up and have a better shot at him. Green has been primarily viewed as a first-round talent expected to come off the board in the top 15.
Despite that, we have seen strange things happen on draft night, and should he fall to day two, the Bears need to be all over him. Not only is he a redefined blocker who has gotten better every year, but he is extremely strong and plays with a low pad level.
He has excellent quickness for his size and plays with the mean streak you like to see in offensive linemen. Don't let the potential of falling out of the first round fool you. He is a day one starter on any team and will make you instantly better upfront in the trenches.