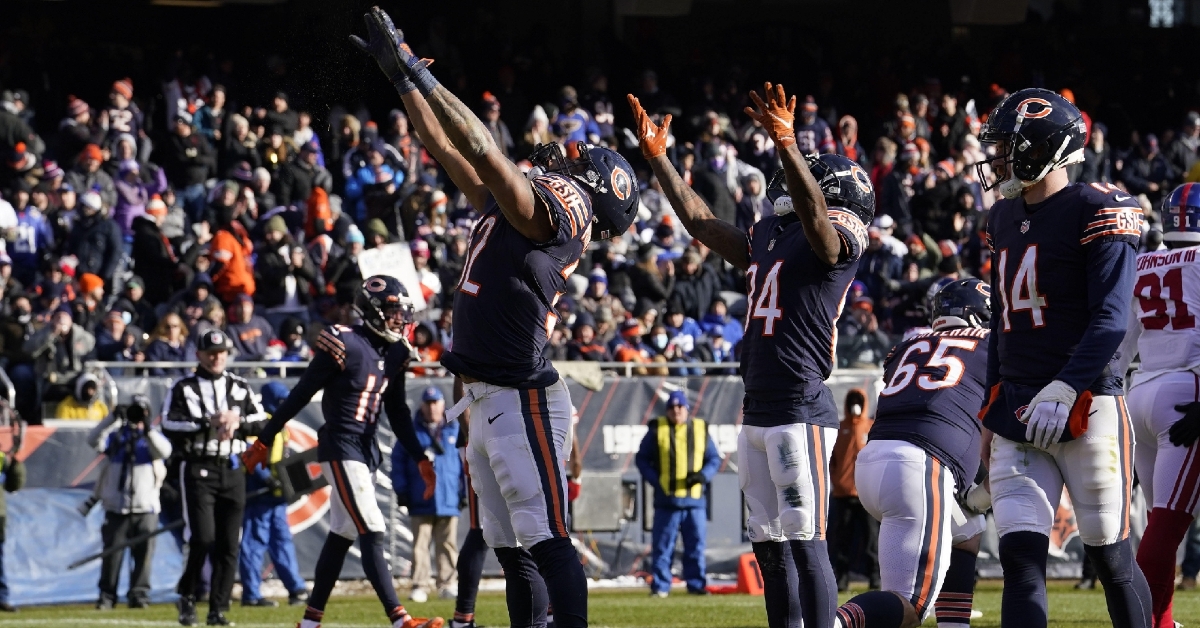 | | |
| --- | --- |
| Bears RB Season Preview: David Montgomery, Khail Herbert, more | |
---
| | | |
| --- | --- | --- |
| Wednesday, July 13, 2022, 12:37 PM | | |
Yesterday we looked at the QB, which is by far the most critical position for an offense. Today we will continue to focus on the offensive side of the football as we have reached the RB room. Running the football has become less frequent with each passing season, but the Bears are one of the few teams that are still a run-first team.
David Montgomery
With Bell-Cow, David Montgomery set to lead the rushing attack, and now paired with a pair of young guns, Chicago could have one of the better rushing attacks in football this season. Even with the loss of both Damien Williams and Tarik Cohen, the Bears have plenty of talent capable of breaking out this season.
Like the past two seasons, the Bears rushing attack stops and starts with Montgomery. Drafted in the third round four years ago, Montgomery was viewed as one of the biggest steals that night as he was graded as a top two back. The 5-11 224-pound bruiser from Iowa St. has emerged as a borderline top 10 RB in this league and is the Bears first bell-cow back since Jordan Howard was shouldering the load.
Despite a successful rookie season, Montgomery didn't play as much as he would have liked, but is now starting to turn into the player the Bears were hoping for. Coming off of 1000 yard rushing season in 2020, Montgomery finished with 849 yards last year to lead the team in rushing for a third straight year.
Keep in mind; that he did miss four games, so another 1000-yard season was almost a certainty at that point. Although predominantly a run-first RB, Montgomery has good enough hands to bring in plenty of receiving yards as he has emerged as a dual-threat back. This is a crucial year for him as he is playing for a long-term deal, which he most likely gets.
When the season began last season, the Bears counted on Williams and Cohen as backups to Montgomery. Well, Cohen missed the entire season while Williams was underwhelming at best. That allowed other players to step in, and then-rookie Herbert did the job.
Khalil Herbert
Now in his second season, Herbert will be the primary backup RB this season after showing what he could do last year. When Montgomery was sidelined from weeks 5-8, Herbert was the primary rusher as he ran for 344 yards across those four games to rank fourth in the NFL over that time. Herbert would finish the year with 433 yards, so most of his production came during that stretch.
With a more defined role this season, I look for Herbert to get more carries consistently, although it won't be a ton. Regardless, he did more than prove he can hold his own and should offer Montgomery a nice breather during the season.
Trestan Ebner
Perhaps the player with the most intrigue this season is 2022 sixth-round pick Trestan Ebner from the University of Baylor. Ebner made it two straight years where the Bears drafted a RB in the sixth round, with Herbert falling in line first. The thing about Ebner is that he is an explosive athlete that some are calling a Fantasy sleeper this season.
During his tenure at Baylor, he appeared in a school record 61 games, rushing for nearly 1700 yards and nine scores. He also added 1515 yards receiving and 11 scores as he showed you the true definition of a dual-threat back.
Perhaps the biggest attribute he brings to the table is special teams success, where he averages better than 25 yards per kick return with three scores and nearly seven yards per punt return with one score. Regardless of where he lands on the depth chart this season, the Bears will get him into games as he is too valuable not to play.
Khari Blasingame
One guy that isn't talked about enough this season is not a running back but a full back in Khari Blasingame. Listed as a RB on the roster, the Bears will bring back the FB position this season which Blasingame will most likely fill.
Besides CJ Ham and Kyle Juszczak, there are not too many natural FBs in the game, so Blasingame could be the third best. Known as a short-yardage specialist, he is also a terrific blocker that the Bears will desperately need in the running game. He is also someone that can come out of the backfield to make plays which will also help this offense move the ball more consistently.