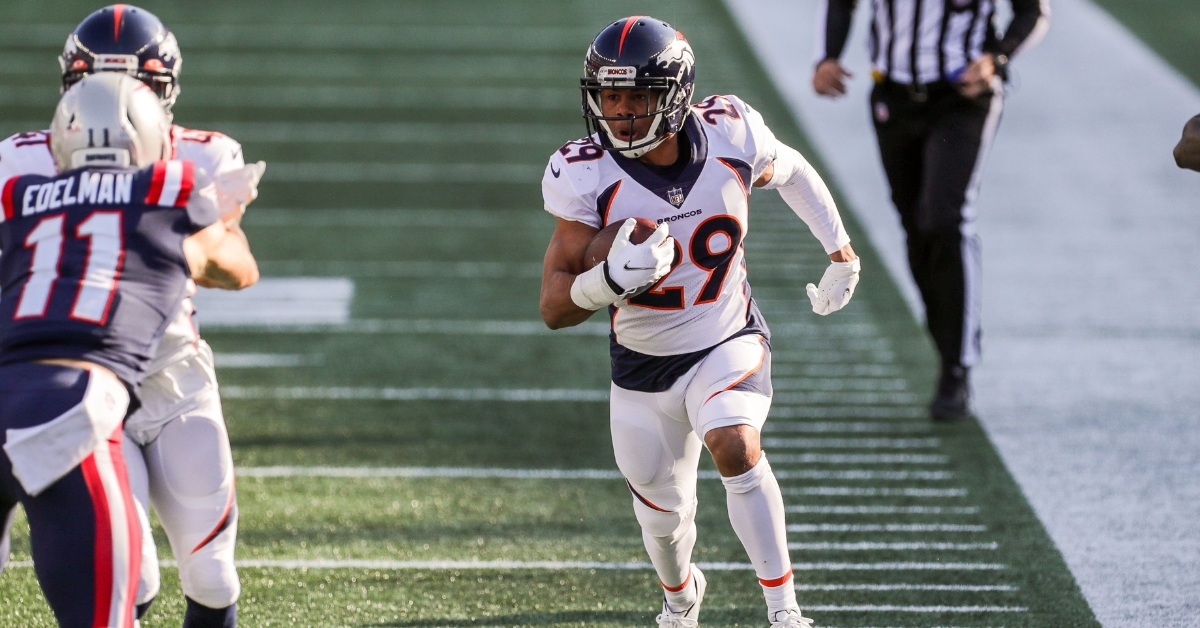 | | |
| --- | --- |
| Bears reportedly among interested teams for talented DB | |
---
| | | |
| --- | --- | --- |
| Tuesday, September 7, 2021, 4:22 PM | | |
After the initial 53-man roster was released, the Bears didn't hesitate to make moves to fix some of the positions they needed to fix. Adding a guy like Breshaud Perriman to the WR room was a great decision, but now this team must turn its focus to one other area that continues to be a concern.
With the NFL season set to kick off on Thursday and the Bears getting ready to play Sunday night in Los Angeles, they still only have four cornerbacks on this roster which is not a good thing. One injury to that position group, this week in camp or on Sunday, will have this team in a predicament as they must add at least one more player by sunder.
Although not alone, the Bears are one of several teams inquiring about nickel CB Bryce Callahan who would be a welcomed sight in Chicago. Unlike most of the moves the Bears have been making, Callahan is not a free agent and would have to be acquired via trade from the Denver Broncos. However, Broncos GM George Patton has been taking calls about potential DB trades, and Callahan has had his name come up a lot as a hot commodity.
While plenty of teams would love to add Callahan, no team needs help more than the Bears, and he would be a familiar face. For those of you who may think the name sounds familiar, you would be right as Callahan was part of the Vic Fangio defense from 2015-18 as a member of the Bears. Whether Callahan is traded or cut, teams will be chomping at the bit to add him to their defensive units, and the Bears should and better be one of them.
Callahan not only has experience playing for the Bears, but he was their top nickel CB for four seasons and was quite good during his time in Chicago. Across those four seasons, Callahan saw action in 45 games, 29 of which were starts. Although he played in only about 66-70% of the total games covering those four seasons, Callahan was a baller and played at a level the Bears haven't seen from a nickel corner since.
He was intercepting passes, contesting, breaking up passes, chipping in as a run stopper and a Blitzer, and just making life miserable for many big-name receivers. Following the 2018 season, the Bears allowed Callahan to hit the open market and eventually walked away from him in favor of Buster Skrine. At the time, the move made sense, but you could say the Bears made a huge mistake, looking back at that now.
The Skrine experiment didn't end well, and the Bears eventually cut him to clear up cap space. Considering they haven't found a replacement for Skrine quite yet, you can see the interest in Callahan, but what better way to make up for that mistake than by bringing him back for one more go-around on this team.
However, one problem standing in their way is acquiring him in general, as that part will not be easy. Not only does Callahan need to be made available on the open market, but should the Broncos seek out a trade for him, what would it all cost to get him? Even though the Broncos already have Kyle Fuller, Patrick Surtain II, and Ronald Darby, who are all solid corners, don't expect the Broncos to dump Callahan for nothing, especially when you look at the other three QB's in their division.
Facing off against Patrick Mahomes, Justin Herbert, and Derek Carr twice a year comes with a price, and there is no such thing as having too many corners to face them. Still, the Broncos are willing to move on from Callahan, it appears if the price is right. The Bears are a logical fit for him, but it just might not be possible when you look at the scenarios.
First, the Broncos are most likely going to want a mid-round draft pick for Callahan, and the Bears don't have a ton of draft capital to play with at this point. Second, Callahan has a base salary of 6.5 million this season, which is exceptionally high for any team to fit on their roster at his point, but even tougher for the Bears to swing it.
Regardless of the move can happen or not, it is almost a guarantee that the Bears, at the very worst, kick the tires on a possible reunion. The more makes sense, the fit makes sense, and adding Callahan fills a position of desperate need.