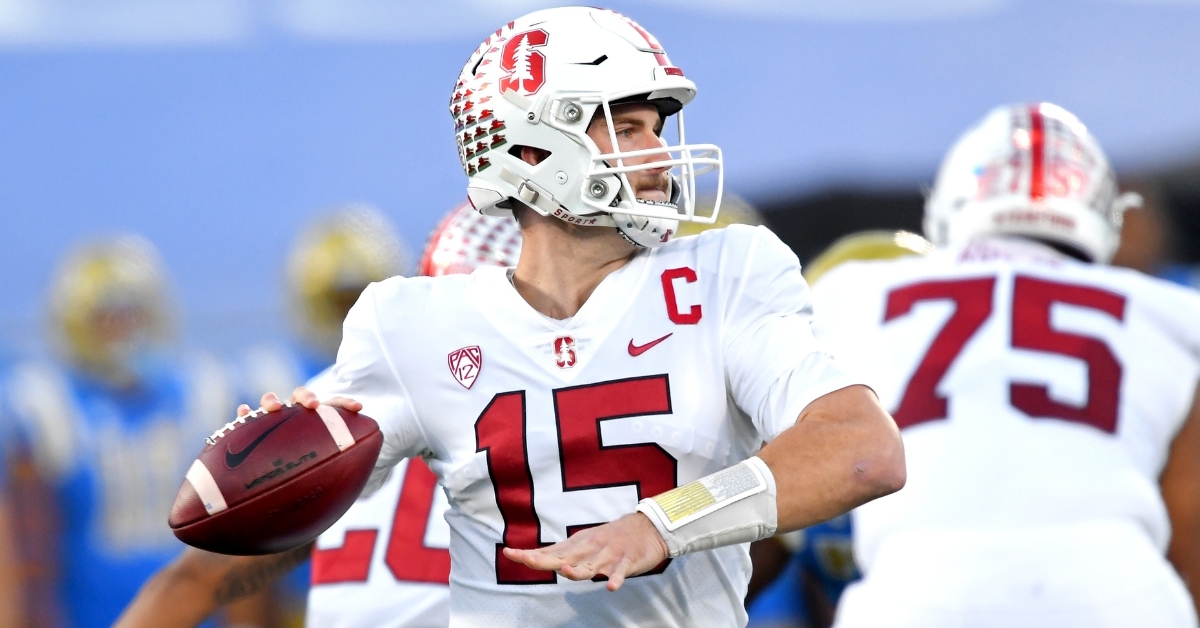 | | |
| --- | --- |
| Bears scouting Stanford QB Davis Mills | |
---
| | | |
| --- | --- | --- |
| Tuesday, March 23, 2021, 1:08 PM | | |
Even after signing Andy Dalton to a free agent deal and picking up Nick Foles option, there are many questions still surrounding the Bears QB room. For starters, it seems as if the Bears are not only listening to trade offers for Foles, but it sounds like they are strongly considering it with Philadelphia, a team to watch. That would leave Dalton and Taylor Brey as the only QBss in Chicago, and if that is the case, look for the Bears to add one more.
The free agent or trade route would still be an option, but at this point, if Chicago does want to add another QB, look for them to target one in the upcoming Draft. While fans shouldn't expect the Bears to land one of the top seven QB's ticketed to come off the board in the first two rounds, what about a mid-round prospect that no one is talking about in Stanford starter Davis Mills.
Not only are the Bears showing interest in him, but they sent John DeFilippo to scout the prospect ahead of the Draft. Not only was DeFilippo in attendance for his pro day, but he was watching extremely closely to the point where he was requesting Mills to perform specific throws. That seems like a coach who is interested in bringing him aboard.
Dalton may be the team's starter this season, at least for now, but there is no secret that the Bears are still looking to add a QB in some form. Mills could be the one they like as he is an intriguing prospect that falls outside that Tier-1 bracket. At 6-4 225 pounds, Mills is the perfect size for the NFL, and his measurables stack up right where they should be. He has a ton to prove outside that, and after hearing that same thing regarding Mitch Trubisky, Chicago better hope he is worth it should they go for him.
Not only is he coming off two knee injuries, but he has just 14 games of college experience under his belt. However, his eight games this season as a junior showed a ton of potential, which is why teams are interested in him. Not only did he complete 65% of his passes, but he threw for 1960 yards to go with 11 scores. Mills also threw five interceptions.
Following that season, Mills was expected to have a monster senior season only to play in five games. While his completion percentage went up to 66.2%, he threw just seven touchdowns to go with three interceptions across those five games. His yards per attempt were also a bit down. This is a step back, obviously, but with all things considered, given the COVID type of season, I guess there was still plenty to like about his year.
There is a lot to like about Mills, and it all starts from his ideal size at the quarterback position to his potential as a player. However, potential only gets you so far, as we have seen far too often when teams draft a player based on potential, and then it doesn't turn out.
While there may be a lot to like about Mills, there are also some concerns, and it all starts with the knee injuries. Mills has had two injuries already, and I question whether he is durable enough for the NFL. One more hit, and his career could be over. You also must look at the experience factor and having just 14 games under his belt.
That is a similar path to Trubisky, who had just one year of starting experience under his belt but had far more success in that one season than Mills has had. Yes, Mills has started games in each of the last two seasons but hasn't completed an entire season yet. I know at this point; nothing should be considered off the table, and Mills is on the Bears radar at this point.