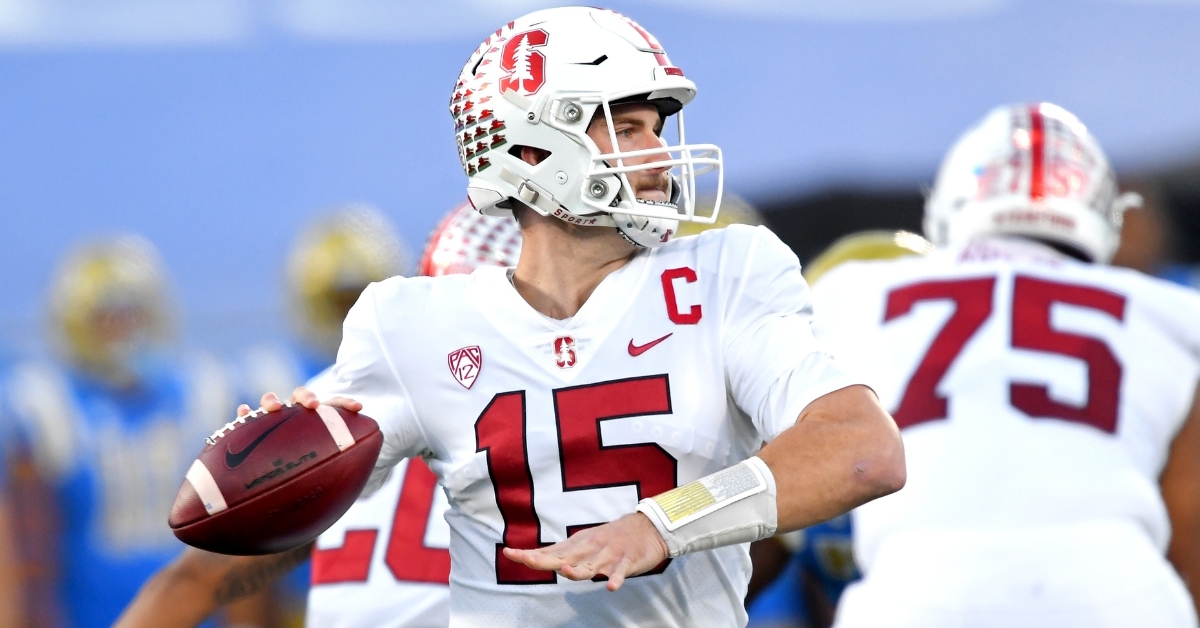 | | |
| --- | --- |
| Bears still linked to QB Davis Mills | |
---
Across the past month, we have been discussing many potential options for the Bears regarding the NFL draft. Most of it has been circled around pick 20, but there have also been discussions surrounding QB talk and where the Bears go.
Unless Chicago is willing to mortgage the farm and trade up, taking a QB in the first round doesn't seem likely at this moment in time. However, taking one on day 2 or 3 is undoubtedly an option, and Davis Mills continues to have his name surround camp as a day 2 or 3 option.
There is a lot to like about the Stanford product and plenty of concerns regarding what type of quarterback he is. Starting with what to like about him. Mills stands 6-4 and weighs 217 pounds, making him ideal for a pocket passing NFL QB. Not only is he highly accurate with the football, but the ball comes out of his with some zip to go with an effortless release and motion.
Mills also works with anticipation as he often seems to be one step ahead of the defense on every play. That is impressive when you look at how inexperienced he is. That brings me to what the concerns are about him, and inexperience is undoubtedly one of them. Across his five games in 2020, Mills Completed 66.2% of his passes for 1508 yards 7TD and 3INT. That accumulates to more than 300 yards passing per game while adding 37 yards rushing and three scores.
Mills has only started 14 games in his collegiate career but has still completed 65.5% of his passes for 3468 yards 18TD and 8INT. Mills also has those three rushing TDs to his name to go with one receiving TD. Why so few starts, you may ask, well, that all falls on his knees where he has had two significant knee injuries already. While inexperience certainly is one of the concerns, his overall health, and stability with those knees are the most pressing concerns as teams don't know how long he can last in the NFL.
Before suffering those injuries, Mills was a highly regarded QB ranked the top QB in the 2017 high school class. When you think about that, Mills was ranked higher than Tua Tagovaiola, Jake Fromm, Kellen Mond, and Sam Ehlinger. Had those injuries not occurred, who knows the career Mills could have put together, but he is still listed as the seventh or eighth best QB in this year's draft.
Chicago has been in on Mills for a while as they sent QB Coach John DeFilippo to his pro day. DeFilippo was so invested in Mills that he asked Mills to perform specific throws, which typically doesn't happen. Mills is undoubtedly a raw prospect but has the tools to be a starter in the NFL.
The injury history has certainly hurt his stock as he was viewed as a top 10 talent out of high school and is now looked at a day two or even day three
selection. Either way, should Mills fall that far he is certainly worth taking a chance on as the tools are there to be a strong starter at the next level. When you talk to scouts across the league, they feel the same way as they think he will not only become a starter but a starter who can make big-time plays.
Of course, all that hinges on the health of those knees, which is the biggest reason he hasn't seen his name with the top QB's in this year's class. Mills could ultimately become one of those hot prospect names that doesn't pan out in the NFL. However, there is also a chance that he is finally healthy and shows people why he was regarded so highly in the first place.
The Bears want a stud QB in this draft if they can make it happen. I don't see how they are going to pull it off. With Mills as a good fallback option, maybe the Bears look to play it safe and draft him later. If healthy, the Bears may have a sneaky QB who could pan out to be better than most expect. There is a reason why he was ranked where he was, and if finally healthy, I expect him to show everyone why that ranking is legit.