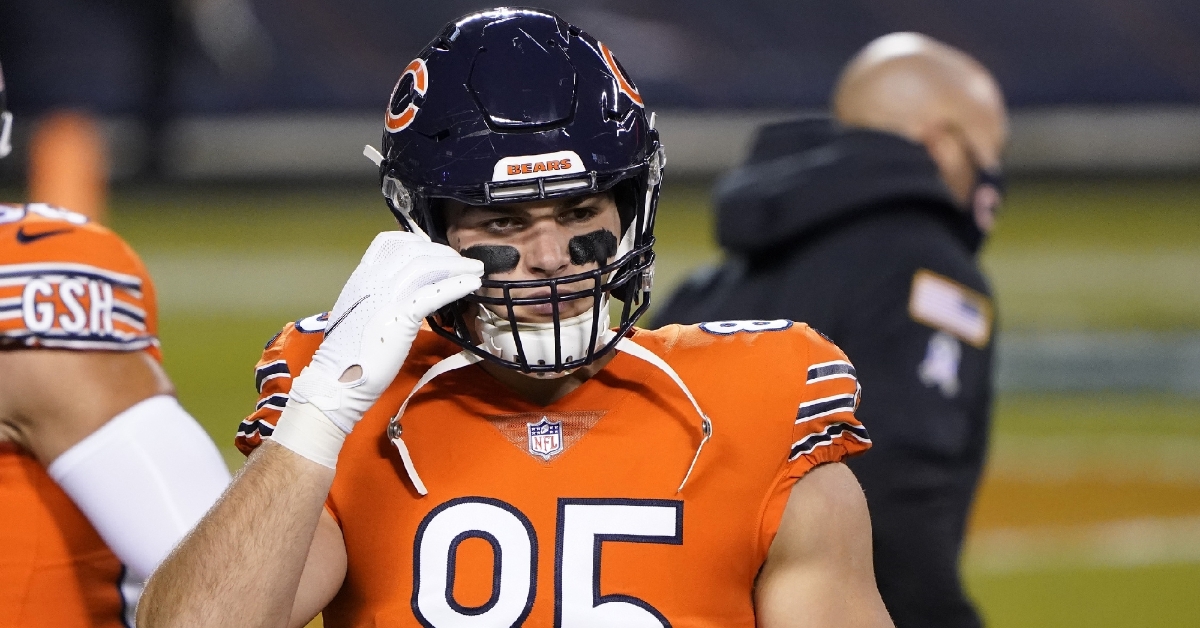 | | |
| --- | --- |
| Bears TE grades for 2020: Cole Kmet shows promise as rookie | |
---
| | | |
| --- | --- | --- |
| Monday, February 1, 2021, 11:43 AM | | |
We continue making our way through the ball's offensive side for our season end report card series. Today we will reach the tight end position. This was a question for the past few seasons, and when you looked at the training camp roster, it was filled with even more questions.
Entering training camp, the Bears were carrying eight, that's right, eight tight ends on this roster. They even had 10 at one point, which didn't make sense. Most teams carry three tight ends, with four on some rosters, so to have so many in camp was more puzzling than anything. The Bears knew coming into the season knowing they wouldn't be carrying that many, and it was a matter of who they would be taking with them.
After drafting Cole Kmet and signing Jimmy Graham via free agency, you had six tight ends competing for one roster spot. It is an essential spot on the Bears roster as the Matt Nagy offense lives off tight end production. Although that may be true, the past few seasons certainly haven't shown that, and it has been an issue for the consistency of Mitch Trubisky and his growth.
This season, the tight end production wasn't where the team wanted it to be, but it was miles better than in the past. It was especially crucial inside the red zone where Trubisky loved to utilize the Tight ends at times more than his receivers. Here are the season report card grades for the Tight End position.
Cole Kmet: Taken in the second round of the 2020 NFL draft, Kmet was the Bears' first draft pick last season. Viewed as being the tight end of the future, Kmet struggled to find his footing at the NFL level, catching a total of three passes through his first eight games. I know a lot of that had to do with how Nagy used him, but he didn't impress early on.
The second half of the season saw Kmet see more time on the field, and his production started to show. It still wasn't what the Bears had hoped when they selected him, but he did show a ton of potential, leaving the Bears with tons of Optimism moving forward. For the season, Kmet hauled in 28 passes for 243 yards and two scores. He also demonstrated excellent receiving skills in the open field, which this team lacked since Martellous Bennet.
Season Grade C: Kmet's season can be graded in two halves. The first half would give him a D for a grade, while the second half gives him a B.
Therefore, he lands in the C range. Kmet will be a good tight end at the NFL level but just needed time to adjust to the NFL speed. With no preseason, a lot of rookies struggled to get going, which was to be expected. Given the versatility Kmet brings with his game, I expect the Bears to use him much more next season, and I am curious to see how he grows as a player.
Demetrius Harris: A player forgotten on the Bears roster, Harris was the third tight end on the depth chart and wasn't used a whole lot this season. He did see action in 15 games but was only targeted about once per game, if that. For the season, Harris finished with seven catches for 45 yards and zero scores. Those are about the numbers you would expect from a third-string tight end that is only used for select packages.
Season Grade D: It is hard to grade someone targeted once a game, but Harris was brought in to make more plays. Whether by design or not, Harris didn't see the field nearly as much as the Bears needed him too and the production was not there. A big target like him would have been a significant red zone threat, but most of his production came when Nick Foles called the shots.
Jimmy Graham: One of the more questionable free-agent signings last off season, the Bears brought in Graham on a one-year deal to replace Trey Burton. The once elite playmaking tight end hasn't been the same since the injuries have kicked in, but Graham can still have success in the right system. While playing with the Saints, Graham was one of those tight ends that could stretch the field and haul in close to 800 plus yards receiving.
Since then, he has struggled to reach the 500-yard mark as injuries have slowed his overall production on the field. This season, the Bears got more than they expected from Graham, which helped this offense. His 50 catches were the most he has had since 2016 while putting up 456 yards in the process. His eight touchdowns were not only the most for him in years, but lead the Bears offense as he was a significant red zone threat.
Season Grade B+: I have to be honest with myself and everybody when saying I didn't know what to expect from Graham this season. The thought process to bring him in made sense, but he hasn't been the same player in six years. The old Graham would have been perfect for this offense as he loved to stretch the field.
This version of Graham is far from that player, but he brought something to the table the Bears have lacked. That was red zone production where Graham simply made plays. Trubisky trusted him inside the red zone, as did Nagy, and the results show. Graham led the team in touchdown receptions this season, which is why he gets such a good grade. The way to win games in the NFL is scoring points, and keeping Graham around will help this team do just that.