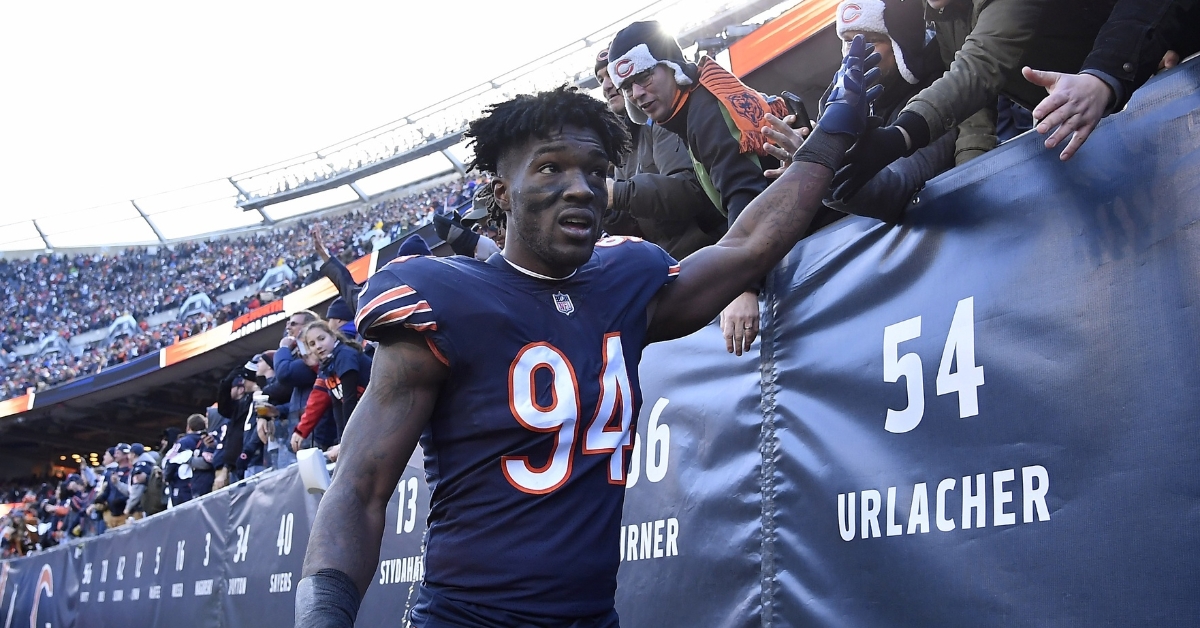 | | |
| --- | --- |
| Bears to face familiar faces in new places | |
---
| | | |
| --- | --- | --- |
| Monday, July 6, 2020, 11:42 AM | | |
One of the best parts of the NFL offseason is watching the free-agent process to see where the big names elect to go. However, the smaller names that come and go are equally as important as some have been known to have success against certain teams.
For the Bears, while the 2020 schedule pegs them up against a lot of unfamiliar opponents that they don't see every season, they will be seeing tons of familiar faces who have decided to go to new places this year. Some of these names have done next to nothing against Chicago, but some have found success in the past and will be hopeful do to that again.
Here is a list of some of the familiar faces the Bears will see this season.
Los Angeles Rams (Leonard Floyd LB): Well doesn't this name sound familiar for Bears fans. The former first-round pick of the Bears is now in Hollywood after the team parted ways with him this offseason. Floyd was always a solid player on the field but never matched up his high draft pick status leaving the Bears with a tough decision this offseason.
That decision was made easier when the team signed Robert Quinn, allowing Floyd to test the open market, eventually signing with the Rams. You can bet there will be a lot of emotion on the field when these two teams meet as the Bears have seen how good Floyd can be when he is on top of his game. Floyd will always be looking to prove a point against Chicago this season.
Detroit Lions (Geronimo Allison WR): The former Green Bay Packer WR never materialized into what the Packers expected despite bringing some of the best speed on the team. However, one team he seemed to always play well against was the Chicago Bears as he put together several strong showings in his four seasons in Green Bay. Now with a fresh start in Detroit, Allison is hoping to prove doubters wrong this season.
New York Giants (Blake Martinez LB): One of the lesser familiar teams on the Bears schedule this season, Chicago will have the privilege of facing off with the rebuilding Giants as they have done a lot of tinkering this offseason. One of those additions Bears fans are too familiar with in former Green Bay LB Blake Martinez.
For the past few seasons, Martinez has played an important part in the Packers defense, often leading the team in tackles throughout the season. While that may be a telling stat, Martinez never amounted to much more than a tackler as he never reached his full potential. Still, the Bears do not have to worry about seeing him twice a year for the foreseeable future, as he was always around the ball against Chicago.
Atlanta Falcons (Laquon Treadwell WR): One of the biggest first-round receiver busts over the past five years was that of former Minnesota Viking WR Laquon Treadwell. After the Vikings released him last season, he was later resigned when some injuries began to pile up and started to show significant signs of improvement, although it was too late to save fate.
Now with a fresh start with Atlanta, Treadwell is hoping to show the Falcons his improvement made from last season is here to stay. Playing against the Vikings the past four seasons, Treadwell was almost a non-factor when on the field, which made Minnesota easier to defend on passing situations. With him now out of the picture, the Bears can use that to their advantage against Atlanta putting their focus on Julio Jones and Calvin Ridley forcing Treadwell to beat them.
Indianapolis Colts (Xavier Rhodes CB): While Phillip Rivers was the big offseason signing for the Colts despite his name circling Bears camp for a while, former All-Pro CB Xavier Rhodes was released from Minnesota this offseason and is now off to Indianapolis. Once known as Rhodes closed, inconsistent play and injuries over the past few seasons have taken him from being one of the best lockdown corners in the game to a defensive liability.
This is big news for Chicago as they will no longer have to face him twice a season. When he was at his best, Rhodes would be locked on the Bears' best receiver and often would make life miserable for both him and the QB. Lately, that success hasn't been what it was in the past, and teams began to target him more with better results. With a rookie stepping in to replace Rhodes in Minnesota, Chicago may be looking to go after them more with a passing game this season to see if it can be contained.
Carolina Panthers (Teddy Bridgewater QB): One of the most feel-good stories of the NFL in recent seasons is the return of Bridgewater not only from his injury, but to earn a starting job with the Panthers. Once the Vikings starting QB, who was looked at as the future, Bridgewater guided the Vikings to one of their rare wins at Soldier Field in 2015, putting up good numbers in the process.
Although that was now five years ago, Bridgewater can still play, and a lot of the Bears were around the last time they saw him with New Orleans. He is a proven starter that is getting a chance once again, and Chicago shouldn't take him lightly on the field.
Green Bay Packers (Rick Wagner OL): One of the most under the radar signings this offseason was the Packers stealing former Detroit OL Rick Wagner and adding him to their roster. Wagner was the anchor of the Lions offensive line, and despite a poor performance from the unit overall, he was always one that stood out.
Now off to a team with a much better quarterback and a more powerful offense, the Bears need to take notice of where he is on the field and try to attack his weaknesses. If anyone is going to disrupt his move to a new team, it can be Chicago given they were one of the few teams that he struggled to block against last season. Going to a new club only means a change of colors for him as he still has to see the Bears twice this year.
Houston Texans (Randell Cobb WR): The final player that I will discuss today is someone the Bears have not missed over the past season in former GB WR Cobb. Once the No. 2 option for Aaron Rodgers, Cobb put together some solid seasons in Green Bay catapulted by great performances against Chicago. One of those performances came in a winner take all week 17 matchup in which Rodgers, fresh off a broken collarbone, launched a fourth-down bomb to Cobb who beat the defense for the game-winning touchdown.
That was just one of the many horrifying memories that the Packers have given the Bears over time, and when he signed with Dallas last season, the Bears couldn't have been happier to have him out of the division. Cobb did face off against Chicago with the Cowboys last year but didn't play up to the level he had expected from himself. Now with Houston, there is a good chance he is the teams No.2 option like he was with Green Bay, which could lead him to great numbers once again. Expect the Bears to target Cobb in their matchup with Houston as they know all too well what he has done to them in the past.