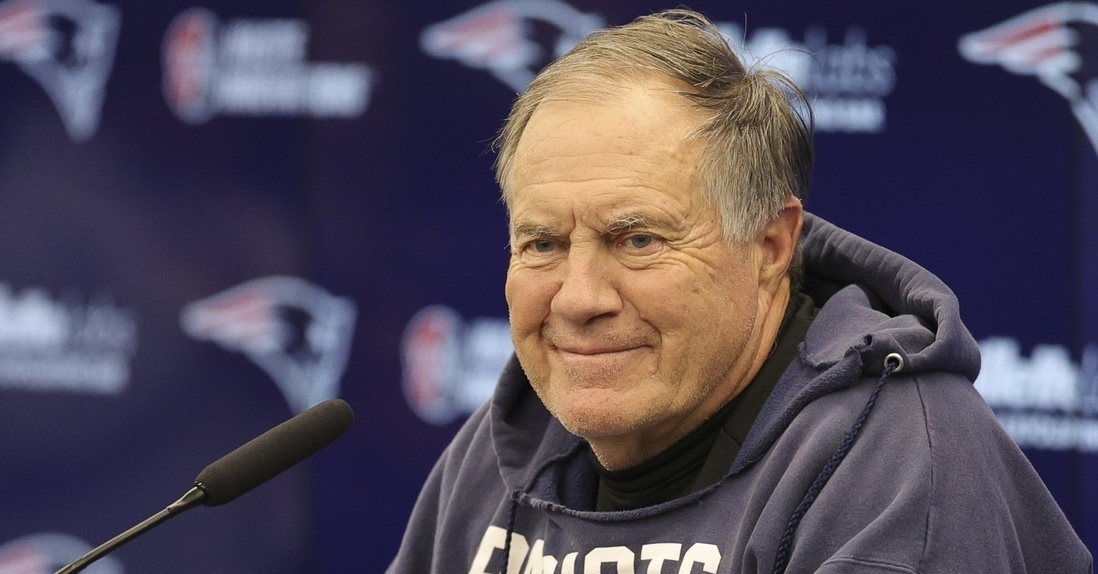 | | |
| --- | --- |
| Bill Belichick to the Bears rumors are popping up | |
---
Don't we all love those rumors? Things are said about our favorite teams only to get our hopes up when the chances of it happening are not great. That is something the Bears have had to deal with the past few seasons, and what, rumors are not going away when it comes to this franchise?
Unlike the past rumors that had to deal with players or trade talks, this happens to come from the coaching ranks and is a rumor that could drastically alter the NFC and the NFL, for that matter. In case you haven't noticed, the New England Patriots are awful this season, further cementing that Tom Brady played a more significant role in those Superbowls than some initially gave him credit for.
Since his departure, Bill Belichick has done his best to scratch and claw with the roster given to him, and he found a way to make the playoffs once without Brady. However, in the years since, the Patriots have struggled and have now fallen to the ranks of one of the worst teams in the league. They can earn a top-five pick in next year's draft, which is unheard of for a Belichick-coached team.
Granted, the talent on the New England roster isn't great, and that does play a part in their struggles, but it just seems like the honeymoon phase from the past 20 years is over and that the relationship between Robert Kraft and Belichick is crumbling right before our eyes.
Given the success that Belichick has had as a coach, this season was the first time anyone would have ever thought his job would be in jeopardy at any point during his career, but with a 2-8 start, his job security is coming into question, beyond this season. The more you listen to sources around the organization, the more likely it is that this is the end for Belichick in New England as the two sides are heading toward the decision to part ways.
🚨ODDS🚨Next #NFL HC Fired:

1) #Panthers Frank Reich, +175👀
2) #Bears Matt Eberflus, +400
3) #Commanders Ron Rivera, +500
4) #Patriots Bill Belichick, +600
5) #Titans Mike Vrabel, +1000
6) #Chargers Brandon Staley, +1100
7) #Buccaneers Todd Bowles, +1200
8) #Packers Matt… pic.twitter.com/XRtp4lbk45

— MLFootball (@_MLFootball) November 10, 2023
Should Belichick retire after this season, he will be a first-ballot hall of famer and will go down as arguably the greatest head coach in NFL history. He is second all-time in wins and has seven Superbowl rings, which alone is an impressive feat. However, Belichick is a lifer in the game of football, and even if his time in New England is over, he may want to latch onto someone for one more go of things before calling it quits.
Mike Florio of Pro Football Talk expects the Washington Commanders to part ways with Ron Rivera after this season and expects them to go all in for Belichick should he be out in New England. However, the Commanders weren't the only team mentioned as the Chicago Bears; yes, the Chicago Bears were also mentioned as a team that will look to pursue Belichick should he not return to Foxborough next season.
Washington Post Insider Jason LaChanfora echoed that sentiment and tweeted out on X that there are a lot of rumors going around Halas Hall about the Bears looking at Belichick this offseason and Belichick showing interest in joining them. Should this be true, talk about a massive plot twist and a potential seismic shift.
This was the direct quote from LaChanfora regarding the Bears rumors.
"If he wants to walk, they will let him walk. In their hearts, they'd rather him walk than have to fire him or say, 'You can stay, but somebody else is picking the players.'
I think Bob Kraft, after getting as messy as it did with Brady, that everybody knows where this is heading. I've heard a lot of rumors about him wanting Washington. I've heard a lot of rumors about Belichick being very interested in Chicago. … Who's going to give him the control he's used to? I'm not sure he's going to see that."
Why would Belichick be interested in the Bears is the next question. After all, they are not much better than the Patriots at this point and haven't been good for years. For starters, the Bears have Justin Fields at QB, whom Belichick tried to draft three years ago until the Bears traded up to get in front of the Patriots. He liked something about Fields and would have an opportunity to work with him in Chicago.
RUMORS: ESPN's Dan Orlovsky says he heard #Patriots Bill Belichick will take over as HC/GM for a different NFL team next year.

Says the location has already been determined🤯

Dan isn't a reporter, but he clearly said he "Heard that."

(@PatMcAfeeShow) pic.twitter.com/nSd2GbqmH5 https://t.co/x4cI0S1Be8

— Dov Kleiman (@NFL_DovKleiman) November 14, 2023
Secondly, the Bears will have two top 10 picks in this year's draft with a legitimate shot at getting the top overall pick for a second straight season. What coach wouldn't want to walk into a situation like that knowing that you have a blank slate at what you can do and draft a pair of franchise-altering players? Finally, the Bears will have the most cap space for a second consecutive season, which will play well in free agency. Players love Belichick and want to play for him, and that could be a huge selling point for the Bears.
Once again, these are all rumors; everything will come from it if Belichick is let go. Regardless, it is fun to think about the Bears being linked to him as it would bring the things this franchise has been missing. After all, if any team was going to be willing to give Belichick extra power, it might be a Bears franchise that lacks stability and structure despite constantly preaching about its culture.