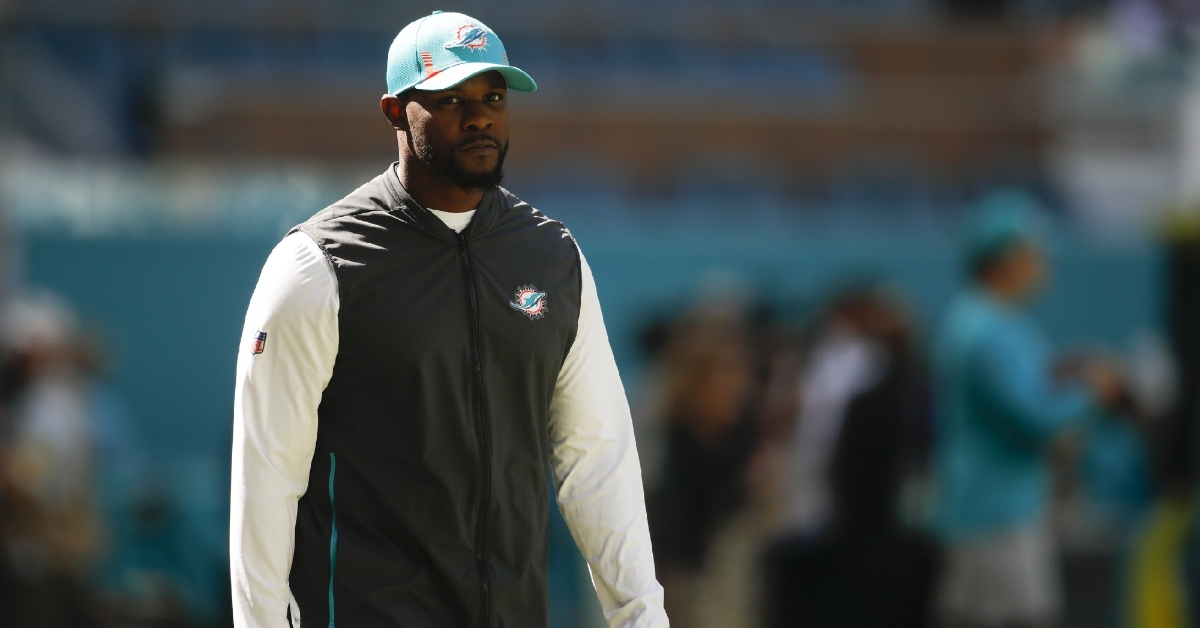 | | |
| --- | --- |
| Brian Flores puts NFL on blast in lawsuit | |
---
| | | |
| --- | --- | --- |
| Wednesday, February 2, 2022, 8:40 AM | | |
I know this should be a Chicago Bears site, and most stories should be about Chicago Bears content. However, unless you live under a rock, there was a story that broke in the NFL that could mean the end of the line for one coach and could change the way the hiring process is handled the rest of the way.
February is supposed to be Black History month in America. If what happened yesterday works out in his favor, you are looking at a potential hero added to Black History month. For those that missed it or who may not have seen the whole story, former Miami Dolphins head coach Brian Flores is suing the NFL and three other teams after he claims racism in the hiring process.
It is no secret that minority coaches are not a dime a dozen in the NFL, and people are starting to wonder why that is the case. 20 years ago, nearly 25% of the league were coached by minority coaches. 10 years ago, that number decreased to around 15%, and over the last five years, there has been three minority coaches, with Mike Tomlin, the only current minority coach.
When you look at this and look at some of the records among current head coaches, you can't tell me that minority coaches are more or less qualified than some of these other coaches, so something isn't right. There are 32 teams in the NFL, and not a single team is owned by a minority group. There are 32 GMs, and up until this week, when multiple minority GMs were hired, there were not many to go around. Considering that 70% of the players are minority race groups, something is wrong in the NFL hiring process, and Flores has officially put them on blast.
Given that African Americans have had a tough time getting head coaching jobs, the NFL instituted the Rooney Rule, which requires teams to interview minority candidates for open coaching positions. That doesn't fix the problem because coaches interview people just to interview them and abide by the rule in place. That is wrong on so many levels, and the NFL needs to change its thought process.
This has been something that has been going on for quite a while, and Flores has officially put the NFL on blast, knowing that he may never coach in this league again because of it. At this point, he is OK with that as he just wants to get the message out there about what is happening in this league, especially during the hiring process. The lawsuit he has filed is 58 pages long, which explains why the NFL is racist towards the hiring process.
That is way too much information to cover in one column, so let's just talk about the specifics about the three individual teams mentioned along with the NFL. Starting with his former team Miami. In the lawsuit, Flores goes on record to say that Dolphins owner Steven Ross was paying him 100K to lose games on purpose during his first season. In other words, he called it the tanking for Tua.
Flores started that season 0-10, but then went 5-1 over his last six games. That didn't make Ross happy, but the Dolphins still landed Tua in the draft, so all is well that ends well. We know how the NFL feels about tanking or at least visibly tanking on purpose, so if this is accurate, the Dolphins will be facing a lot of trouble from the NFL and backlash from their fans. That job just went from perhaps the best position to the worst job overnight because of this situation.
Next on his list of teams is the Denver Broncos, who he did interview within 2019. Expected to interview with them again this season, Flores never had that opportunity, and he feels that 2019 is a part of that. Going back to that season, Flores states that when he met with John Elway about the Broncos coaching position Elway was drunk and seemed disinterested in talking with Flores.
In other words, Flores feels that interview was done to full fill the Rooney Rule quota and that he had no real chance of getting that gig even with a good interview. Vic Fangio ended up with the job and was fired following the season this year. If this is accurate, Elway may be out of the Broncos organization as that is a very unprofessional way of handling things.
The other team mentioned in the New York Giants, where things get very interesting. We saw the Giants recently hire Brian Daboll as their head coach, but Flores was in line to interview for that job before Daboll got hired. At least that is how he saw it, but the Giants seemed to have their minds made up already before bringing Flores in.
According to text messages that Flores sent to the NFL front office, Bill Belichick was sending a text message to Brian congratulating him on being named the next coach of the Giants. The problem is, Belichick thought he was texting Daboll and not Flores. That is another case of the Giants interviewing Flores because they had to despite having made up their mind on who they wanted to be their next head coach.
People can say this is hearsay all they want, and maybe it is. However, Flores has plenty of evidence at his disposal that leads me to believe he has a great shot at winning this lawsuit. The NFL hiring process has been broken for a while, and this is further proof of how broken it is. Flores risked coaching in the NFL again by putting the league on blast, but someone had to say something, and he chose to be the one to do it.