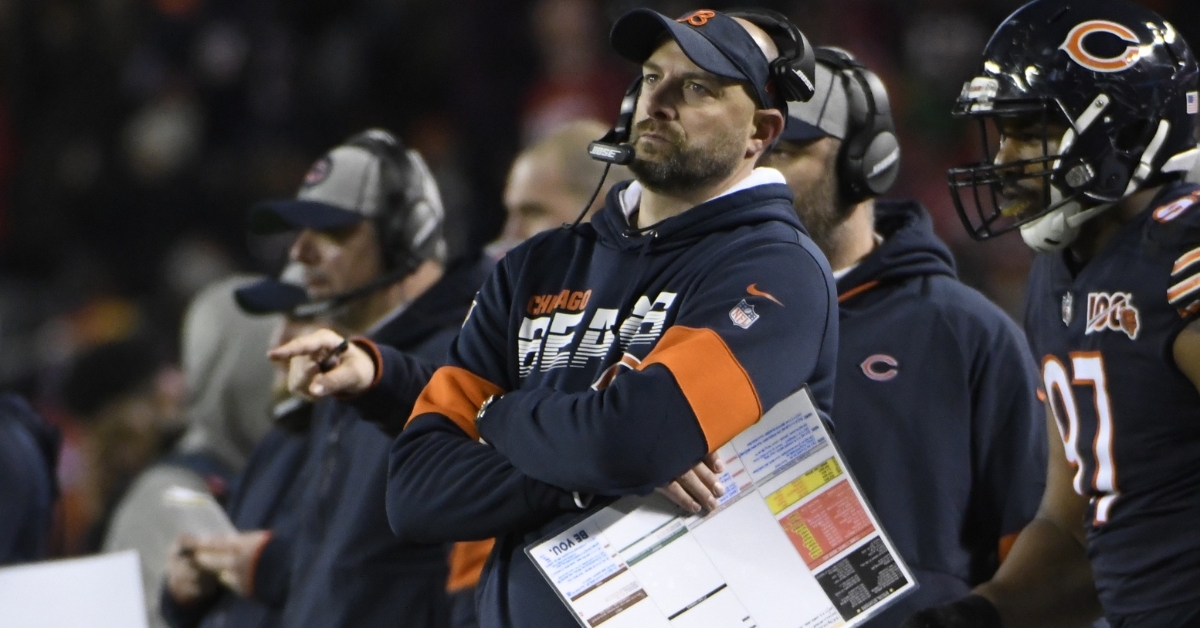 | | |
| --- | --- |
| Bye week comes at perfect time for struggling Bears | |
---
| | | |
| --- | --- | --- |
| Thursday, November 19, 2020, 8:38 AM | | |
When you ask most coaches in the NFL when they like their Bye Week, the consensus answer is usually in the week 7-10 range. That signals roughly the halfway point in the season, and a lot of times, teams are banged up around that point. For the Bears, their bye week comes in week 11 this season, but it comes at the perfect time.
Let's be real for a second here, things are not going well in Chicago, and if I were Matt Nagy and Ryan Pace, I would spend this time doing some serious soul searching. After starting the season with a surprising 5-1 start, the Bears have now dropped four straight and are 5-5 as their bye week takes shape. Losing four games heading into a goodbye is never a good thing, but when you look at how the Bears are losing, it makes matters worse.
There is a lot of finger-pointing going on as to why the offense is struggling the way they are. There is a ton of blame to go around from the coaching staff and play-calling to no running game. This team's bottom line is in free-fall mode, and things have gotten worse as the season has progressed.
Not only are they limping into the bye week losers of four straight, but they are limping into the bye week decimated by injuries. Tarik Cohen was already lost for the season, but now David Montgomery is dealing with a concussion completely crippling an already putrid rushing attack. Now add that both Nick Foles and Mitch Trubisky are injured, and Akiem Hicks and this team need this time away from the field.
There have been reports that there is a lot of tension running through Halas Hall now, and given the offensive performance they have shown over the past month, you can see why. I wouldn't want to run into anyone in those halls right now. Chicago needs this time to get away from each other, get away from the game as they need to rest up and get healthy for the stretch run.
Let's look ahead to week 12 now as the Bears are set to travel to Lambeau that week. It is the biggest game of the season for Chicago as they need to beat the Packers to have a shot at the division, even if it is slim. Chicago needs to play perfectly, and the offense needs to show up to help a defense that is carrying the team right now.
Throughout the Bears' long history, there has never been an in-season firing made by this organization. I don't expect that to change this season, but if the team continues to play the way they have the past month, there is no way both Pace and Nagy avoid the hot seat if they even return next season.
There haven't been too many times where the McCaskey family has been engaged, but things are not well when that happens. The last time McCaskey was this enraged was during the 2014 season to bring back some memories for fans. We all know what followed that year as the Bears cleaned house and fired then GM Phil Emery and Head Coach Marc Trestman.
I don't think he is at that level of frustration quite yet, but if things continue, it is hard to imagine a scenario where that path doesn't play out again. Nagy was brought in to coach the Bears because he was supposedly a great offensive mind. Now three years on the job, the Bears are left wondering where that mind is.
With every passing week, it seems as if he is in over his head and has no clue what to do on the field. I don't know if it is a scheme issue or a personnel issue. If it is scheme based, that falls solely on Nagy's shoulders, and he needs to do something to change that. Maybe the week off will allow him to look at his playbook more in-depth and make some much-needed adjustments.
If the problems are a personnel issue, then Pace is the one to blame. He has made many questionable decisions as GM, and that all starts with trading up for Trubisky. That was one move that ultimately backfired, and now the Franchise may need a QB next year. Another move that is beginning to come into question of letting Leonard Floyd walk.
It seems very unlikely at this point that both Nagy and Pace will be around next season. Typically, the head coach will always be the fall guy, but in this case, I am not sure if Nagy should be let go. I would be willing to give him one more season, but Pace would not be back. The Bears need to find a general manager who can look at this roster and take it to the level they can go. There is talent here, and now it is finding someone to add the missing pieces to gel with all this talent.