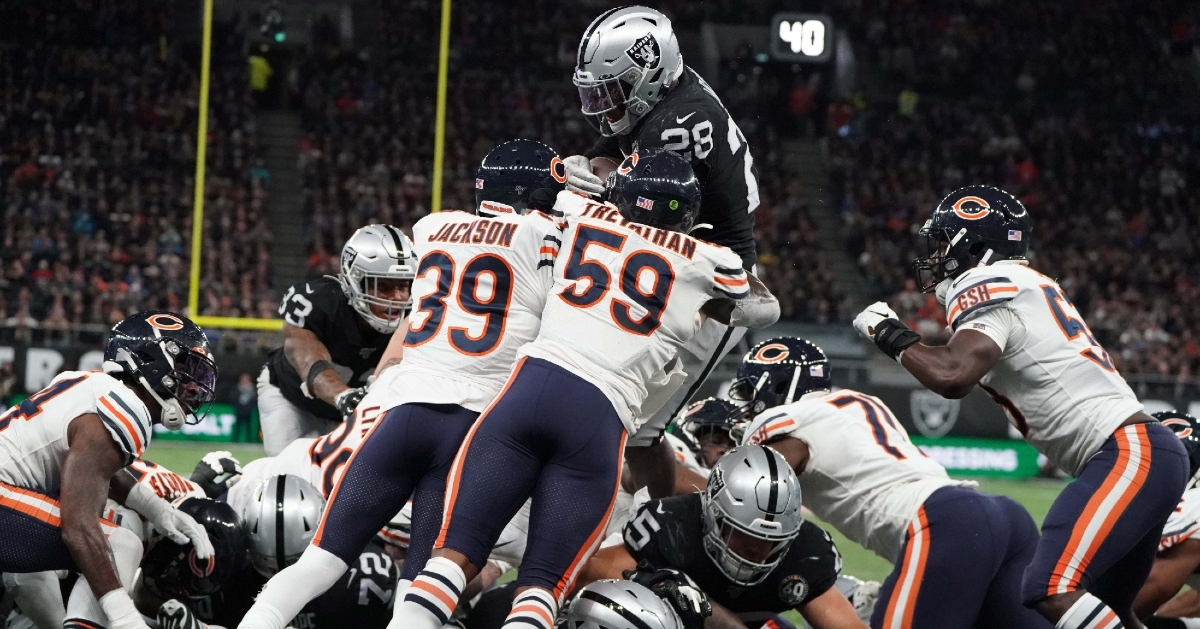 | | |
| --- | --- |
| Bye week could be a blessing in disguise for Bears | |
---
| | | |
| --- | --- | --- |
| Tuesday, October 8, 2019, 9:30 AM | | |
Ideally, most teams like a bye week between weeks 8-11 as that is the midway point of the season. For the Bears, they don't have that luxury as week six will be their bye week due to playing in London the week before. The new NFL scheduling rules mandate that teams who played in London must have the next week as their bye week. I have no idea why that was put into place, but that is the case for the Bears this week.
Coming off a disappointing loss across the pond and 11 games remaining in the season, Chicago must not take this bye week for granted as there is a lot they need to get straightened out before returning to the field. Most importantly, the Bears must get healthy on both sides of the ball. Injuries are always a part of the game, but sometimes a bye week comes at the perfect time.
This is the perfect time for Chicago as Akeem Hicks has now been injured in the last two games he has played in while Mitch Trubisky is still nursing his bum shoulder. With an extra week of rest and recovery this week, these two players, along with everyone else injured, needs to use the Bye week to their full advantage to try and mend their injuries and be ready to go on the 20th of October. After all, every piece to this Bears team will be essential for winning the division.
Another thing the Bears need to do during this time off is figure out what is going on with the quarterback situation as Chase Daniel didn't perform well enough on Sunday. Trubisky was fortunate to avoid surgery on that shoulder but remains unknown as to what his injury timetable looks like. That means for the short term; it is Daniel leading the way as he needs to perform better than he did on Sunday.
Against the Vikings, Daniel looked like a guy who could step up and deliver on offense as he gashed through one of the leagues best defenses. Fast forward to this past Sunday, and Daniel looked entirely overmatched against the Raiders minus the third quarter when he did rally them to take the lead.
With a week off from game action, Daniel and the Bears need to get together and figure out what works for him and what doesn't. Whether he is a game by game short term solution or a long-term fixture depending on the recovery time of Trubisky, Daniel is going to need to deliver each week. For that to happen, the Bears need to use this time to create a game plan that not only suits his strengths but makes him more comfortable in the process.
The third thing the Bears will look to do during this bye week is self-scout themselves. What that means is that they will dive into the film of not only last Sunday's game, but the previous four games also. With extra time to break things down, Matt Nagy and the coaching staff will be self-evaluating everything they see and working to find immediate solutions for this team moving forward.
Even though the Bears enter week six with an identical record to what they posted last season, expectations were so much higher this season, so it seems as if some of that buzz has gone out of the building. Keep in mind, Chicago was 3-3 last season before winning nine of their last ten games, so a slow start is nothing new for Nagy.
"My only experience as a head coach is pulling from last year, and seeing that where we're at now is the same spot," Nagy said Monday in London. "We have a winning record. We know that we've been in every game. I love the character of our guys so that when you hit a little bit of adversity, we know that we'll pull together and be able to use these losses to make us better."
When it comes to the self-evaluation process mentioned above, the coaching staff will certainly dive into the offensive side of the ball as they have not performed up to expectations. Not only do they rank 30th in yards per game (273.0) but 28th in scoring (16.5), which makes it hard to win games no matter how elite your defense.
"Offensively, the numbers show—and we all know, we all understand it—we're not playing where we need to be at," Nagy said. "We need to be more productive. It's inevitable that a defense that we've had the first four weeks of the season, there's going to be a time when there's a little struggle. [Sunday] happened to be that. That's a credit to Oakland. But when is the offense going to step up and take over for that? That's what we're trying to get to, to where we're a more balanced offense, defense, special teams."
Even though Sunday's loss was a tough one to take heading into the bye week, it could also be a blessing in disguise for the Bears for the rest of the season. Yes, a loss to the Raiders was humbling, but Nagy has always remained a positive guy. He is hoping this loss can be used as motivation for the entire team as they embark on the team's final 11 games.
"It's all right every now and then to have a little kick in the ass, and I'm OK with that," Nagy said. "They deserve that. We deserve that. This game reminds me a little bit last year of the feeling that we had after Miami. That was a point in our season where our guys, they rallied after that game, and we ended up making a run later in the season. We have high-character guys who will figure this thing out."