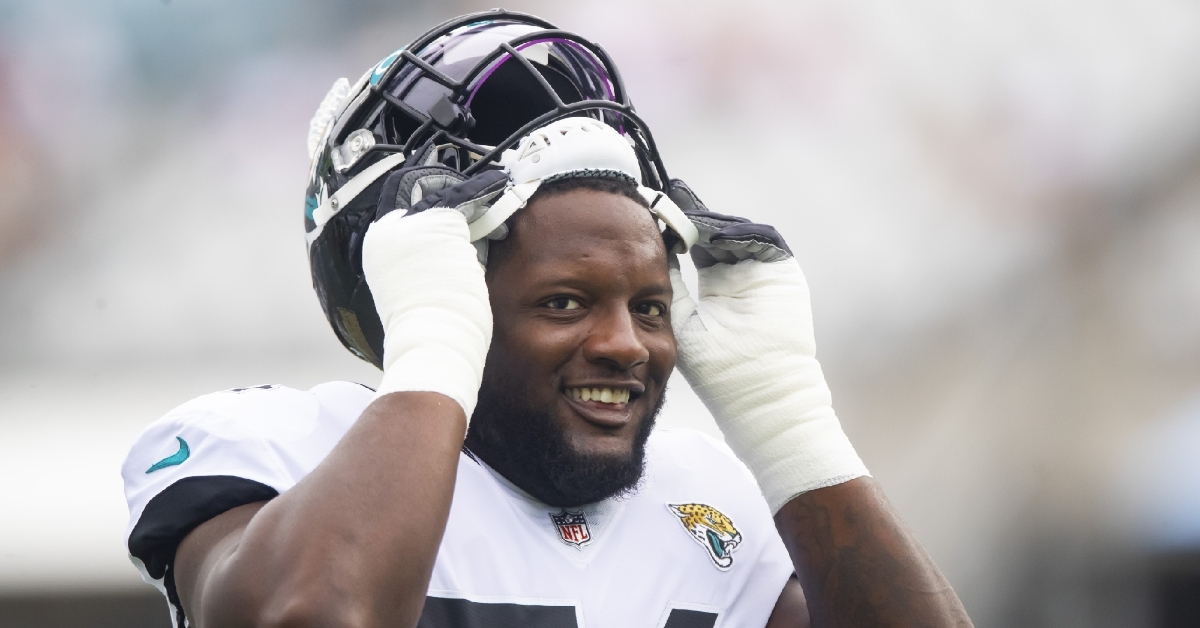 | | |
| --- | --- |
| Cam Robinson listed as a potential fit for Bears | |
---
| | | |
| --- | --- | --- |
| Tuesday, March 8, 2022, 8:48 AM | | |
In a few weeks, things will be picking up around the NFL in a big way. That will be the point when the free agency period is alive and kicking as teams will begin the NFL new year with hopes and dreams of putting together a winning team.
Although there is a ton of work to get done and not the most readily available funds to do so, expect this Bears team to be extremely active over the next month as they look to build a championship-contending team. A key component to doing that would be drafting smartly this spring while also using the resources you are given to make things happen on the open market.
Ranked near the bottom in terms of available cap space, the Bears still find themselves listed as the favorites for three of the top 100 free agents, and that starts on the offensive line with Cam Robinson. Listed as the 32nd best free agent this year, Robinson may not be considered a top-flight free agent, but when you are in the top third of who is available, you are in good company.
Drafted out of Alabama in the second round of the 2017 NFL draft, the former Jacksonville Jaguar is precisely what this Bears team could use, especially if they are looking at getting better in the trenches. At 6-6 and 335 pounds, Robinson is not only an imposing figure, but one who is very athletic for his size, which bodes well in several offensive schemes.
Robinson has always had the ability and talent to be one of the top tackles in the league, but for whatever has played too inconsistent since coming into the league. Whether it was the team he was on, and the constant changes they go through or something else is a different question, but you can't help but love what he brings to the table on a daily basis.
Chicago has had plenty of well-documented problems across their offensive line for years now, and that is no secret. They did a good job drafting some potential starters last season, but injuries kept them off the field for much of the season, and with the loss of possibly Germain Ifedi and Jason Peters, they will once again need bodies. Robinson is not only a body, but someone who can give you high-level talent daily.
The inconsistency is a huge concern, but Robinson was still better than most of the Bears linemen even at his worst, which shows you how bad they have been in recent seasons. No one will argue the overall size and ability he brings to the table, and if you get him in the right system, that inconsistency may be a thing of the past. That is what the Bears will be banking on if they make a run at him, and he would be precisely what this offensive line would need.
I am not sure if the Bears fit Robinson's overall ability from a schematical side of things. However, that doesn't necessarily mean it would be a back pickup if the Bears get him. This is one of those instances when the Bears would be putting trust in their coaching staff to get the most out of Robinson to get him to play with more consistency.
He is someone who can come in and play the left tackle position while also anchoring that same spot down for years. That would open the door for Tevin Jenkins to move to the right tackle or try his luck at guard while everyone could slide to a more consistent spot while having the confidence to play well. This may not be the top of the list picks in terms of what the Bears and their fans want, but it is a position of need and one that dramatically improves this team instantly.