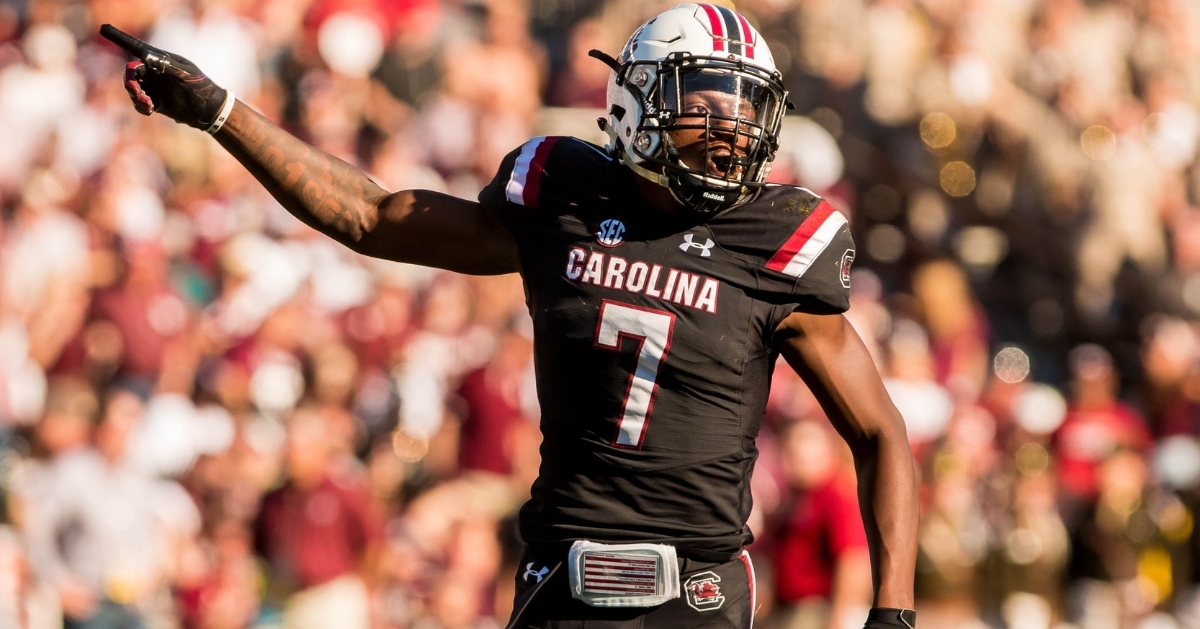 | | |
| --- | --- |
| CB Jaycee Horn would be my pick for Bears at No. 20 | |
---
| | | |
| --- | --- | --- |
| Wednesday, April 21, 2021, 10:20 AM | | |
Being the top-rated draft prospect at your position comes with all kinds of pressure. For South Carolina cornerback Jaycee Horn, he lives off the pressure. Largely rated the top cornerback prospect in the upcoming draft, Horn has seen his name land anywhere from 8-22 on Mock drafts, which fall into the Bears selection area.
With the offensive line being the primary focus on offense, one could argue that the secondary is the most significant need on the defensive side of the ball. That is why pick 20 is such an interesting spot for Chicago. Yes, they would love to trade up and grab one of the big-name QB's, but they don't have enough draft capital to do that.
Should they trade down, which is entirely possible, they risk losing a chance at an elite offensive lineman or one of the top corners on the market. So, what do the Bears do? If I were Ryan Pace and I was picking, I would look to stay at 20 and fill one of my two most prominent needs of OL or CB. If by chance, Horn is still on the board at 20, he would be my guy, and I wouldn't look back.
The 6-1 205 pounder is a big cornerback who is used to playing big-time games against great competition. As part of the SEC, Horn has seen guys like Jaylen Waddell, Devonte Smith, Ja'Marr Chase, and Kadarius Toney, among others, and has played exceptionally well matched up with them. As a Freshman, Horn stepped up to start in 10 of the 11 games he played and never looked back, eventually becoming a three-year starter.
Since then, Horn has been the definition of a lockdown corner which is something the Bears could use. Horn recorded 101 tackles across his career, seven tackles for a loss, three sacks, 23 pass breakups, two forced fumbles, and two interceptions. In other words, quarterbacks that tested him wound up regretting it, and that is going to continue in the NFL.
Not only can he match up in different coverage schemes, but he is often paired with the opponent's top receiver, given his speed and length combination. He plays to his size and uses that to his advantage in either man or press coverage schemes. Not only can he play the outside, but he can play in the slot and in a variety of coverage schemes based on the matchup on hand.
He is confident in his ability as a player and plays the position the way you would expect it to be played. Horn often lines himself up to focus equally on the receiver and the QB, taking away any surprise options with his man. Horn may not have the interceptions you look for in a top-flight CB, but he knows how to contest the football and is an excellent blitzer for a CB.
However, that is one of the concerns for scouts as they would like to see more production given his skillset. Yes, pass breakups are great, but he needs to force more turnovers to reach the next level in his game. If he doesn't learn to trust his technique and instincts, Horn is going to be flagged a lot in the NFL as he is very handsy across the routes he sees.
Horn also needs to show more consistency when it comes to tackling as he often relied on others to do the dirty work for him before finishing off a play. Before opting out of the 2020 season halfway through the season, Horn was off to another great start before having one part of his game exposed. That was around the goal line, where he seemed to focus on one thing, which led to coverage problems.
Regardless of the issues, he has had, Horn has the makings of being a lockdown corner. There are not many corners in this class with his traits or cover talent, which makes him the intriguing piece he is. Horn has a chance to be special and given the NFL bloodlines that run through his body, look for him to put in the work to be special.