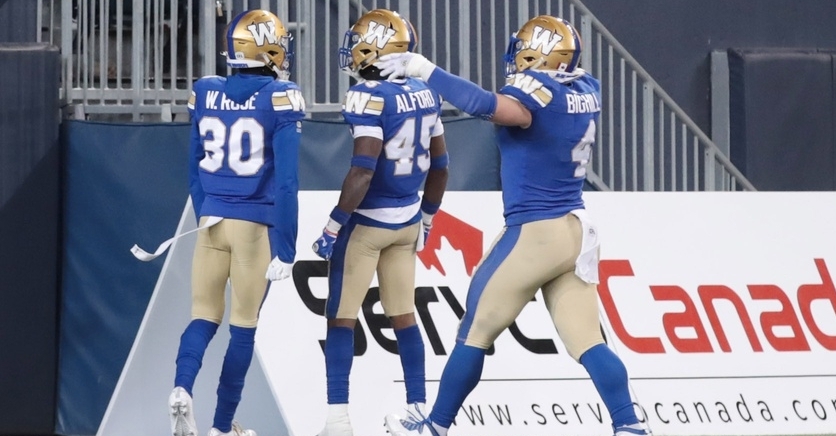 | | |
| --- | --- |
| CFL All-Star gets tryout with Bears | |
---
With two weeks left in the 2021 NFL regular season, now wouldn't be when you would expect teams to add to their roster. However, since COVID is running rapidly nationwide across every country, teams continue to add to their roster as they need to have enough healthy bodies for game day.
With two games left, the Bears know that they can still lose players as most teams have gone through some sort of COVID outbreak. We have seen it with the Bears as recently as two weeks ago and despite some of those players coming back, losing more to COVID is a real threat. To tackle this head-on, the Bears have gone an unorthodox approach to looking at players and have begun searching north of the border for instant help.
Most recently, the Bears looked to add depth to their secondary by bringing CB Dee Alford in for a tryout. Not only was Alford an all-star level CB last season, but he played for the Winnipeg Blue Bombers, who are now the two-time CFL champions. This wouldn't be the first time the Bears brought in a CFL star as they signed former Calgary Stampeder CB Tre Roberson last offseason only to cut him before the season started.
I want to ease some fans right now by saying this was just a tryout situation, and nothing has been made clear if he has signed or not. However, given what the Bears have recently dealt with when it comes to COVID, no team could use more CB help than Chicago. Alford, whose full first name is DeAndre, is a 24-year old DB and has played at an all-star level since arriving in the CFL.
Alford returned to the field this season after the CFL chose to cancel 2020 due to COVID and showed Winnipeg what he was all about. At first, Alford was looked at as a role player type of corner, only to win the starting job out of camp. Once he earned that starting job, he did nothing but produce as he came away with four interceptions, one forced fumble, one defensive score, and 48 tackles across 14 games.
I understand the CFL is an entirely different style than the NFL, but the CFL is more of a passer-friendly league, so you have to take notice of stats like this. While those numbers are good, should Alford indeed sign with Chicago, it is unclear how he would translate at the NFL game. After all, it is two different styles of professional football, but at 5-11 175 pounds, there is nothing wrong with checking in with a player to see if he can play.
Essentially, if the Bears like what they see in Alford, I expect him to land on the practice squad roster to get acclimated to the NFL game. However, He is also someone I wouldn't mind seeing get a fair shot to make this team in camp next year. I have always been a firm believer that if someone can play, they deserve a shot, even if they were added unconventionally.
What stands out about this tryout is that this is the time of year when teams are wrapping things up. People who are added this late in the season tend to be stashed away for next season so the organization can get a full and in-depth look at them. Alford has an opportunity to follow that trend, and it wouldn't be the worst decision in the world to make that happen.
Alford is not only a hard-working and skillful player, but he seems to be precisely the type of player who can work his way up from the practice squad to the active roster. He is almost certainly a depth piece for minicamp and training camp, but could also serve as a depth piece for the Preseason based on how he plays when on the field.
This shows you that no matter what, the NFL roster churning is a never-ending process as teams always look to add depth. For Alford, this is not only a golden opportunity that doesn't come often, but one that could turn into a dream come true should things go well.
Upgrade Your Account
Unlock premium boards and exclusive features (e.g. ad-free) by upgrading your account today.
Upgrade Now