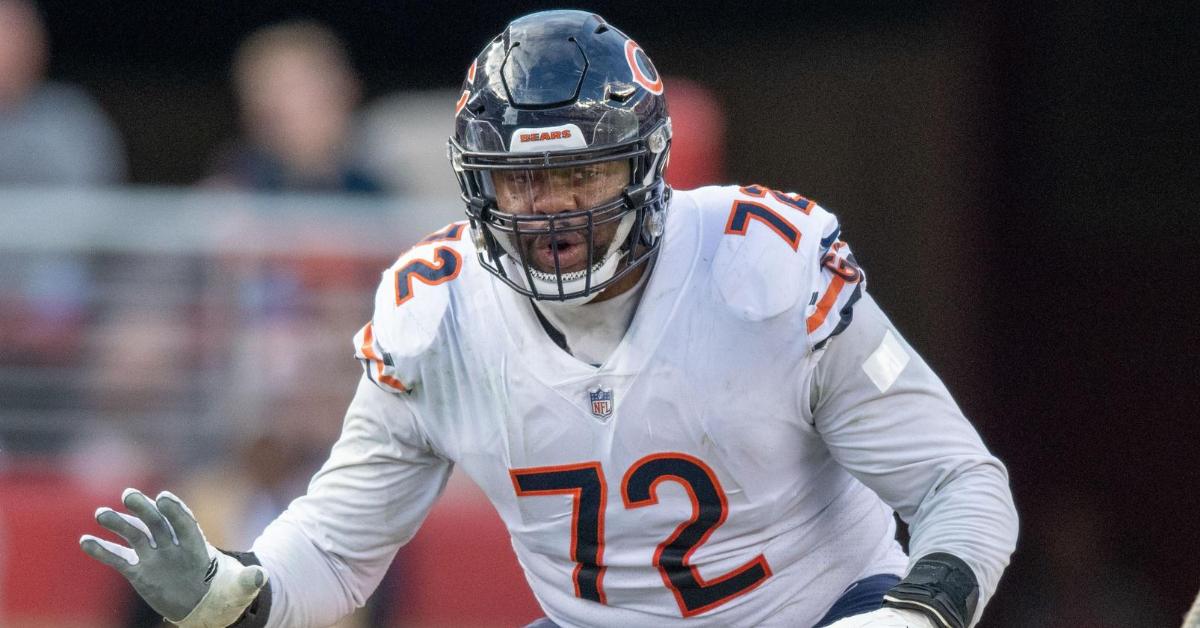 | | |
| --- | --- |
| Chicago Bears: 2019 Offensive Line Projections | |
---
Part six of the season projection series will still focus on the offense as this is the last unit to discuss. Although you cannot make statistical projections on offensive linemen, you can make projections as who you see as the starters and who you see as backups moving forward. With the first preseason game just over a week away, these are the players I see anchoring the line in 2019.
LEFT TACKLE: CHARLES LENO: The 27-year-old and former seventh-round pick out of Boise State has certainly had a nice journey since being drafted by the Bears. After seeing minimal action at best during the 2014-15 seasons, Leno went on to start all the Bears games in 2016 earning him a four-year 38-million-dollar extension before 2017. Now in the third year of that extension, Leno continues to play a solid left tackle position earning a bid to last year's pro bowl.
Projection: Starter: I fully expect Leno to continue to anchor the left tackle spot on the line as he has continued to improve each season. After not knowing his future early on, Leno has demonstrated what hard work and dedication can do as he has turned himself into what the Bears need on the line.
RASHAAD COWARD: Undrafted in 2017, Coward was immediately sent to the practice squad that season as he looked to carve out an NFL Career. He would later make his NFL debut in week 14 of that same season against the Cincinnati Bengals which is still the lone game he has played in. Since then, Coward has switched from the defensive line to offensive tackle as Matt Nagy felt that may be a better fit for him. Without any regular-season action at that position, the Bears decided to tender him a contract to keep him on the roster.
Projection: Reserve Tackle: With limited experience at the tackle position, Coward will not be the starter week 1. However, he should make the roster as a reserve tackle who can fill in at both the right and left side of the lines in case injuries occur during the season.
LEFT GUARD: CODY WHITEHAIR: The former second-round pick out of Kansas State has continued to make a name for himself with Chicago as a lineman they can count on for the future. Drafted as a guard out of college, Whitehair shifted over to center before the 2016 season after the team signed Josh Sitton. Two seasons later, Whitehair is moving back to his natural position of left guard which will be an immediate boost for the Bears.
Projection Starter: Not only will Whitehair be the starter pending injury but very easily could be their most dependable lineman this season. In 2018, Whitehair played was the only player on either side of the ball to play every snap during the season. That allowed him to earn pro bowl recognition in the process. Although the Bears are hoping for that same durability again, you cannot expect that so Chicago is hoping he can once again deliver a strong season keeping Mitch Trubisky upright.
TED LARSEN: One of the elder statesmen on the bear's line is Larsen as he will be entering his 10th season in the league this year. Initially drafted by the Patriots, Larsen has been around the block a few times playing for five different organizations including the Bears now twice. During his career, Larsen has played in 125 games comprised of 86 starts at the guard position. That included eight starts for the Dolphins in 2017.
Projection Reserve Guard: With the Bears putting out two potential pro bowl linemen, Larsen will have a hard time seeing the field unless an injury happens. However, he is also a guy you want on your roster as a veteran presence given his NFL experience. I do see Larsen getting on the field at some point this season, but it will be at both guard positions as he not only makes this team but could earn more reps throughout 2019.
CENTER: JAMES DANIELS: Last years second-round pick, Daniels is a smaller offensive lineman coming in at just 298 pounds. The Iowa Hawkeye played in 37 games during his college career at the center position before the Bears shifted him to guard last season. Although Eric Kush entered the year as the starting guard, Daniels slowing integrated himself into the lineup before taking over the starting position on October 28 following the Kush Neck injury. He went on to start ten games as a rookie.
Fast forward to this season and a lot has changed as Daniels will not only be a starter this season but will be going back to his natural position of center. Nagy has continued to show fans that he is not afraid to move people around and step out of the box but keeping a lineman in their natural position will have a much more positive feel in the future.
Projection Starter: This seems like a no brainer after he started ten games as a rookie. Not only is he going back to his natural position, but this is like a free agent signing for free for the Bears as it not only will make their line better but cost them nothing in the process. Expect some early season communication issues as Trubisky was taking snaps from someone else last year, but those issues will be ironed out quickly.
Look for Sam Mustipher to potential challenge for the final offensive line spot as right now the Bears do not have another center by trade on the roster.
RIGHT GUARD: KYLE LONG: Son of former defensive standout Howie Long, Kyle is continuing to put together a solid NFL career after becoming the Bears first-round pick back in 2013. Since then, Long has dealt with his fair share of injuries, but when healthy has been a force on the line starting 72 of the 73 games, he has played.
After the Bears selected him as the team's first guard to be taken in the first round since Roger Davis in 1960, Long moved around a lot on the line eventually landing at tackle in 2015 after making the pro bowl at guard in 2014. Long would later sign a nice four-year extension locking him up through 2021 but missed significant time in 2016, 2017, and 2018 with a mass of injuries. He was placed on injured reserve midway through the season last year but was activated in early December for the Bears playoff push.
Projection Starter: Of course, if healthy, Long will be a starter on the line for the foreseeable future. Now back to his natural position, I expect Long to be on a monitored snap count early in the season as the Bears try their best to keep him healthy. With no legitimate backup behind him, it will be essential to keep him rested and healthy throughout the season. Thankfully for the Bears, they have multiple pieces that can be moved around if something does happen. Alex Bars appears to be a front runner to earn a backup Guard spot also.
RIGHT TACKLE: BOBBIE MASSIE: The final starting spot on the offensive line is the most up for grabs position, and that is the right tackle position. It appears to be a two-person race between Massie and Cornelius Lucas, but I expect Massie to take the job with Lucas being cut or sent to the practice squad.
On the Bears since the 2016 season, Massie continues to be a durable body on the line staring 92 games and playing in 100 career games since being drafted back in 2012. The 6 6 320-pound giant kept Carson Palmer up for years in Arizona before coming to Chicago in 2016. The one challenge he had to adjust too in Chicago, especially last year was being able to block for a much more mobile QB. He passed that test with flying colors and should do that once again this year.
Projection Starter: With his contract set to expire following this season, the Bears and Massie worked out a nice extension that will keep him here through the 2022 season. That along right there should tell you all you need to know about what they Bears fell about him and the place on this team. No team is going to give that kind of extension out to a non-starter, and frankly, Massie has earned his pay in Chicago. If the line stays healthy, you should expect to see Trubisky and the running game continue to improve as the team will look for even more lofty goals in 2019.
Other possible candidates to earn reserve line spots on the team could be Blake Blackmar, Lucas, Joe Lowery, Jordan McCray, Marquez Tucker and former Minnesota Viking T.J. Clemmings who will be starting the season on the PUP list. Off all these names, Lucas and Clemmings have the best shot to make the roster given they have the most starting experience of the group.
Upgrade Your Account
Unlock premium boards and exclusive features (e.g. ad-free) by upgrading your account today.
Upgrade Now