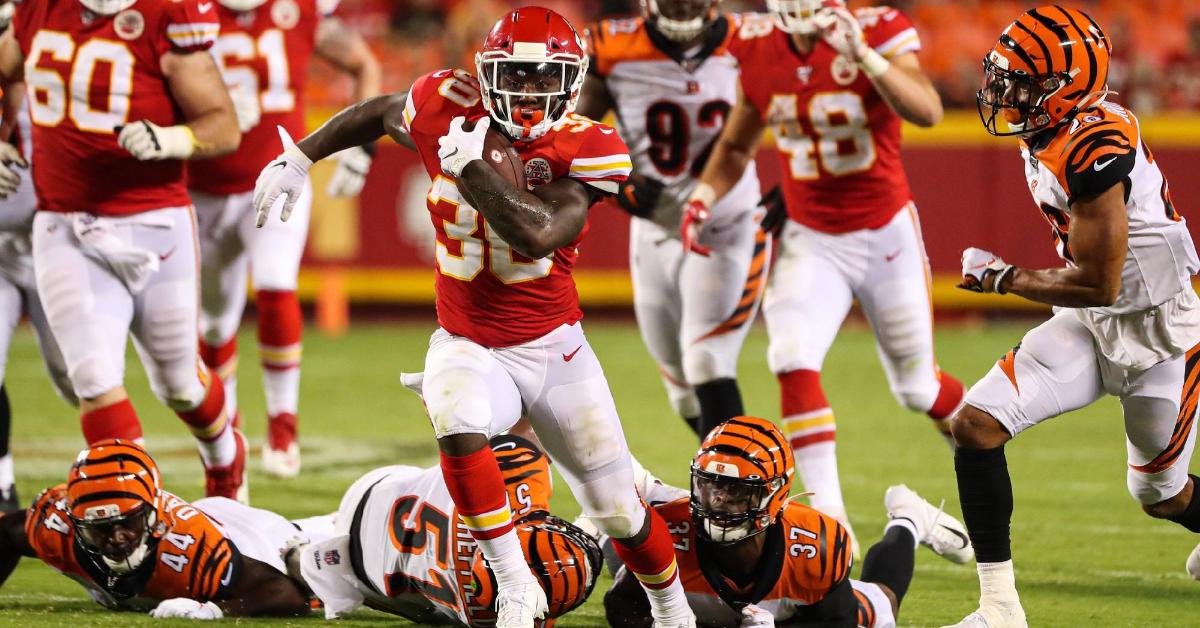 | | |
| --- | --- |
| Chicago Bears sign undrafted rookie RB | |
---
Following the Bears release of kicker Elliott Fry, there was an open roster spot for the taking as plenty of players are still searching for work before the 2019 season. Well, open no more as Chicago has signed rookie running back Josh Caldwell to fill that void as he is officially a member of the Chicago Bears.
After going undrafted in this year's NFL draft, the rookie running back out of Northwest Missouri State inked a deal with the Chiefs. Caldwell flashed some of his potential in the Chiefs first preseason game against Cincinnati as he rushed for a total of 59 yards and a score on just four carries.
At nearly 15 yards per carry in his preseason debut, that will undoubtedly open the eyes of some teams even if it is against third and fourth string defensive players. No one is going to expect him to put up those kinds of numbers weekly, but this is a low-risk high reward type of signing that could be beneficial down the road.
On the low-risk side of things, this is a cheap signing that won't cost the Bears much if they do release him before the season. With an already loaded and crowded backfield, Caldwell is adding depth to that position while trying to beat out other qualified candidates. Caldwell knows it doubtful for him to make this roster, but at the same time, he could land on the practice squad if the Bears like what they see in him the final two weeks of the preseason.
The High reward aspect is quite simple, which is what happens many times with undrafted free agents. Caldwell could be a diamond in the rough but maybe a few years away from showcasing his true talent. Take the Bears rivals Minnesota for example and star wideout Adam Thielen. Not only was Thielen and undrafted free agent but he came from a D2 school making it that much harder to earn a tryout with anyone.
The Vikings took a shot on him and gave him a tryout much like they are doing with Caldwell. Thielen impressed the coaches enough that he landed on the practice squad for three seasons before finally getting his shot and the rest is history. Could this be the same thing regarding Caldwell? No, I don't expect him to be a pro bowl type back, but he could play a role on either special teams or an expanded role in the future.
Given the way the Bears have operated and have discussed things this summer, they will not hesitate to look around if they feel they have a fit somewhere on this lineup. Whether for depth, extra bodies or practice squad material Ryan Pace will not stop working until he finds the perfect pieces to keep this train moving in the right direction.