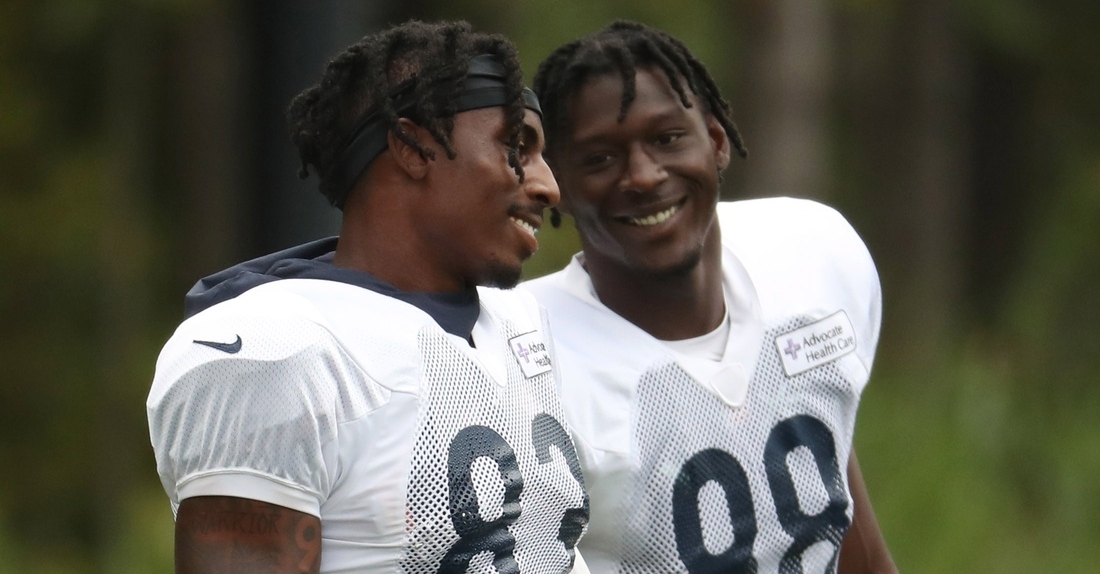 | | |
| --- | --- |
| College teammates battling for receiver time with Bears | |
---
We are now less than two weeks away from week one of the 2020 NFL season, and from all accounts, there haven't been any significant COVID scares. At least not yet. With that being said, the league is proceeding forward with the season to get as many games in as possible.
The Bears have been hard at work using a competition first attitude at camp to let do the talking. Going into this season, head coach Matt Nagy expressed his desire for more competition at camp to put the best roster possible on the field.
While some positions are set in stone, especially on the ball's defensive side, several remain up for grabs and will most likely be decided on the final day of camp. One of those positions to keep an eye on in the coming weeks is the back end of the receiving core, as the Bears look to fill out the depth chart. Unless something drastic happens, Allen Robinson, Anthony Miller, and Ted Ginn Jr. will be the teams top three coming out of camp, but what about the No. 4 spot and beyond.
Wide receiver depth is undoubtedly not an issue in camp as the Bears have several players battling for the final receiver spot. Cordarrelle Patterson was one of those players early on but has now seen more time with the running back group meaning his role is changing. Recent signing Rodney Adams and Reggie Davis are seeing reps, but will most likely be on the outside looking when camp ends.
Thomas Ives is another unknown name to watch, but the last spot appears to be coming down to three names right now. Javon Wims, Riley Ridley, and rookie Darnell Mooney are in the running for the final receiver spot, but Wims and Ridley appear the favorites right now. As the media continues to focus on the quarterback battle at camp, few have noticed the battle at the receiver position, which will be huge for whatever quarterback wins the battle out of camp.
Robinson is the unquestioned number one on this team, but the Bears are taking a cautious approach with the veteran as he has been used lightly at camp. That has proven to be good news for both Ridley and Wims as these two are looking to improve their standing in the team's current offensive setup. Wims and Ridley go way back as they were both teammates at the University of Georgia before ending up together in Chicago.
Both players know what each other brings to the table, and they are not afraid to push each other to the max to bring out the best of their ability. With more increasing reps comes a chance for increased failures, but the pair continues to make the most of their reps and are starting to show they belong with a more solid fixture in Nagy's philosophy.
While the two have yet to make any threats to the top three on this roster, both are starting to show what they have and are drawing some player comparison at camp. For starters, Wims is getting a lot of comparison to that of Robinson, which is a great complement to have. On the other hand, Ridley doesn't have an actual comparison but has proven that he can play different roles within this offense.
If anyone has the potential to take that next step on this roster, look for it to be Ridley. Not only has he been mentored by both Robinson and Ginn in camp, but he has his older brother Calvin Ridley from Atlanta to lean on. Calvin Ridley was a great receiver in his own right and has started to break out with the Falcons to give Julio Jones a nice compliment on the outside. No one is saying Riley will be better than any of these three, but when you have three receivers who all play a different style feeding you information, it makes you that much more diverse.
Ridley was never the standout his brother was in college, but still put together a great year when the Bulldogs appeared in the National Championship game. He caught just six passes for 69 yards as a rookie, but look for those numbers to increase this season.
Wims, on the other hand, had a much easier time in college, leading the Bulldogs in receiving that same year. Despite that, he was given a reputation as a raw player with a high upside. As a rookie, Wims caught 18 passes for 186 yards. Many believe he is on the verge of breaking out this season given what they have seen from him in camp.
From a route running perspective, Ridley would be my choice as his route running ability is much crisper than Wims. If you wanted to look at the physical side of things, Wims stands alone as his 6-4 frame makes him one of the roster's most prominent targets. Whatever direction the Bears choose to go, they can do no wrong as they have options. The question is, what option they will choose.
Upgrade Your Account
Unlock premium boards and exclusive features (e.g. ad-free) by upgrading your account today.
Upgrade Now